World Energy Week
World Energy Week (WEW) provides a powerful platform for global energy leaders and practitioners to come together to discuss significant developments facing the energy system and set the priorities of the world energy community.
World Energy Week brings together the World Energy community every year to:
Convene energy leaders and practitioners from across the spectrum of the energy system to identify and set the priorities of the world energy community;
Share insights and perspectives on new developments and experiences across the global energy system and how each country can address its energy trilemma;
Catalyse thought leadership;
Assess strategic priorities for the Council across content, network and platforms, allowing time for regional and global communities to come together
The event brings together more than 350 professionals from all parts of the world, representing national, regional and global energy systems and sectors.
World Energy Week 2020, 5-9 October, Beirut, Lebanon
The 2020 World Energy Week will take place in Beirut, Lebanon. Participants are invited to join public conferences featuring high-level speakers as well as take part in internal member meetings and social events. Private high-level CEO and ministerial roundtable meetings are hosted alongside these gatherings allowing for interaction and shared insights.
Public conferences
Public sessions across two days showcase the content and insights of the Council across the energy transition, including energy policy, scenarios, risks and resilience, issues monitoring through an Energy Transition Summit (ETS), and the host-led conference that showcases their energy sector.
Side events and networking
Other side events, workshops, and public exhibitions may also be organised by the host. This includes:
Welcome Reception
Joint World Energy Council and Energy Transition Summit
World Energy Leaders' Summit Dinner
Other social activities and side events on specific topics or issues
High-level roundtables
Private high-level CEO and Ministerial roundtable meetings are a key feature of World Energy Week. It includes the World Energy Leaders' Summit, an event specifically designed for Ministers, CEOs and special guests, and the Future Energy Leaders' Summit, tailored to the young energy professionals who embody the World Energy Council's Future Energy Leaders' programme, FEL-100.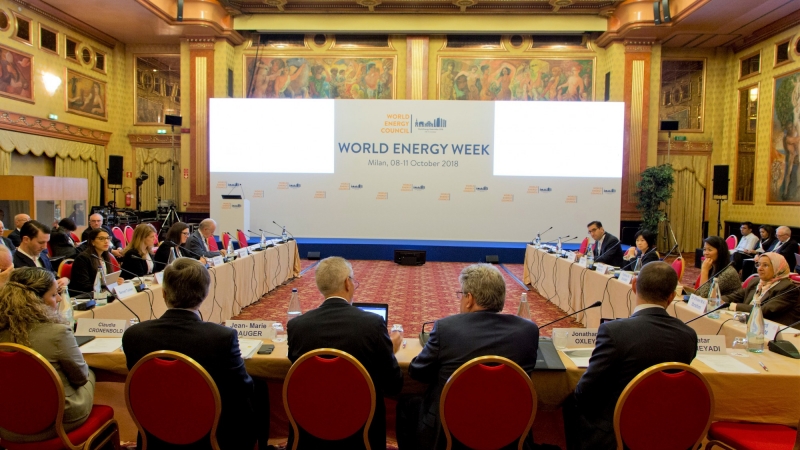 [Sample quote for approval "We gained an enormous amount from hosting World Energy Week 2018. Aside from the obvious opportunities to network and share expertise, a significant number of our members and stakeholders reported that they were able to move forward their strategies or business ideas in a meaningful way. This is exactly the kind of progress we need to find a way forward for energy transition both here in Italy but, more importantly, on a global level."
Find out more
To participate in World Energy Week or find out about being a Member Committee host, please email: [email protected].