E-Quality: Basic Energy Access is Not Enough!
The World Energy Council (Council) has begun an effort to dig deeper and try to understand why, in this day and age, so many hundreds of millions of people do not have access to meet basic needs, let alone access to energy that can transform their livelihoods and bring new opportunities to their communities. In 2015 the United Nations Member States established, as an objective to achieve by the year 2030, Sustainable Development Goal (SDG) 7: ensure access to affordable, reliable, sustainable, and modern energy for all. According to the International Energy Agency, 992 million people lack access to electricity and 2.7 billion people lack access to clean cooking facilities as of 2017.
There are many reputable organisations that are set up to enable basic energy access (basic access), along with many multi-billion-dollar companies who have created foundations just for this effort. Yet, we still have almost a billion people without access and increasing issues of energy poverty in countries with 100% access to electricity. Clearly basic access and energy equity are not the same challenge, and neither is it an easy problem to solve.
"Energy access historically has been a philanthropic endeavor, with groups donating equipment. However, in the last 10-15 years, there has been a growth in private enterprises delivering energy access. A decline in technology costs, greater availability of productive uses, and improved communications have opened-up new business models. People have become more aware of the services that are available and this has changed the whole scenario.."

Ricky Buch, Founder, Loctricity
Our efforts in this area have been to try to understand the different obstacles directly from the communities affected. After 70 exploratory interviews with community leaders, local businesses, and every day citizens of the world, along with perspectives from government and policymakers, the interviews highlighted some recurring themes and one consistent message: there needs to be a shift away from a focus on delivering basic energy access to achieving Quality Energy Access for all.
"The dominant focus on household access is too often unbalanced with the energy needed for industry and commerce. Historically, economic growth in Europe and the USA was driven by energy for industry first and households later, but we are flipping the order in Africa. Ghana is going to reach universal access by the IEA definition in the next 5 years, but it is many years away from solving its structural energy problem, which is the cost and reliability of electricity for business."

Todd Moss, Executive Director, Energy for Growth Hub
What is Quality Energy Access (QEA)?
Quality Energy Access (QEA) is defined as the combination of the following aspects ("QEA components"): basic energy access, reliability, affordability, environmental sustainability, and scalability. The definition of each component is displayed in the figure below. QEA is a journey that begins with basic energy access and evolves to affordable, reliable, environmentally sustainable and scalable energy access.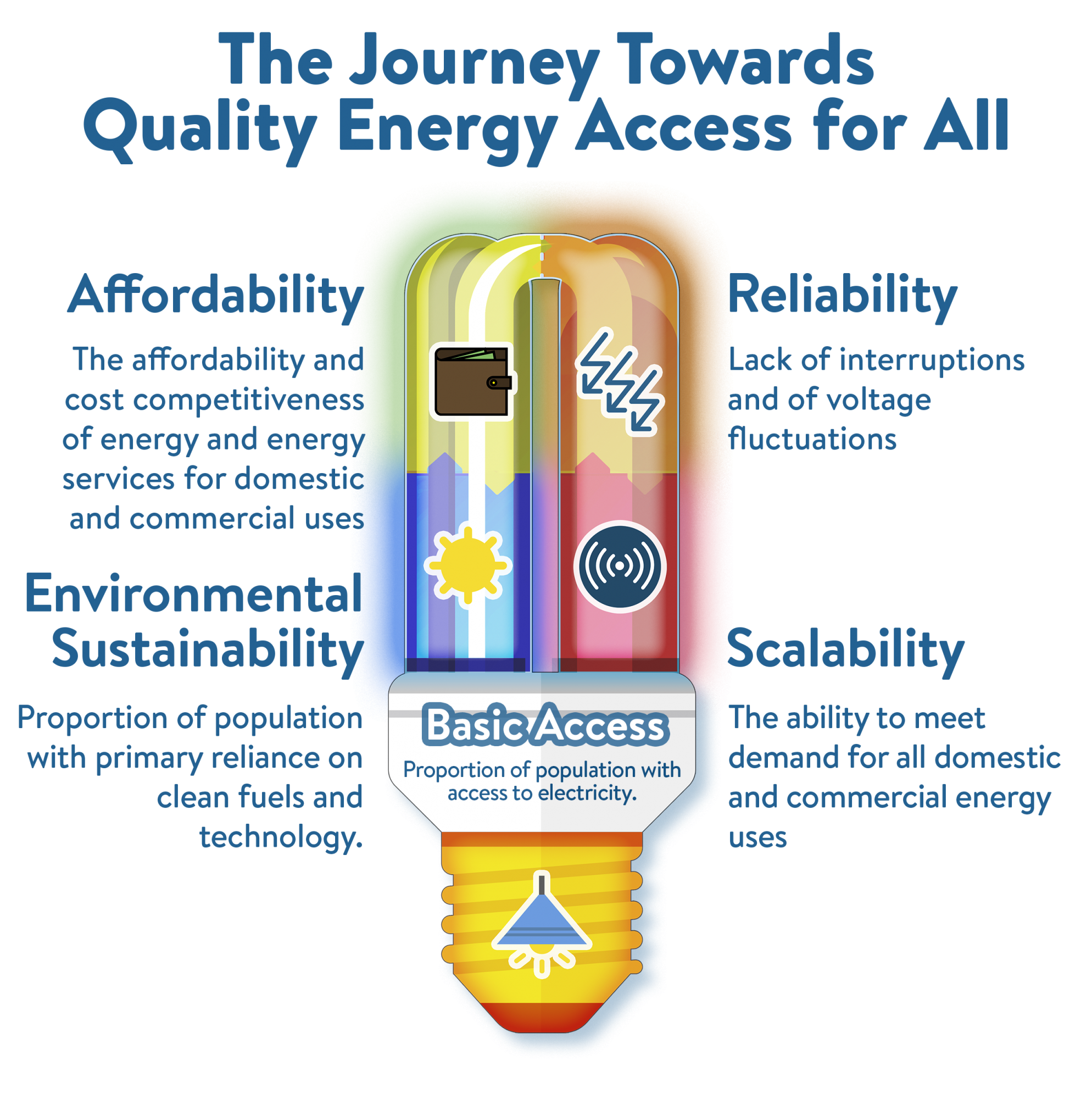 Project goals & methodology
To date, our project has been composed of two phases. The first phase consisted of an initial set of approximately 30 interviews of stakeholders such as non-governmental organizations, government offices, financial institutions, utilities, and academics with African, Latin American, Asian and global interests. The goal of the first phase was to clarify the notion of QEA through perspectives offered in these interviews. This led to developing the aforementioned definition of QEA. Since most of the discussions in interviews were focused on the electricity sector, the key messages below primarily apply to this sector.
After reviewing the data from the first phase, the second phase consisted of carrying out a second set of approximately 40 interviews of stakeholders from countries that have progressed significantly on a given QEA component. As part of this analysis, we identified the corresponding enabling conditions, or success factors, as well as any barriers to progress. The five focus countries that the team selected were Kenya (basic energy access), Uruguay (environmental sustainability), United Kingdom (affordability), Dominican Republic (reliability) and Malaysia (scalability). The successes of two of those countries – Kenya and Uruguay – are highlighted below.
Key Topics
Several topics consistently recurred when our interviewees elaborated on the progress towards QEA. Initial insights related to each of these topics are briefly mentioned below and will be further developed in our upcoming regional QEA Innovation Forums.
Focusing on energy as a way to enhance income-generation opportunities and productivity in commerce and industry contributes to economic and social development. It accelerates the journey towards QEA.
Providing basic energy access to households is crucial to improving well-being and advancing towards energy equity. Our interviews, however, highlight that setting a goal to close the basic energy access gap is looking at the issue with a narrow lens. To achieve prosperity for all is to also focus on fostering Productive Uses of Energy, i.e. the use of energy to enhance income-generation opportunities and productivity in commerce and industry. Once individuals have basic energy access, job creation and more generally economic development are key enablers for them to make use of this access (e.g. by buying electric appliances and being able to afford electricity).
"Acceleration of basic access is a starting point. The critical challenge, however, is how to make it sustainable and scalable. For that, it is essential to also scale productive use of energy to drive prosperity of newly electrified households."

Dana Rysankova, Sr. Energy Specialist, Energy Sector Management Assistance Program (ESMAP), World Bank
Our interviews indicate that at the household and community level, providing access for Productive Use of Energy could, for example, imply designing decentralised off-grid systems with income generating activities so that provision of basic lighting solutions does not remain the final goal. Other examples include grid expansion or mini-grids which can lead to a gradual rise of new enterprises such as agricultural grain mills and water irrigation systems in rural areas. These revenue generating uses of energy can in turn raise incomes of households and create jobs. The resulting economic growth leads to further increases in energy demand, thus enhancing the financial sustainability of such energy solutions through continuous sources of revenue.
At the country level, the largest part of the energy demand is typically consumed outside the home in the commercial and industrial sectors. National economies require high-energy systems to respond to the needs of income-generating sectors such as agriculture, manufacturing, transportation, telecommunications, information technology, etc. In addition to enabling economic development, the commerce and industry sectors create important energy demand. This demand can unlock investments in the energy system (including power generation, power grids, and fuel mix diversification), which would not be the case with just household consumption. Our interviews highlight the importance for policy makers to reassess today's energy access measures which focus around ensuring basic energy access for all and consider the economic growth implications of providing QEA for all.
"Sector-restructuring and Productive Uses of Energy have been ignored to provide light as a standalone."

Ignacio Rodriguez, Senior Advisor, Tetra Tech
Increasing private sector confidence is a key enabler to unlocking investments and improving QEA. A strong political commitment, fair regulation and a transparent energy transition process are crucial to improve stakeholder confidence.
Energy transition processes generally require a lot of capital. Moreover, on a global scale, many public utilities face financial challenges or even a chronic deficit. For these reasons, the involvement of private companies and investors is key for the improvement of QEA.
In order to attract private companies and unlock capital for the energy transition, our interviews highlighted the importance of building confidence among stakeholders, e.g. investors. Investor confidence is not limited to the energy sector, but also related to a country's economy and the faith in its system of government. However, certain energy regulations and policies can be effective in improving investor trust.
For example, in Kenya, the importance given to energy development by the government was demonstrated through increasing the budget allocated to the sector. Allowing public-private partnership has proven efficient in Uruguay and is currently being discussed in the Dominican Republic.
The study of policies that are likely to be effective in a given context or countries exceeds the scope of the present article. This is one of the core questions that will be discussed in in the Council's upcoming regional QEA Innovation Forums.
"Kenya has an open legal and regulatory framework which allows room for innovation to take place without considerable government interference. An open market is enabling more and more people to get access."

Pauline Githugu, Director for External Affairs, M-Kopa
Consumers play a central role in the journey towards QEA. Their needs and behaviours (responsible consumption versus electricity theft or using carbon intensive sources) should trigger appropriate trainings, social communication and consumer-centric product development.
Consumers play a central role in the transition towards QEA. They can accelerate the progress if they embrace change and if energy service providers engage with them.
"A lot of demand and push for quality access is coming from the community. Our products have grown over time through customer feedback. The notion of quality today comes from users rather than from industry managers."

Pauline Githugu, Director for External Affairs, M-Kopa
Recent technology innovations have allowed the development of a number of new energy products and services which are converting more and more consumers into prosumers. Consumer-centric product development has played an important role in the rapid adoption of these solutions, e.g. pay-as-you-go (PAYGo).
The issue of non-technical losses (electricity theft) arose from the interviews. This represents both a physical risk for the consumers (when bypassing the meter) and has a negative financial impact on utility companies, leading to a vicious circle. Non-technical losses imply missing revenues for utilities, which then cause:
Reduced investment in infrastructure and thus decreased reliability in the service and/or
Tariff increase and decreasing affordability for the consumers who do pay their electricity bills.
Both cases have a negative impact on QEA and can trigger an increased number of irregular grid connections and increase non-technical losses. Educating consumers on the efficient use of electricity is a possible solution to promote the responsible use of electricity, which lowers their electricity bill and makes the consumer less likely to connect illegally to the grid. Another way to prevent non-technical losses is to install smart meters, which can detect unusual activity such as meter bypassing.
Social communication can be of great support to demystify technology and accelerate the transformation towards decentralised and efficient energy systems (such as solar heaters and electric power generation units in homes and the use of efficient lights, stoves, and appliances). Clean cooking is another example of the importance of social and cultural barriers to change. Initiatives promoting clean cooking have indeed often failed due to a lack of understanding of the cultural and social issues around cooking. It is therefore crucial to consider these barriers and find ways to overcome them when developing and bringing new products to the market.
Participatory funding is also a model of consumer engagement: in Uruguay, 10,000 small shareholders were able to invest (starting with $100) in the 70MW Valentines windfarm. In the UK there has been a rise in energy companies using the internet and smart phone applications to engage with consumers.
Choice is another vital component in engaging with consumers. In the UK, consumers can elect to purchase their energy from green-only sources, for example. Providing consumers with choice such as payment options, smart meters, peak and off-peak pricing helps to make consumers part of the energy transition. Competition is an additional important element of choice. One big utility often leads to lower consumer engagement. Providing competition in the energy system is essential in achieving QEA.
Success Stories
The second phase of our project was to conduct focused interviews with select countries that showed a proven record of progressing significantly on a given QEA component. Using the Council's Trilemma data, the five focus countries that our team selected were Kenya (basic energy access), Uruguay (environmental sustainability), United Kingdom (affordability), Dominican Republic (reliability) and Malaysia (scalability). Once the countries were selected, we then conducted another set of 40 interviews to dig deeper and understand what the keys to their success were and can these factors be replicated in other areas of the world. The successes of two of those countries – Kenya and Uruguay – are identified while the others will be published as we continue our understanding through more interviews and regional QEA Innovation Forums.
Kenya's Rapid Progress towards Overcoming the Limits of Basic Energy Access
Background
Kenya's power sector has predominantly been served by hydro energy. When the country experienced drought in the 1990s, an energy crisis ensued, and the country grappled with frequent power outages. Diesel thermal generation was adopted as a stop gap measure to address this deficiency. However, with time this strategy proved to be not only expensive but also unreliable to serve the country's growing demand. In 2004, Kenya adopted a comprehensive energy policy, which recognized the need for a reliable, affordable and environmentally sustainable energy sector and included a framework for overcoming the limits of basic energy access. Under the auspices of this policy and subsequent supporting regulatory frameworks, the country began to transition towards QEA, and the basic energy access rate improved from 26% to 75% in 2019. Today the country is well on track to achieve universal basic energy access by the year 2022.
"Policy is the way we did it. 20 years ago, there wasn't a regulatory structure, just a few people meeting in boardroom. New rules made it easier to overcome (sector) challenges by providing clarity. The framework provided a platform for improvement."

Dr. Frederick Nyang, Director Economic Regulation, Energy & Petroleum Regulatory Authority (EPRA), Kenya
Success factors
Energy access as a political priority: Until 2013, Kenya's progress towards achieving universal basic energy access had been steady but slow paced. However, the entry of the current government, which campaigned on a platform of equity for all, accelerated the progress since the government had selected electricity as one of the main tools for delivering its promise. The prioritization of electricity in budget allocations signalled to private actors the seriousness and transparency of a promising investment in the energy sector (e.g. $150 million facility signed with the World Bank in 2018 and $9 billion with African Development Bank since 2014).
Market entry of private companies: Energy systems were traditionally in the hands of state-run agencies and over time several strategies have been employed to increase private sector participation. A notable turn-around on basic energy access was due to market entry of private companies mostly dealing in decentralised solutions (PAYGo, Solar Home Systems and Mini-Grids). This was made possible by the National Energy policy of 2012 which recognised decentralised systems as a form of electrification. Moreover, to increase investor confidence, the government established favourable regulatory and fiscal policies such as the budget allocations backed by sovereign guarantees. This exemplified the prioritization of energy in the fiscal planning but also backed by strong policy instruments such as Power Purchase Agreements (PPAs) and a Value Added Tax exemption.
Involvement of other stakeholders: The entry of the private sector coincided with the launch of the global initiative SE4ALL (which advocates for policy reform, investment promotion and private sector engagement), which had been politically accepted in Kenya. Hence, there was goodwill of these private companies to offer alternative solutions towards accelerating basic energy access.
Consumer-centric product development: Consumer and community engagement were driven by digitization, mobile penetrations and innovations in tech-finance. Through Internet of Things and data driven methods, most companies were able to capture consumer preferences and to design solutions suiting the needs of customers and hence enabling community engagement.
Uruguay's Renewable Energy Communities Revolution
Background
During the 2000s, Uruguay's energy sector was challenged by a power crisis. The heavy reliance on imported fossil fuels (approximately 25% of the electricity mix during 2004-2013, with a peak of 40% in 2008) and domestically produced hydro power could no longer be sustained. High fuel prices, lack of electricity mix diversification and energy vulnerability facilitated a political agreement for a safer and economically sustainable energy system. A national state policy was agreed to implement a radical shift towards variable renewable energy resources, identified as the best cost-effective solution for the country's energy security challenge. The leading role of the state-own utility, public-private collaboration and a high investor's trust led to a much faster-than-usual energy transition in Uruguay: in less than 10 years the country reached the goal of being 98% renewable for electricity generation.
"All stakeholders were aligned: the political parties, the government, the national utility as the executor of the energy policies, the private sector, the confidence of the investors and the consumers. The investors who financed renewable generation capacity trusted that the national utility could buy the energy."

Dr. Gonzalo Casaravilla, President, National Utility Company (UTE)
Success factors
Stakeholder's alignment: There was a national agreement on four main guidelines – the leading role of state-owned companies with a stable and transparent regulatory framework, energy mix diversification, energy efficiency in all sectors and energy access to all citizens.
Clear leadership and public-private collaboration: The state-owned utility company led the energy transition process and worked together with the private sector in the generation side. Allowing private investments in the generation side was a key enabler of the transition.
Trust: The country created the political and economic

conditions for building the private investors trust. The limited size of Uruguay's electricity market (11 TWh) was not a barrier.
Macroeconomic, political and social stability – there was good country risk qualification.
The characteristics of the PPAs (by tendering) gave confidence to the private investors to grow their activities in collaboration with the state-owned utility.

Resource availability: There is richness of variable renewable energy resources as found by assessment campaigns.
Financing learnings: Local financing expertise for large-scale energy projects was built during the process. These created capacities were new in the country.
Development of local companies: A minimum national component was required for renewable projects to boost the local industry and infrastructure companies.
Research & Development (R&D) enhancement: A new fund for local R&D grants on energy was created. Academia played a key role in showing the path and contributing during the energy transition process.
What's Next
Based on our exploratory interviews, energy access should be about more than offering basic access to achieve basic needs; energy access should be about the drive to enable the whole community to flourish and transform. Basic energy access is a first step in the journey and must be part of a holistic approach toward Quality Energy Access. It takes political will and grassroot efforts to raise awareness and raise hopes. Kenya and Uruguay have succeeded to a certain extent and they are building on that success in order to bring quality energy access to all of their citizens. Quality Energy Access is achieved when affordability, sustainability, reliability, scalability and basic access are the status quo for every individual and every business in every country.
The World Energy Council is looking to build a new impact community on QEA and host a series of Innovation Forums to understand their unique circumstances and tailor solutions accordingly. We know we have questions still to address:
Gender – Who really decides supply side choices and how might this change?
Energy Poverty – How can new solutions address quality matters?
The aim of QEA Innovation Forums will be to identify success stories, enabling factors and barriers, and assess the transferability of these successes to other geographies. We cannot do this on our own. We need to partner with the corporate world to help us convene these Innovation Forums and bring positive change one community at a time.
"Nearly a billion people still lack basic access to electricity and billions more lack the quality of energy needed for better lives and livelihoods. It is time to ask - what kind of energy transformation are we really creating?"

Dr. Angela Wilkinson, Incoming Secretary General, World Energy Council
The World Energy Council and the Future Energy Leaders project team welcomes feedback on our proposition and how best to enable Productive Uses of Energy. Please write to Marzia Zafar at zafar@worldenergy.org to provide feedback and be informed of upcoming Innovation Forums.