The Algeria National Committee aims to promote sustainable energy development in Algeria, as a part of the World Energy Council's energy vision. As a member of the World Energy Council network, the organisation is committed to representing the Algerian perspective within national, regional and global energy debates. The committee includes a variety of members to ensure that the diverse energy interests of Algeria are appropriately represented. Members of the committee are invited to attend high-level events, participate in energy-focused study groups, contribute to technical research and be a part of the global energy dialogue.
Mr. Chahar Boulakhras is a State Engineer in Petroleum Economics. He joined SONELGAZ in December 1999 as a Design Engineer in the former Constantine Zone / Electricity and Gas Distribution Division.
He has held several positions of responsibility: Head of District of Akbou (Center of Bejaia), Head of Commercial Department within the Agency of Bejaia, Regional Director of Distribution Tamanrasset and finally Regional Director of Distribution in Tizi-Ouzou, before being appointed Chairman and CEO of SKTM, a position he currently holds.
In particular, he took part in the opening of the In Guezam and Tinzaouatine representations, respectively 450 and 670 km from the Tamanrasset wilaya.
Mr.BOULAKHRAS is a director in several companies of SONELGAZ, in which SKTM holds shares or shares, notably, MEI, CEEG, GEAT SAT, SAH … etc.
He has participated in several national and international events, such as communicating, as an example of the day organized by MICLAT on energy efficiency, DII Algeria Workshop at the headquarters of the FCE, the Algeria-EU business forum at the Aurassi Hotel, the 22nd Energy Day organized by the ENP at CBA, the Arab-Chinese Summit in Beijing, the 11th German-African Forum in Hamburg (Germany), and more recently, the RES4MED Africa held in Rome.
Energy in Algeria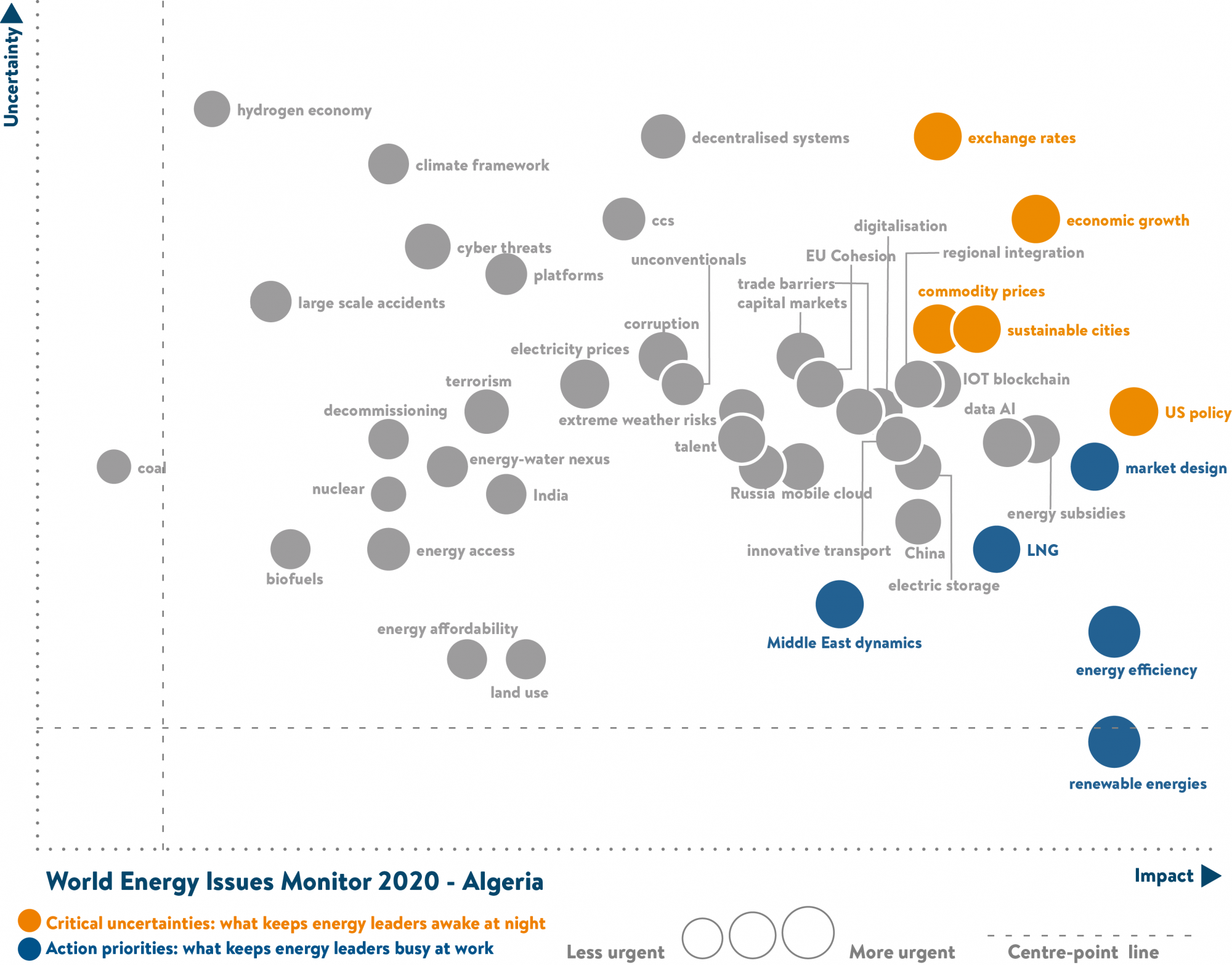 Comparing the survey results of 2019 and 2020, Algeria's energy leaders place greater emphasis on economic growth and related issues in uncertainties landscape. Action Priorities continue to revolve around energy technologies and renewable energies.
Commodity Prices are seen as an issue of high uncertainty and high impact. Algeria remains heavily dependent on oil and gas exports. Along with OPEC cuts, the cyclical decline of domestic oil production capacity and an increasingly competitive global natural gas market pose new challenges. As an oil and gas exporter, Algeria is vulnerable to commodity price fluctuations because hydrocarbons account for more than 90% of export revenues. The government has introduced several measures, including increased taxes on some imports, to manage its trade balance.
Economic Growth is tied to Commodity Prices, given the dominant role of hydrocarbons in the economy. Algeria currently produces oil at maximum capacity and natural gas capacity additions have only partially compensated for declines from existing fields. Domestic fuel prices are being raised to reduce the subsidies bill, estimated at $17 billion in 2018, according to the IEA. However, the need to develop sustainable financial resources from hydrocarbon exports constitutes the central pillar of Algeria's economic and social development strategy.
Sustainable Cities is perceived as a Critical Uncertainty, following the need to cut spending on infrastructure projects in recent years due to declining hydrocarbon revenues. This has led to delays in implementation of key projects, including the Algiers Smart City Project. The government plans to improve the management of urban systems by removing investment barriers.
Renewable Energies lead the Action Priority section with the highest impact, as Algeria tries to diversify its domestic energy sources and ease near total reliance on oil and gas for power generation. Renewables make up a very small percentage of installed capacity, mainly in the form of hydropower and solar. Algeria has set a target of 22GW of renewables capacity but has made little progress in this direction. Currently the country has 400MW of solar PV, mostly off grid, and 276MW of hydropower installed. The government plans to raise renewables generation in the medium term by adding 4500MW of renewables capacity.
Energy Efficiency remains an Action Priority. The government plans to cut consumption by 10% by 2030 through various measures including thermal insulation for buildings, the conversion of 50,000 light-duty vehicles to liquid petroleum gas per year and the installation of 12 million smart lighting units per year.
LNG grows in impact but with low uncertainty. Algeria has an LNG production capacity of 56 million m3/year. Although this makes the country a player in the international gas market, its potential is currently limited after it lost its key US market in recent years and is having to compete in a well-supplied Asian market. Algeria remains, however, one of the major suppliers of piped natural gas to Europe.
In addition to its hydrocarbon resources, Algeria has considerable strengths in solar energy, which makes the transition to renewable energies a strategic alternative to sustain the country's energy security. It also allows the country to continue to honour its commitments to the Sustainable Development Goals and the global effort to combat climate change. Finally, this transition offers prospects in terms of R&D, innovation and the emergence of a local renewable energy industry that creates wealth and jobs.