Argentina has been a member of World Energy Council since its creation in 1923, when it was part of the Argentine Engineers' Center. In 1991 it became an independent NGO with its own legal standing. CACME's mission is "to promote and support the World Energy Council's efforts, aimed to enhance a sustainable supply and use of energy for the greatest benefit of all people". CACME aims to collaborate in the process of transforming the national energy sector, through the communication of global trends and the dissemination of the work and reports of the World Energy Council. CACME was chosen to organise the first World Energy Congress in Latin America in 2001.
Jorge C Bacher has been President of the World Energy Council (WEC) Argentine Committee since April 29, 2014. He will serve in this role for a period of three years. Jorge has been a partner at PwC Argentina for the last 25 years. He has been the leader of the PwC Energy & Utilities practice for many years. In such role he is a member of the PwC Global Energy & Utilities Council. Additionally, he has been a member of the WEC Argentine Committee since 1997 and participated in WEC congresses. Over the years he has worked professionally leading several projects with many of the largest energy companies in the region, in the petroleum and gas areas and with electricity companies and the regulator as well. He was active in the privatization and deregulation programs in the region years ago. Also he worked with international financing institutions on matters related to energy in the Central and South American territories. He is married and has three daughters.
Horacio Fernandez currently serves as Secretary of the Argentine Committee of the World Energy Council (WEC) and Professor of Law for the Masters on Gas and Oil Economics, Instituto Tecnológico de Buenos Aires. He served as Director of Legal and Public Affairs, Occidental Petroleum Argentina, Director of Legal Affairs, Shell CAPSA and Director of Public Affairs, Total Austral S.A. He was also Professor of Natural Resources Law at the Universidad del Salvador and Professor of Engineering at Instituto Tecnológico de Buenos Aires. He was Board Member, Instituto Argentino del Petróleo y del Gas (IAPG - Argentine Institute of Oil and Gas); Board Member, Cámara Argentina de la Industria del Petróleo; and Board Member, Unión Industrial Argentina. He is a lawyer from Universidad Nacional de Buenos Aires (UBA) and holds a Masters in Comparative Law (MCL) from Southern Methodist University (SMU), Dallas, Texas, USA.
Energy in Argentina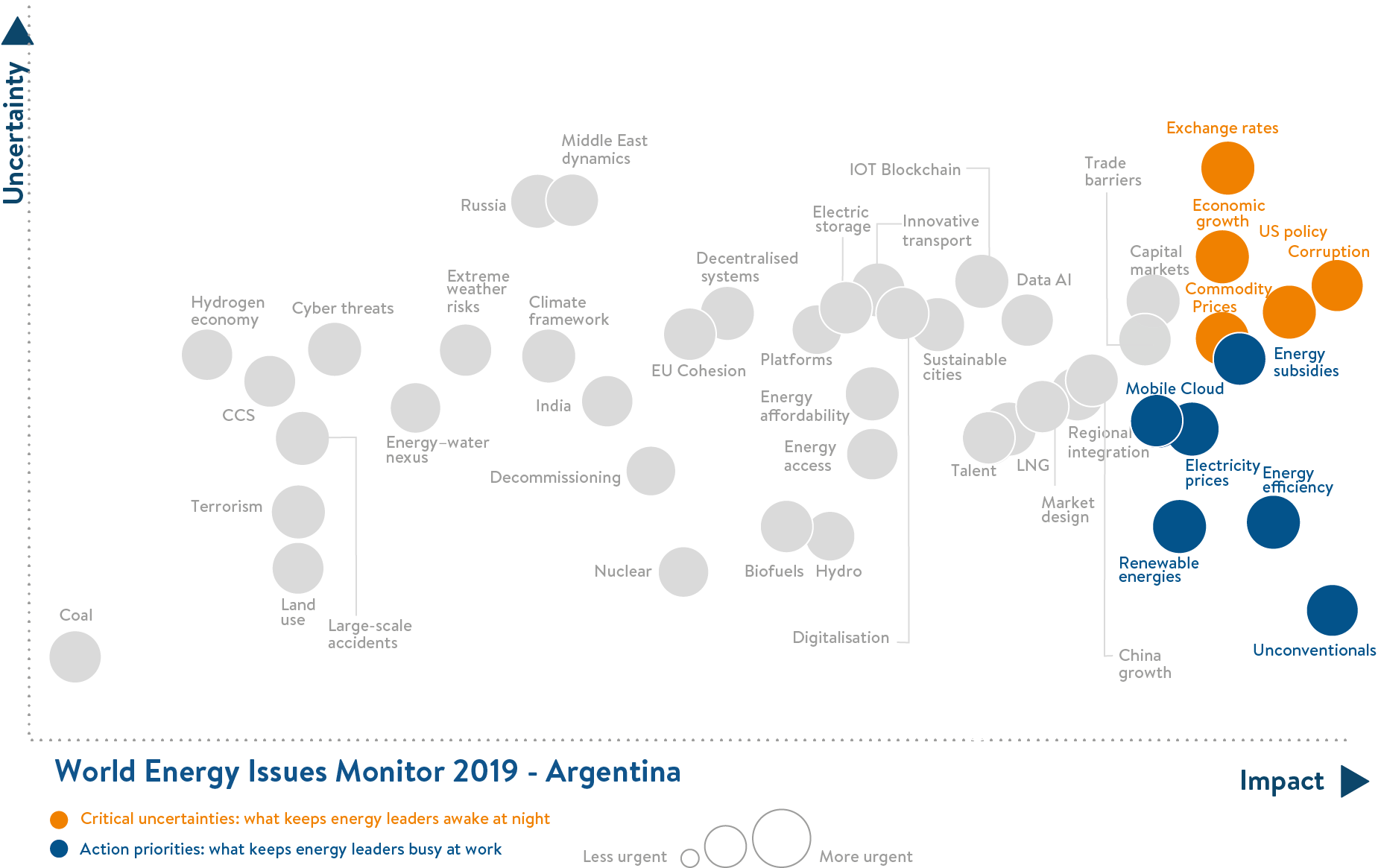 2018 was a difficult year for Argentina as it experienced a severe drought, faced the collapse of the peso, along with suffering from recession and an over 40-percent inflation. Currently, the country faces a 35% increase for electricity prices. In addition, 2018 ended with an abrupt resignation of the Country's Energy Secretary. However, there is room for optimism as Argentina has a very high potential for the development of unconventional hydrocarbons. Recent focus has been on Vaca Muerta: one of the largest deposits of shale oil and gas in the world and the biggest reason why unconventional appear a top action priority for Argentina in 2018. Resources are estimated at 16 billion barrels of oil and 308 trillion cubic feet of gas. If exploited, the proven reserves of the country would increase more than eight times, securing for the next 150 years our gas consumption and 85 years for oil consumption. Additionally, with Lithium batteries developing fast, Argentina is in a position to capture a large chunk of the growth in demand as part of the so-called lithium triangle with Bolivia and Chile. The area holds by far the largest reserves of the metal on the planet. On the renewable energy front, Argentina mid-way into 2018 was generating about 2% of its electricity from renewable power (excluding large hydro). The country failed to meet its 8% renewables share goal, however, it is said to be on track to meet a goal of 20% renewable energy by 2025.
Alongside inflation, the exchange rate is a key critical uncertainty in Argentina. After the more than 100% devaluation of the peso, the national currency has now accumulated three months of stability against the dollar, but it remains very vulnerable. The current administration hopes to control the exchange rate through tight Central Bank monetary policy and a new disbursement of funds from the International Monetary Fund (IMF).
Under the administration of current President Mauricio Macri, foreign investors have started paying more attention to Argentina, in part because he promised to crack down on corruption and money laundering. With the notebook scandal on one side, and Odebrecht on the other, prosecutors and judges have the tools to go all the way in pursuit of public-private corruption.
Argentina's economy will recover some of its lost ground over 2019 – but the path ahead for economic growth will be a critical uncertainty. The energy sector is expected to continue expanding in 2019, linked to the exploitation of hydrocarbons in the Vaca Muerta shale area, the growth of renewable energy and the expansion of mining – mainly lithium in the north of Argentina. The uncertainty surrounding economic growth is tied to Argentina lifting itself out of recession and the peso recovering.
Unconventional fuels are an action priority as Argentina is endowed with large amounts of shale oil and gas. Shell Argentina will begin the first phase development of a project aimed at increasing its output of unconventional fuel sources off of the Vaca Muerta basin, which is touted as the world's second-largest shale gas deposit. The initial phase of the project is aimed at gradually increasing the company's current production and processing capacity to 12,000 barrels of oil equivalent per day (BOE/D) to more than 40 kboe/d in 2021.
Decentralised energy systems are seen as an essential part of the future system. The current regulatory framework already allows for certain decentralised generation and consumption communities that operate locally. As this trend will further materialise, solutions to offer decentralised systems and integrate these communities into the entire distribution grid are being sought.
Energy efficiency remains an action priority since 2015, when he current administration established a national target to reduce final energy consumption by 11% by 2030. Since then, the government has deployed a number of new energy efficiency measures across various areas. In Industry, for example, the government aims to fulfil the sector's energy savings potential by building skills and raising awareness.
Renewable energies remain an action priority for Argentina as it works to reach its goal of 25% renewable energy by 2025 (excluding large hydro). Argentina has some of Latin America's most abundant renewable energy resources—steady winds in southern Patagonia, year-round sunshine in the remote northwest, and hydropower and biomass fed by rivers and expansive farmland. Its biggest challenge is to attract investment to give this sector the boost it needs to flourish. The administration is targeting at least $35 billion dollars in foreign investment for this sector.
Argentina has set a target of doubling its oil and natural gas production over the next five years and increasing its renewable generation to 20% by 2025. However, it may take longer as political instability threatens to slow investment. Vaca Muerta is clearly an export project for Argentina, and it seems to have the potential to be a key factor to mobilize other resources. It can be a driver for picking up the growth in the country and a way to increase productivity for the whole economy by lowering the cost of energy. The challenge is that Argentina has a benchmark interest rate of 60%, the highest in the world and this is a key factor to lack of investment.