The Austrian Member Committee of the World Energy Council represents Austria within the international organisation of the World Energy Council. Members of the Austrian Committee include the Austrian Federation, represented by ministries, universities, and companies of the Austrian energy sector. This membership is defined by the general convention after an application for entry of the candidates.
Mag. Dr. Michael STRUGL MBA is the Deputy Chairman of the Managing Board of VERBUND AG, Austria´s leading electricity company and one of the largest electricity generators from hydro power in Europe, since January 2019. His department includes energy economy and business management, strategic human resources management, corporate innovation and new business, marketing and communication as well as the operative divisions trading and sales. Additionally, Dr. Strugl holds the position of President of Austria´s energy industry representative body, Austria´s Energy (Oesterreichs Energie) since June 2020 as well as the position of President of the World Energy Council Austria since October 2020.
Robert Kobau was appointed Managing Director of the Austrian Member Committee, World Energy Council in 2013. Prior to this, he was Head of Corporate Affairs at VERBUND Innkraftwerke GmbH (2009-2012). Before this, he spent twelve years in the position of Head of Corporate Affairs at VERBUND Hydro Power AG (2000-2012). He spent 30 years in the Corpoorate Affairs department of Österreichische Draukraftwerke AG (1975-2000).
Energy in Austria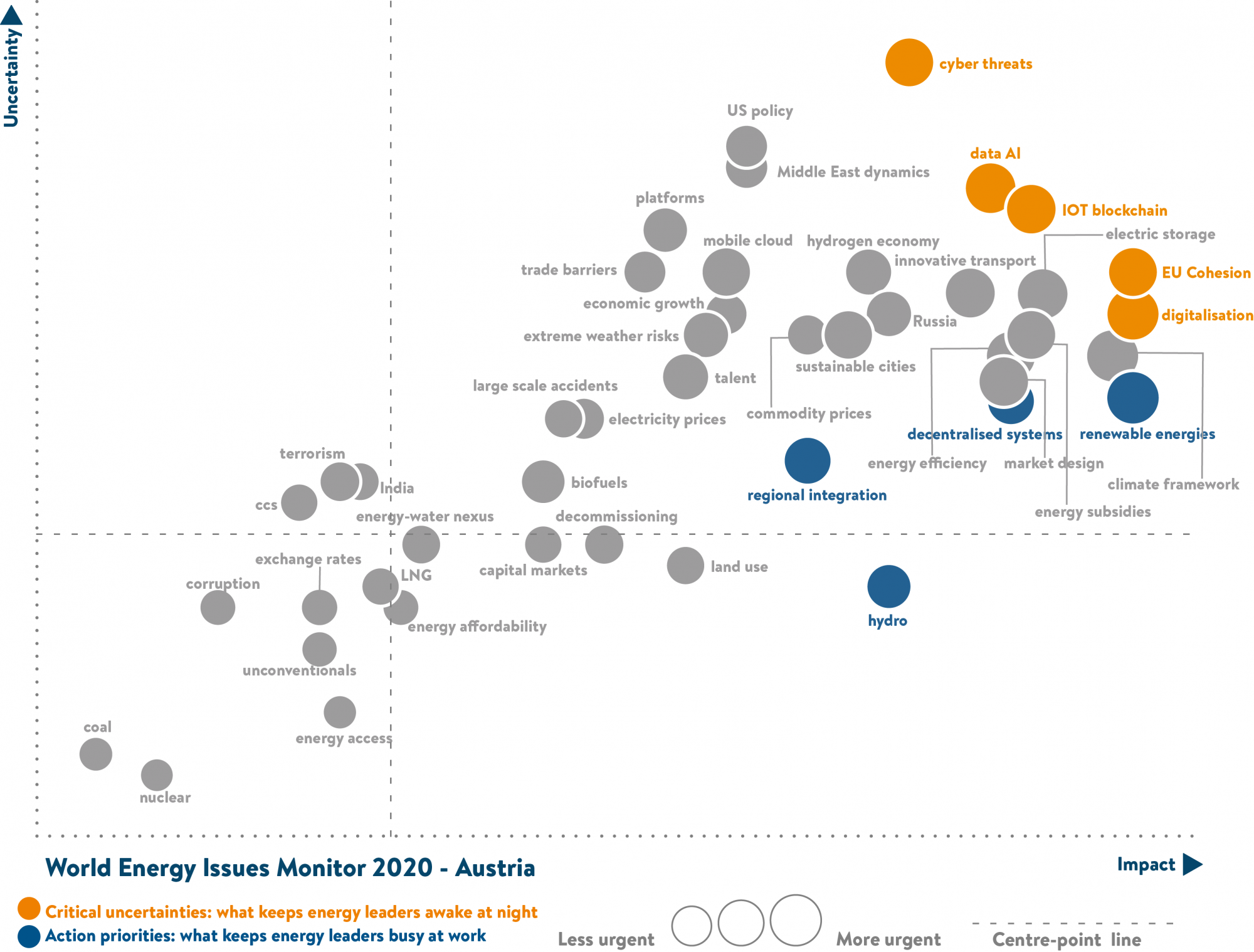 Comparing 2019 and 2020 results, Austrian energy leaders show heightened uncertainty around the innovation cluster and EU Cohesion, given the crucial importance of these issues to the country's success towards Action Priority issues. These are consolidated around the transition to a greener energy system and the Climate and Energy Strategy, the recently developed integrated national energy and climate plan.
EU Cohesion continues to be perceived as a Critical Uncertainty, signalling the impact of diverging views such as the development of nuclear power, which Austria strongly opposes. Priority measures to support stronger cohesion in the Energy Union include energy efficiency, intelligent networks, renewable energies, environmentally friendly urban transport and infrastructure, climate change and adaptation research, including resilient infrastructures, risk prevention and risk management.
Digitalisation is perceived with high uncertainty and impact. In Austria, 80% of metering points will be converted to new digital measuring devices by the end of 2020, and at least 95% of households will be equipped with smart meters by the end of 2022. This development will not only impact the energy suppliers' business models but will also enable a new dynamic between users and the entire energy system.
IoT/Blockchain and Data AI are also perceived as Critical Uncertainties. A recent development in IoT/Blockchain is a partnership between Power Ledger and a subsidiary of one of Austria's top five largest energy utilities, Energie Steiermark, to deploy a peer-to-peer energy trading network in and around Graz, Austria's second largest city.
Renewable Energies continues to be seen as an Action Priority but with higher uncertainty. Within the framework of #mission2030, Austria's Climate and Energy Strategy, the country plans to increase the share of renewable energy in gross final energy consumption to 45-50% by 2030 with 100% of total electricity consumption being covered by renewables. Additional funding has been allocated as an amendment to the Green Electricity Act passed in October 2019, to secure the expansion of wind, small hydro, biomass and biogas power generation.
Decentralised Systems moves to the Action Priority section as increasing decentralisation requires new energy infrastructure. Investments in information technology, flexibility options and network infrastructure are top priorities. In addition to technical optimisation, the main focus is on legal and normative frameworks for feed-in and trading tariffs.
Hydro is seen with increased impact. Hydropower is the biggest source of electricity generation in Austria today against 61% in 2018. Currently, 21 hydropower projects with a total capacity of just over 700MW and annual electricity generation of just over 1TWh are under construction. Projects with a capacity of slightly more than 2,800MW and a production of around 3,200GWh are planned. In addition, installations with total generation capacity of 1,000MW and 330GWh are being considered by electricity utilities. However, implementation depends on whether it is possible to create solid regulatory conditions - for example through a new Renewable Energies Expansion Act.
Austria has a mission. It is determined to safeguard prosperity and the high standard of living. Global climate change has a major impact on the economy, on society and on the environment. The Austrian federal government will find answers to these major questions. That means taking an ambitious approach to climate protection while at the same time ensuring sustainable development. Economic growth and environmental protection need to go hand in hand. Clean growth is not an option, it is a necessity.