The Bosnian Herzegovinian Committee aims to promote sustainable energy development in Bosnia and Herzegovina, as a part of the World Energy Council's energy vision. As a member of the World Energy Council network, the organization is committed to representing the Bosnian Herzegovinian perspective within national, regional and global energy debates. Members of the BH Committee include represented by ministries (state and entity level), energy institutions, universities, and companies of the Bosnian Herzegovinian energy sector and the Committee includes a variety of members to ensure that the diverse energy interests of Bosnia and Herzegovina are appropriately represented.
Its membership (individuals from governmental institutions, universities, scientific institutes, energy industries and consulting and other companies, as well as from professional associations in the energy field as the collective members) takes an active part in all energy related matters in the country.
Dr. Admir Softic, Secretary General of the Bosnian Herzegovinian WEC Member Committee, is an Assistant Minister for Sector of energy in the Ministry of Foreign Trade and Economic Relations of Central government of Bosnia and Herzegovina, in charge of sector of energy taking care of administrative settlement, normative and legal affairs, documentation and informational affairs in the field of energy, natural resources management and concessions. From February 2015 till July 2016 he served as Assistant Minister for sector for natural resources, energy and environment protection. He has more than 18 years of scientific and professional experience in the field of energy, energy policy, mining, power system modelling, simulation, analysis and planning. He has gained experience in solving complex energy problems, including energy strategies, studies and projects in energy efficiency, spatial planning, municipal energy, modelling and balancing energy-producing processes and promotion of renewables. He has intensive experience in knowledge management and networking in Bosnia and Herzegovina and the Western Balkans. He participated as a lead project manager or coordinator in several EU development projects. He is Assistant Professor at the Faculty of Mining, Geology and Civil Engineering, University of Tuzla. He is the author of 3 university textbooks, as well as of more than 30 papers.
He is the focal point for energy and environment in the Union for Mediterranean, Focal point in the IRENA and he is member of the Environmental Working group in the Energy Community Secretariat.
Energy in Bosnia and Herzegovina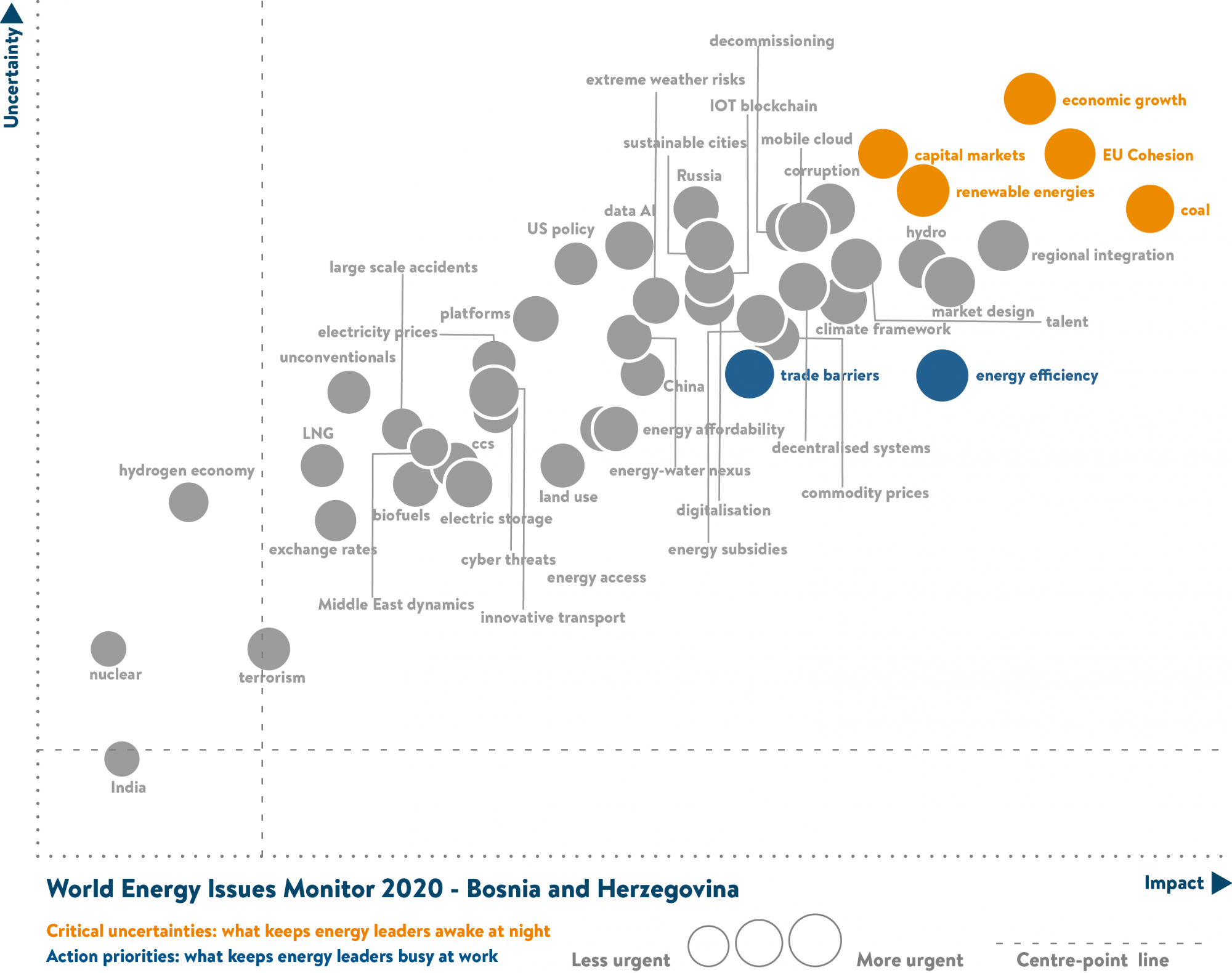 The perceptions of Bosnia and Herzegovina's energy leaders on energy issues suggest a strong attention to Economic Growth, Regional Integration as well as the rebalancing of the energy mix as issues of crucial relevance. The Action Priority section is led by Energy Efficiency and Trade efforts to support Economic Growth.
Economic Growth is perceived as the highest uncertainty. Recent years have seen higher GDP growth and the IMF expects further growth in coming years. At the same time, the country is challenged by a fiscal deficit and inflation. There has been a strong focus on developing building infrastructure as well as increasing the quality of funds for small and medium-sized enterprises in order to enhance productivity and create jobs.
EU Cohesion is another key concern. Uncertainty stems from the current progress in the planned replacement of three aging coal units with a single 450MW unit at the 715MW Tuzla Power plant. The EU has expressed opposition to the terms of the financing agreement for this project, prompting the activation of the Mediation and Dispute Resolution Centre of the Energy Community Secretariat in 2019. Meanwhile, the Environmental Impact Assessment has confirmed that the new block will meet all the requirements and conditions of modern technology and environmental protection according to EU and BiH's standards.
Coal is also perceived with high uncertainty and high impact. BiH's electricity mix relies for 60 percent on coal-fired generation, valuing the availability of coal as a national resource. While coal generation helps to ensure affordability of power supply, it also exacerbates the urgency of tackling high pollution levels.
Market Design is perceived with moderate uncertainty and impact, reflecting the attention to the renewables target for the 2020-2030 period, currently subject to negotiations with the Energy Union. This approach feeds into BiH's efforts to align with the EU energy model requiring the adaptation of current laws to enable renewable sector development. Mandated changes include the incorporation of auctions to award large projects and feed-in tariffs to support smaller ones.
Energy Efficiency is fully in the Action Priorities section. The high impact attributed to this issue reflects awareness on the challenge of improving buildings efficiency, as the sector consumes over half of the country's total energy use. In recent years, the focus for action has been on improving insulation, upgrading heating systems and adapting lighting. Progress in this area was made possible thanks to multi-million grant supports from development institutions and green funds.
Trade Barriers are also seen as an Action Priority. In addition to conditions defined in the relevant energy legislation for doing business in this sector, Bosnia and Herzegovina has no barriers for trade in energy. The country is also a signatory to key international treaties/conventions (e.g. ECT, EnC, ICSID) which enable an easier and safer business environment.