The Bosnian Herzegovinian Committee aims to promote sustainable energy development in Bosnia and Herzegovina, as a part of the World Energy Council's energy vision. As a member of the World Energy Council network, the organization is committed to representing the Bosnian Herzegovinian perspective within national, regional and global energy debates. Members of the BH Committee include represented by ministries (state and entity level), energy institutions, universities, and companies of the Bosnian Herzegovinian energy sector and the Committee includes a variety of members to ensure that the diverse energy interests of Bosnia and Herzegovina are appropriately represented.
Its membership (individuals from governmental institutions, universities, scientific institutes, energy industries and consulting and other companies, as well as from professional associations in the energy field as the collective members) takes an active part in all energy related matters in the country.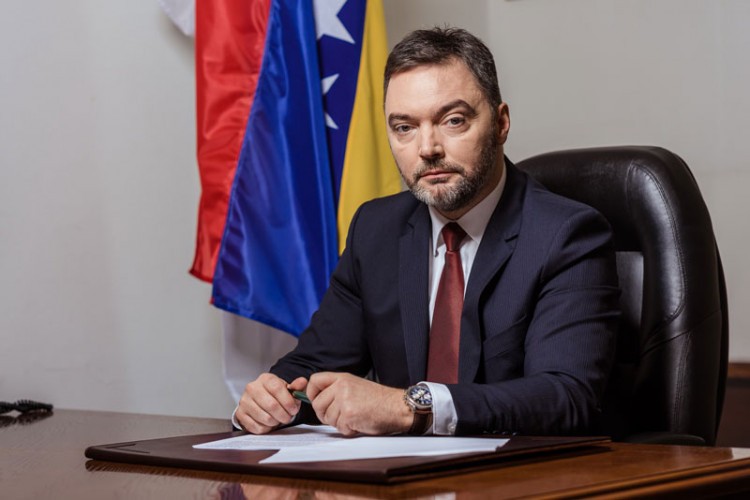 Minister of Foreign Trade and Economic Relations of Bosnia and Herzegovina Staša Košarac was born on March 19th, 1975 in Sarajevo, where he completed elementary and high school. He graduated from the Faculty of Business and Industrial Management in Belgrade in 2014. He is a member of the Alliance of Independent Social Democrats (SNSD).
He was appointed Minister of Foreign Trade and Economic Relations of BiH on December 23rd, 2019. In the 2014 general elections, he won a direct parliamentary mandate in the House of Representatives of the BiH Parliamentary Assembly.  In 2018, he again won a mandate in the House of Representatives of the BiH Parliamentary Assembly, in which he acted as Chairman of the Caucus of SNSD members in this legislative body, until his appointment as the Minister of Foreign Trade and Economic Relations of BiH after the Council of Minister of BiH was formed.
He performed his first public function as a Counsellor in Municipality Assembly of Višegrad when he was 25 years old. He won his mandate in the Republika Srpska National Assembly in 2004, and two years later became the Chairman of the Serbian Club Caucus in the Republika Srpska Council of Peoples.
From 2010 he performed the same function in the House of Peoples of the Parliamentary Assembly of Bosnia and Herzegovina. From 2013 to 2014 he was the Chairman of the House. He was elected Head of the Team for Coordination for War Crimes and Missing Persons of Republika Srpska as a decision of the Government of Republika Srpska in January 2010. 
He is married and a father of three. He lives in Istočno Sarajevo.
Dr. Admir Softic, Secretary General of the Bosnian Herzegovinian WEC Member Committee, is an Assistant Minister for Sector of energy in the Ministry of Foreign Trade and Economic Relations of Central government of Bosnia and Herzegovina, in charge of sector of energy taking care of administrative settlement, normative and legal affairs, documentation and informational affairs in the field of energy, natural resources management and concessions. From February 2015 till July 2016 he served as Assistant Minister for sector for natural resources, energy and environment protection. He has more than 18 years of scientific and professional experience in the field of energy, energy policy, mining, power system modelling, simulation, analysis and planning. He has gained experience in solving complex energy problems, including energy strategies, studies and projects in energy efficiency, spatial planning, municipal energy, modelling and balancing energy-producing processes and promotion of renewables. He has intensive experience in knowledge management and networking in Bosnia and Herzegovina and the Western Balkans. He participated as a lead project manager or coordinator in several EU development projects. He is Assistant Professor at the Faculty of Mining, Geology and Civil Engineering, University of Tuzla. He is the author of 3 university textbooks, as well as of more than 30 papers.
He is the focal point for energy and environment in the Union for Mediterranean, Focal point in the IRENA and he is member of the Environmental Working group in the Energy Community Secretariat.
Energy in Bosnia and Herzegovina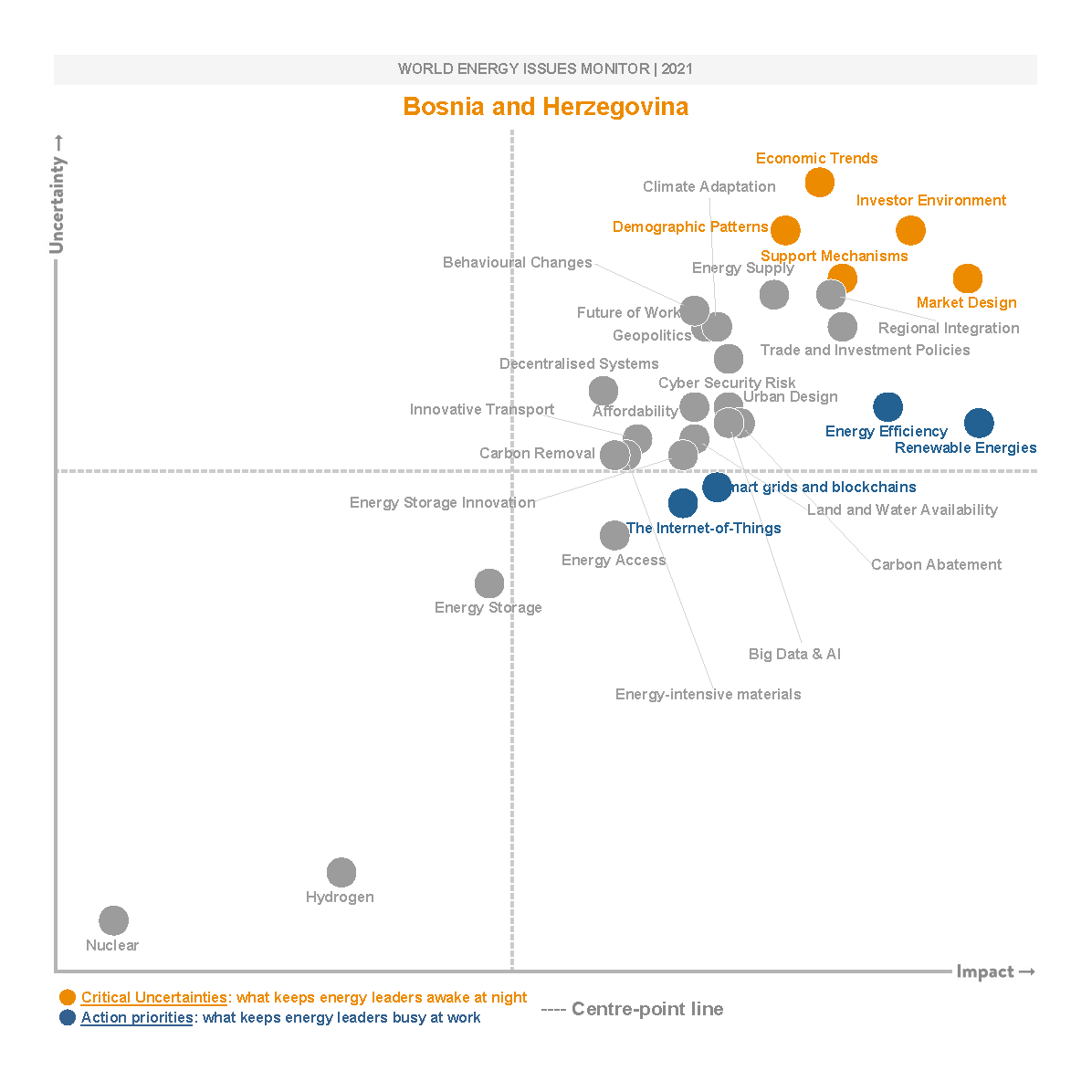 In this years' edition of the World Energy Issues Monitor, the perceptions of Bosnia and Herzegovina's energy leaders on energy issues suggest a strong attention to the business environment (market design, support mechanisms and investor environment) and social dynamics (demographic patterns), as well as the rebalancing of the energy mix as issues of crucial relevance. The action priorities are led by energy efficiency, renewable energies and digitalisation efforts to support economic growth.
Concerning renewable energy, the country's 2020 target of a 40% share of gross final energy consumption is not likely to be met. Market-based support schemes are still missing. Yet, a new support package based on auctions, including amendments to the relevant entities' legislation, is planned to be adopted in the 2021, with the first auctions due to be held in 2022. There is no appropriate system for guarantees of origin in place. In September 2020, following the proposal of the Independent System Operator (NOS BiH), the State Electricity Regulatory Commission of Bosnia and Herzegovina (SERC) increased the permitted capacity of wind power plants that may be connected to the transmission network (from 460MW to 840MW) and solar power plants (from 400MW to 825MW). Priority or guaranteed access to the grid for renewable energy producers remains unsecured. (Energy Community Annual Report 2020).
Given that the EU has set a target of 32% of renewable energy in gross final consumption by 2030, BiH will certainly have to alter its 40% by 2020 target, which will mean new investments and economic development.
According to the Indicative Production Plan (www.nosbih.ba) for the period 2020-2029, there are plans to construct approximately 30 wind farms with an installed capacity of 1.8GW and around 40 new hydropower plants with an installed capacity of 2GW.
Day-ahead market integration of Bosnia and Herzegovina is conditioned on the adoption of a new state-level law (planned to be adopted in 2021). The existing state-level law does not envisage any tasks and competences related to the set-up and functioning of a day-ahead market. An efficient balancing market has been operated by NOS BIH since 2016, covering both energy and reserve capacity. Improved balancing rules in force since September 2019 resulted in higher liquidity and lower prices. During the course of 2020, SERC adopted a set of acts transposing the REMIT Regulation for electricity and developed and implemented a corresponding reporting mechanism.
There are no significant plans in 2021 for digitalisation or early stages of developing strategies. Smart metering and SCADA have been partially accomplished by the System operator and distributions operators.
At the 4th session of the Joint Commission for European Integration of the Parliamentary Assembly of Bosnia and Herzegovina, the parliamentary initiative was supported the House of Representatives of BiH to adopt the first draft of the Integrated Energy and Climate Plan of Bosnia and Herzegovina (NECP), which is the obligation of this Ministry (as stated by the Action Plan of the Council of Ministers of Bosnia and Herzegovina) for the implementation of priorities from the Analytical Report of the European Commission. Adoption of this document in 2021 will create a foundataion for further development of five Energy dimensions.