The China National Committee aims to promote sustainable energy development in China, as a part of the World Energy Council's energy vision. As a member of the World Energy network, the organisation is committed to representing the Chinese perspective within national, regional and global energy debates. The committee includes a variety of members to ensure that the diverse energy interests of China are appropriately represented. Members of the committee are invited to attend high-level events, participate in energy-focused study groups, contribute to technical research and be a part of the global energy dialogue.
Energy in China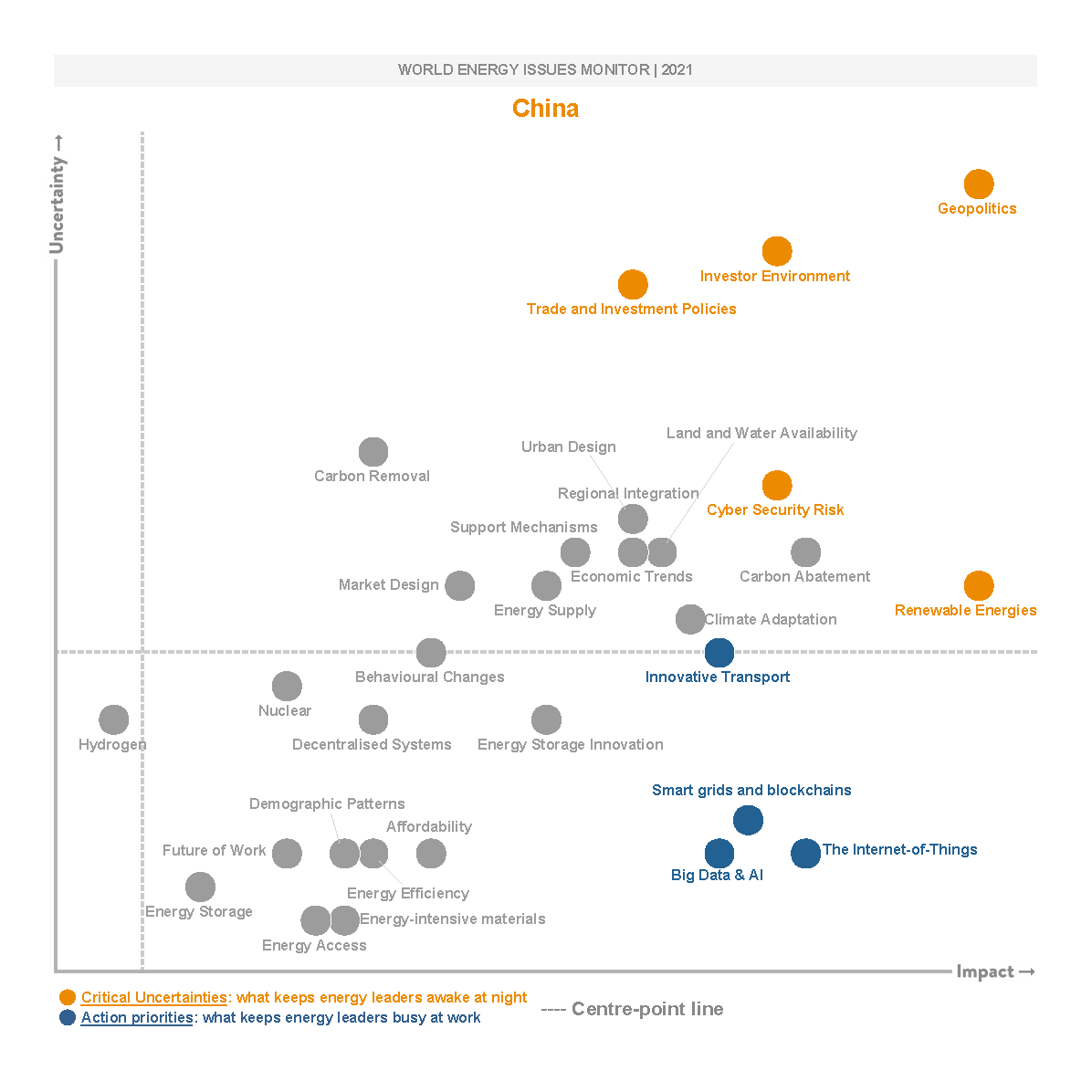 This year's edition of the Issues Monitor identifies geopolitics, investor environment, trade and investment policies as critical uncertainties for China. The action priorities focus on the internet-of-things, smart grid and blockchains, and innovative transport.
Geopolitics are perceived as a high priority issue. China is the world's largest importer of crude oil and natural gas; more than 70% of crude oil and 40% of natural gas consumption are dependent on overseas supply. Uncertainties emerging from geopolitical uncertainties may not only significantly impact China's oil and gas imports, but also threaten the country's energy security. China is therefore seeking diversification of oil and gas imports to mitigate geopolitical shocks. Renewable energies are perceived with low uncertainty and high impact. China has the world's largest cumulative installed capacity of hydropower, solar PV and wind turbines, and leads on renewable energies investment. Renewables play a key role in China's energy transition. However, uncertainties lie in integrating the ambitious levels of installed capacity of solar and wind (target of 1200GW by 2030), while deploying distributed renewable energies on a large scale, and reducing the curtailment of electricity generated by hydro, wind and solar PV.
Cyber security is also perceived as an issue of higher uncertainty. With the automation and digitisation of the energy industry on the ascendant, the risk of cyber security is becoming increasingly severe, with the potential to affect energy supply and consumption directly. The uncertainty is determined by how to build more resilient energy infrastructures, and phase in new technologies and working practices to improve smart energy system.
Climate abatement is a vital action priority. China has announced a commitment to peak its carbon dioxide emissions before 2030 and achieve carbon neutrality before 2060. By 2030, China aims to lower its carbon dioxide emissions per unit of gross domestic product (GDP) by over 65% from 2005 levels and to increase the share of non-fossil fuels in primary energy consumption to around 25%. It is also working to increase the forest stock volume by6 billion cubic meters from 2005 levels, and to bring the country's total installed capacity of wind and solar power to over 1,200GW. These ambitions will cause the Chinese government to accelerate its low-carbon energy transition mainly through energy conservation and emission reduction in industrial production, transportation, housebuilding, coupled with the deployment of renewables.
Smart grids and blockchain remain an action priority. The use of new technology has a positive effect on China's energy transition. Smart grids and blockchain have become the most important technologies for building an online energy system, which can solve the problems existing in smart grids of distributed energy systems and the difficulty of dispatching power resources. The Covid-19 pandemic accelerates the digital transformation of new energy industries and new forms of business models based on the blockchain technology.
Innovative transport is an important issue for China to address. In the first 11 months of 2020, the sales of new battery electric vehicles (BEVs), plug-in hybrid electric vehicles (PHEVs) and fuel cell electric vehicles (FCEVs) reached 1.1 million. By September 2020,the total number of charging points reached 1.42 million. The New Energy Automobile Industry Development Plan (2021-2035), issued by State Council, confirmed electric vehicles will drop to 12.0 kWh/100 km, and the sales of new energy vehicles will reach approximately 20% of total new vehicle sales. In April 2020, China decided to extend state subsidies and tax breaks for new energy vehicles by two years until the end of 2022 in order to boost new energy vehicles industry development and confirmed that subsidies for new energy vehicles will be removed gradually.