The Colombian World Energy Council Member Committee aims to study and implement of projects aimed mainly at the rational use of energy resources in all its aspects, in order to promote sustainable energy development. These projects consider the production, transportation, distribution, marketing and use of energy for maximum benefit, taking into consideration global trends in regulation and minimizing environmental impacts. COCME's mission is to promote the sources and sustainable use of energy to provide greater benefits for people.
José Antonio Vargas Lleras is the World Energy Council's Vice Chair for the Latin America & Caribbean region and also serves as Chairman of the Colombian Committee of the Council. Since 2006 he has been Chairman of the Board of Directors of Electricity Distribution Company CODENSA and of Electricity Generation Company Emgesa, subsidiary firms of Enel-Endesa in Colombia. Dr Vargas Lleras has been Chairman of the Energy Commission for Regional Integration (CIER) and has held several managerial positions in many companies in the Colombian electric sector including the post of CEO of the Bogota Power Company. Professionally trained as a lawyer, and also a university professor, he has served as an Ambassador to the European Union and the Permanent Representative of Colombia to the World Customs Organisation.
Energy in Colombia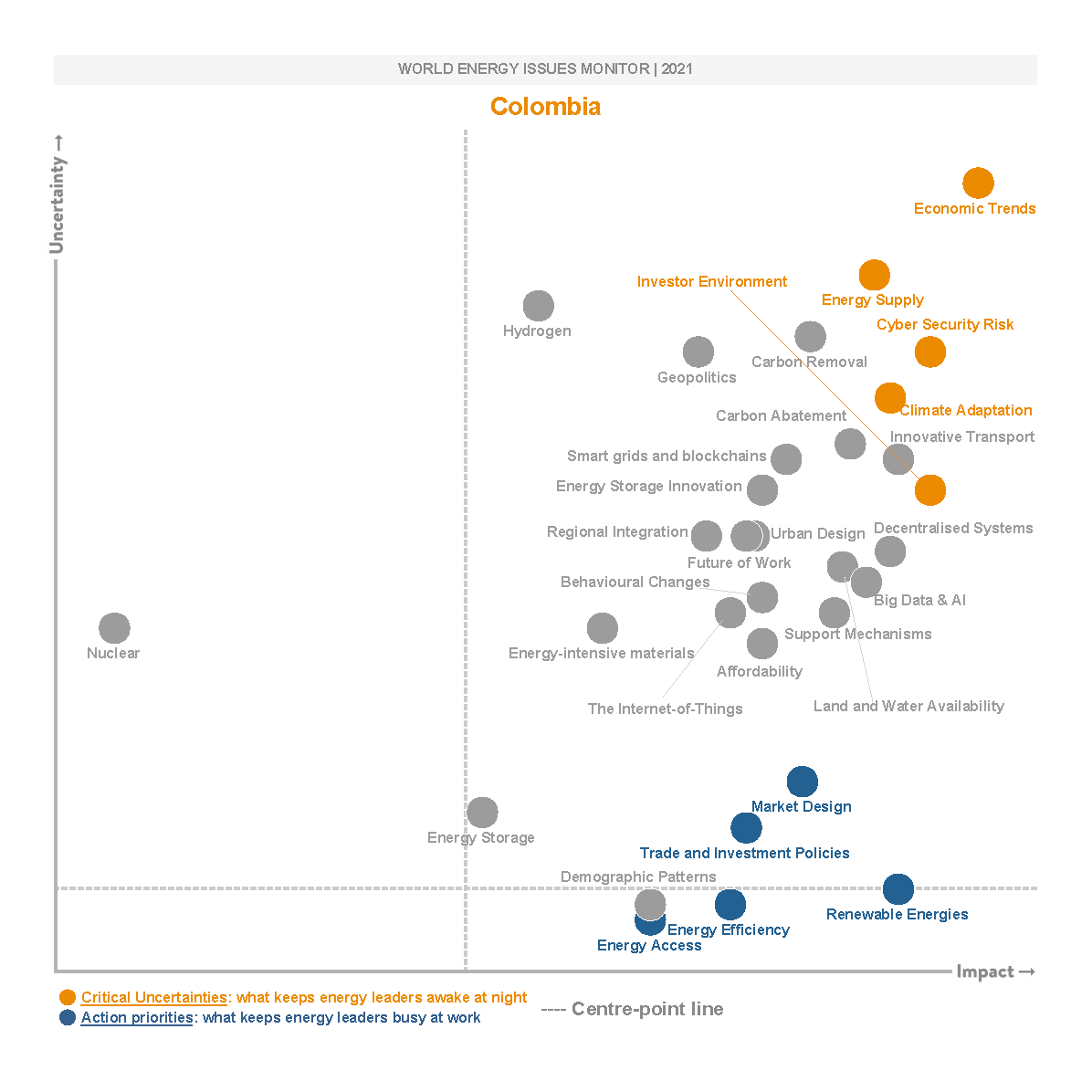 The pandemic and the changes it brought define Colombia's energy landscape. While these concerns cause some uncertainties to be more scattered than in 2020, action priorities remain focused on developing new renewable energy sources and measures to reduce energy consumption (efficiency).
Economic trends and commodity prices for energy supply lead the critical uncertainties for energy leaders. The US Elections and extended lockdowns put the attention on the effects of growth. According to UNDP, the LAC region will experience the most severe economic recession in decades and can lose progress in the fight against poverty and inequality. Colombia's GPD fell 9% in the third trimester 2020, but OECD forecasts it can rise by 3.5% in 2021. The oil and gas industry generated 20% of government fiscal revenues, 4% of GPD, meaning declines in oil prices and a decrease in proven gas reserves for just 8.1 years are a source of concern. Recently, the government carried out the third round for oil and gas drilling and have allocated 30 areas.
The pandemic not only paused the implementation of some energy projects generating pressure in the investment environment, but also accelerated digitalisation, increasing the vulnerability to cyber risks.
Renewables and energy efficiency are still action priorities. Climate change goals mark out an ambitious plan for new renewable plants with private resources and enforcement of efficiency practices. The Caribe Efficient Program provided the scope for people in need in the northern coast to replace more than 50,000 fridges. Market design is now less uncertain because long-term renewable agreements provided a clearer backdrop, and the Energy Ministry is drawing up a roadmap for the Energy Transition, which includes rules adjustments.
The top 3 issues Colombian energy leaders plan to prioritise in 2021 are renewables, digitalisation and energy efficiency. 50% of respondents see renewables as a priority. After the auction for these technologies in October 2019, Colombia is expecting to get more than 2000 MW from wind and solar power plants, representing 12% of the electrical energy mix, most of which will be built in Guajira in the north of the country. The pandemic delayed the prior consultation with communities, so 2021 will be critical to overcome the obstacles and delays that projects are facing. In addition, digitalisation will be key for improving energy security if the pandemic continues. Stakeholders are working at better information systems for planning and rules for smart metering implementation.
There are many steps ahead to achieve a good level of preparedness to face pre-identified shocks. It is reasonable to conclude that the country was not prepared for a pandemic and almost 70% of respondents considered that levels of preparedness for dealing with extreme weather events were very low or low. Earlier in the year, low levels of precipitation put stress on levels in dams and energy prices. This was exacerbated by Hurricane Iota on San Andres and Islands in November, which devastated the infrastructure, including energy services. Both events highlight how the system lacks resilience to face extreme weather risks. The integration of new renewable plants to diversify the country's electricity mix (currently 65% hydropower) is one step towards building this resilience.
The best opportunities include digitalisation, around smart metering, electrification of transportation and storage. The main source of GHG is the transport sector; therefore, sustainable mobility schemes for hybrid or electric vehicles penetration will help to fulfil the 20% reduced emissions commitment. The government´s goal is to have 600,000 electric vehicles by 2030 and has identified hydrogen for further investigation.
In order to improve energy infrastructure, Colombia must strengthen the integration of government entities, incorporate social and environmental realities into expansion planning and work on regional integration with Central American through Panamá.