The Ecuadorian National Committee aims to promote sustainable energy development in Ecuador, as a part of the World Energy Council's energy vision. As a member of the World Energy Council network, the organisation is committed to representing the Ecuadorian perspective within national, regional and global energy debates. The committee includes a variety of members to ensure that the diverse energy interests of Ecuador are appropriately represented. Members of the committee are invited to attend high-level events, participate in energy-focused study groups, contribute to technical research and be a part of the global energy dialogue.
Mr. Mauro Intriago is currently Viceminister of Electricity and Renewable Energy. He is an electrical engineer from "Escuela Politécnica Nacional", and has studies in logistics, standardized management systems and certifications of quality, environment and social responsibility.
In the professional field, he has been linked to the private sector, especially in the area of services. In his experience, he has positions in the Electric Company of Ecuador (EMELEC) where he worked as a distribution engineer. In the international field, he worked in DHL International - Ecuador, having responsibilities in the western area of Latin America. He has been an advisor, auditor and consultant in business matters, especially in the electricity area in institutions such as CELEC EP - Hidronación, Electroquil, INPROEL, and Electrical Construction companies.
Energy in Ecuador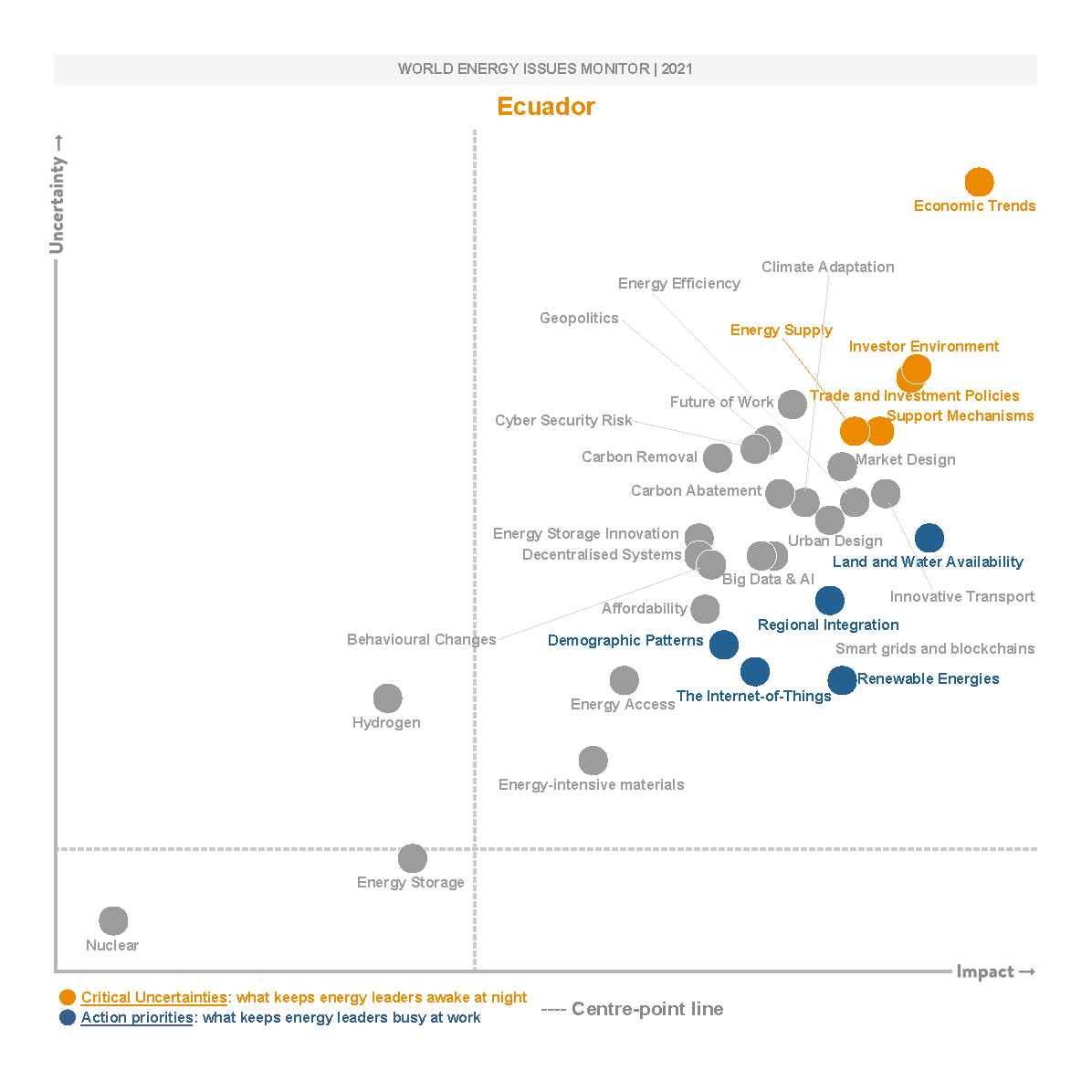 Covid-19 brought a great deal of uncertainty for the entire world, and its impact was also apparent on the energy sector. Plausible scenarios for predicting Ecuador's post-pandemic energy production and consumption patterns should be defined, depending on the success of various strategies for tackling the pandemic (World Energy Council Covid-19 Crisis Scenarios).
Due to the impact of the pandemic, the country is more likely to focus on stability rather than change and prioritise recovering the local economy as a first step. Under this scenario, economic trends in Ecuador require special attention as large foreign investments will be required to tackle the issues caused by the pandemic. In this regard, viable and attractive trade and investment policies need to be established to improve the investor environment in the country. This could take different turns as a presidential election will take place in 2021. However, regardless of the election result, a clear message needs communicating, highlighting the vast potential in the Ecuadorian energy sector, and the value of investing in it. 
Ensuring energy supply capability could also be a challenge, since many conventional generation units are under maintenance, and a number of large thermal-power plants are expected to reach their life expectancy. This could be an issue in scenarios where water is scarce. To tackle this, around 450MW of generation power is expected to be incorporated in 2021.
While returning to a "new normality" post-pandemic, energy demand will begin to rise along with the oil price. As Ecuador's economy is largely dependent on oil, a rise in the oil price will be beneficial for the country's economy. On the other hand, renewable energy projects will also be much more competitive. Large initiatives have already been put on the table to seize the land and water availability in the territory. Water is one of Ecuador's most valuable assets and large portions of currently unused land will be utilised for building new projects to exploit the solar and wind potential in certain regions. In 2021, the construction of a large solar plant (200MW) and a moderately sized wind power plant (110MW) is expected to begin, supporting Ecuador's decarbonisation goals.
Regional integration is something to aim for during 2021, since it will facilitate energy exchange with neighbouring countries and improve the electricity service. Supporting this aim, the Mercado Andino Eléctrico Regional (MAER) will be implemented in 2021. Information is key to our current world, and the interchange of real-time data to aid regional integration has also been established as a priority. 
Much effort has been devoted to increasing the efficiency of energy production, transmission and consumption, and the mechanisms that facilitate obtaining the necessary metrics through digitalisation and the internet-of-things. New infrastructure is being implemented to facilitate M2M (machine to machine) interaction and is being treated as a priority. Innovation in the public transport system is also a priority, with "Metro de Quito" operations anticipated to start in 2021.
The country is not considered to be resilient to high-impact events; as evidenced by the overwhelming of resources caused by the 2016 earthquake. Therefore, it is expected that Ecuador will require external support to recover its economy and the sustainability of the country's energy sector in the aftermath of the pandemic.