Estonia has been a member of the World Energy Council since 1937. Estonia was then represented by the National Power Committee, led by Director J. Veerus and Professor P. Kogerman. In 1998, the 17th World Energy Congress in Houston formally reinstated Estonia's membership of the World Energy Council. The Estonian Member Committee of the World Energy Council was founded on 16 July 2003 by the Ministry of Economic Affairs and Communications, Estonian Academy of Sciences, Estonian Power and Heat Association, Tallinn Technical University, Eesti Energia AS and AS Eesti Gaas.
Hando Sutter has served as the Chairman of the Management Board of Eesti Energia since December 2014. Prior to this he was the regional manager of Nord Pool Spot power exchange in the Baltics and Russia. He has also previously worked in the management teams of regional companies such as ESS Group (renamed to G4S Estonia), Tolaram Investments and Olympic Entertainment Group.
Energy in Estonia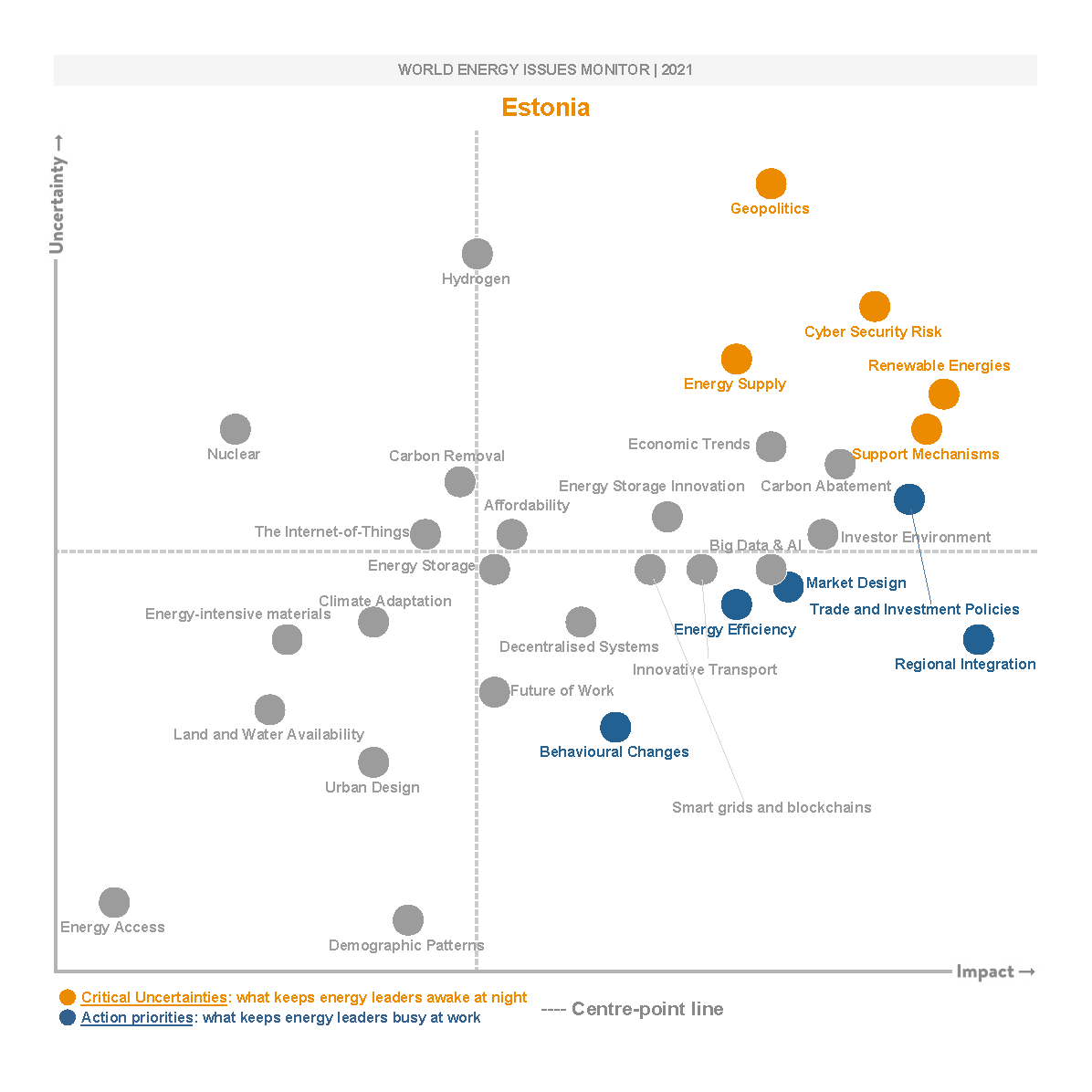 The Estonian Issues Monitor 2021 map reveals that the 4D's of decarbonisation, decentralisation, digitalisation and demand centricity, which are common to the energy transition are directing the trends. The Issues Survey reveals that the top priorities for 2021 for Estonian energy leaders are digitalisation, renewable energies, regional integration and energy storage innovation.
Comparing the results with the previous year, we see cyber security risks rise as a critical uncertainty. Renewable energies and support mechanisms have moved from being an action priority to a critical uncertainty. The critical uncertainties are headed by geopolitics which, for the most part, reflects long-term concerns with Russia and can be associated with uncertainty around energy supply.
Energy efficiency, market design and regional integration have retained their position of issues with high impact and low uncertainty. The same continuity of perspectives broadly applies to digitalisation through smart grids & blockchain or big data & AI which are perceived with lower uncertainty and moderate impact. Trade & investment policies and behavioural changes emerge as new action priorities for 2021.
The Estonian energy landscape has been strongly affected by digitalisation. Estonia is the first EU country to achieve full electricity remote-reading capabilities, with a central data hub where hourly consumption data relating to each client is stored and made easily accessible to them. Remote-reading capabilities are also gaining momentum in the gas and heating sector. Several innovative digital and AI examples have been applied in the country; for example, to trace the infrastructure deterioration or to optimise the operations and planning of the grid.
Along with the enlarging scope and extent of digitalisation, the issue of cyber security risks becomes more apparent. With the NATO Cooperative Cyber Defence Centre of Excellence being located in Estonia (since 2008 following the politically motivated cyber-attacks against Estonia which occurred 2007), the potential risks of cyber-attacks have been brought to the forefront and the potential issue is very well understood by energy industry stakeholders.
Geopolitics has played a crucial role in energy supply with the commissioning of the Astravets nuclear station in Belarus. As a result, the Lithuanian government closed down their electricity connections with Belarus, which has caused concern about the stability of the Baltic electricity grid. Energy supply has been an important action priority under the regional integration issue for years. Energy supply can also be considered as a critical uncertainty due to the high CO2 price, which has transformed Estonia from an electricity exporter into an electricity importer and created concerns about energy security in the event of any interruption of cross-border links. In addition, carbon leakage derived from electricity imports from Russia are a problem that will be partly relieved in spring 2021 with new network tariffs.
Concerning renewable energies, there has been an exponential growth of solar energy, but no new wind energy projects for several years due to planning issues. On the one hand there are behavioural changes in society towards decentralised generation units regarding solar, but a lot of further explaining needs to be done to break the 'Not in my back yard' attitude when it comes to wind turbines. Renewables are also affected by the new support mechanism, which was amended to an auction-based subsidy system and is still to realise its full potential.
Energy efficiency continues to be perceived as an action priority, with a special focus on buildings efficiency. The EU-funded Renovation Loan Programme provides guidance and financial assistance for improving energy efficiency of private homes and apartment buildings. Digitalisation and innovation are also thriving as key assets for enhanced energy efficiency in the country. Nevertheless, in order to meet the climate goals large-scale investments are required, trade & investment policies as well as the market design in general need to be updated to support the energy sector in its transition.