The Hong Kong Member Committee of the World Energy Council has been part of the World Energy Council family for over a decade. Their members are composed of electric and gas utilities as well as a power equipment manufacturer.
Richard Lancaster is the Chief Executive Officer of CLP. Mr Lancaster joined CLP in 1992 and has held a variety of managerial positions in CLP. His experience covers project management, power plant operations, commercial, finance, legal and corporate functions. Earlier in his career, he worked in the electricity supply industry in his home country Australia and later in an international brewing company in the UK.
Prior to assuming his role of CEO in September 2013, Mr Lancaster was the Managing Director of CLP Power Hong Kong for three years. He holds a Bachelor of Engineering in electrical engineering from the University of New South Wales.
Dr. Jeanne Ng is currently the Director of the CLP Research Institute and has been with CLP since 2003 in various roles including Director of Group Environmental Affairs and Group Sustainability. She holds a BSc in Toxicology from the University of Toronto and a PhD in Environmental Management from the University of Hong Kong.
Dr. Ng is currently a Board member of a number of organisations including the Julie Ann Wrigley Global Institute of Sustainability at Arizona State University and the International Emissions Trading Association (IETA).
Energy in Hong Kong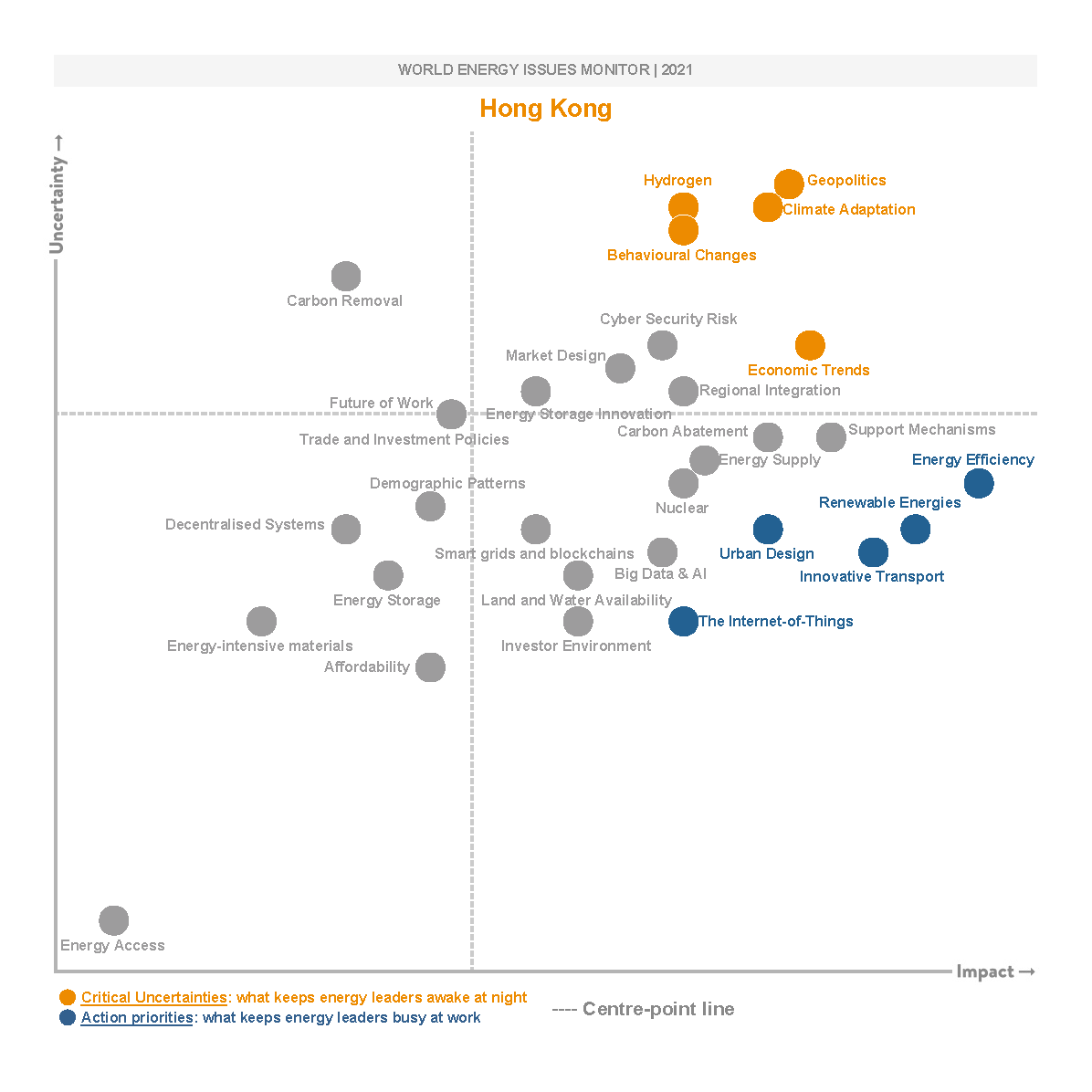 Economic downturn, together with geopolitics are currently the biggest critical uncertainties for Hong Kong. Since 2019, Hong Kong's economy has been severely hit by social unrest and the ensuing international politics. In 2020, the Covid-19 pandemic further plunged Hong Kong's economy into a deeper recession, with forecasts predicting contraction of the Hong Kong economy by 6.1% in 2020 (2020 Policy Address, the Hong Kong Special Administrative Region (HKSAR) Government). Several financial measures amounting to a total of over USD 35 billion have been launched by the HKSAR Government to revitalise Hong Kong's economy.
For the Issues Monitor 2021, 63% of Hong Kong energy leaders perceived Hong Kong is well/ very well prepared to face the shock of pandemics. Amid the current Covid-19 pandemic, combating climate change has remained an important issue across the globe. In September 2020, President Xi Jinping pledged to the United Nations that China would endeavour to peak its total carbon emissions by 2030 and to achieve carbon neutrality before 2060. Keeping pace with the Central People's Government, the HKSAR Government announced in its 2020 Policy Address that Hong Kong will strive to achieve carbon neutrality by 2050 and update the Hong Kong's Climate Action Plan in mid-2021 to formulate more aggressive strategies and measures to help achieve the announced target. In Hong Kong, climate adaptation is another critical uncertainty that keeps its energy leaders awake at night, given the high expectations for the city's operations to never be disrupted. What is certain, is the need to act in concert with the government in advancing the energy transition with the following action priorities:
Enhancing energy efficiency through building automation and better supply-demand side management;
Diversifying the energy fuel mix by reducing coal and encouraging investment in renewable energies through incentives such as the Feed-in Tariff introduced in late 2018; and
Promoting innovative transport such as zero-carbon vehicles and green transportation.
With limited renewable resources available and the relatively high energy intensity per square foot typical of a densely populated vertical city, the potential carbon abatement options for Hong Kong's energy sector are limited given the current state of technologies and commercial constraints. Nevertheless, Hong Kong's energy leaders still list climate change management (61%) and energy efficiency (50%) as their priority issues (Issues Monitor, 2021).
In the short term, climate change continues to have a significant impact on Hong Kong. Natural hazards and extreme weather events could occur more frequently and be more severe in their impact. The most intense storm in Hong Kong's history, Super Typhoon Mangkhut, hit Hong Kong in September 2018. Since then, as a coastal city, Hong Kong has made even greater preparations to face climate adaptation and resilience challenges in a multi-and-transdisciplinary manner to deal with heavy rains, intensification of storms etc. For this year's Issues Monitor, Hong Kong's energy leaders perceived Hong Kong as having high (53%) or very high (44%) preparedness to respond to natural hazards and extreme weather events. Hydrogen has become a new political priority in the energy sector and on the international agenda. A number of countries have already developed their own hydrogen strategy or plan. In Hong Kong, although there has been considerably more discussion on hydrogen over the past year, the hydrogen agenda has yet to be set. Due to limited renewable resources, Hong Kong would have to rely on green hydrogen imported from China or other Asia Pacific countries. Regionalisation of energy sources would be an opportunity, particularly for hydrogen applications in the Hong Kong energy sector. Hong Kong energy leaders should be prepared for hydrogen to be a part of the revolutionary hope and not just hype, for tackling climate change.