The Hungary National Committee aims to promote sustainable energy development in Hungary, as a part of the World Energy Council's energy vision. As a member of the World Energy Council network, the organisation is committed to representing the Hungarian perspective within national, regional and global energy debates. The committee includes a variety of members to ensure that the diverse energy interests of Hungary are appropriately represented. Members of the committee are invited to attend high-level events, participate in energy-focused study groups, contribute to technical research and be a part of the global energy dialogue.
Energy in Hungary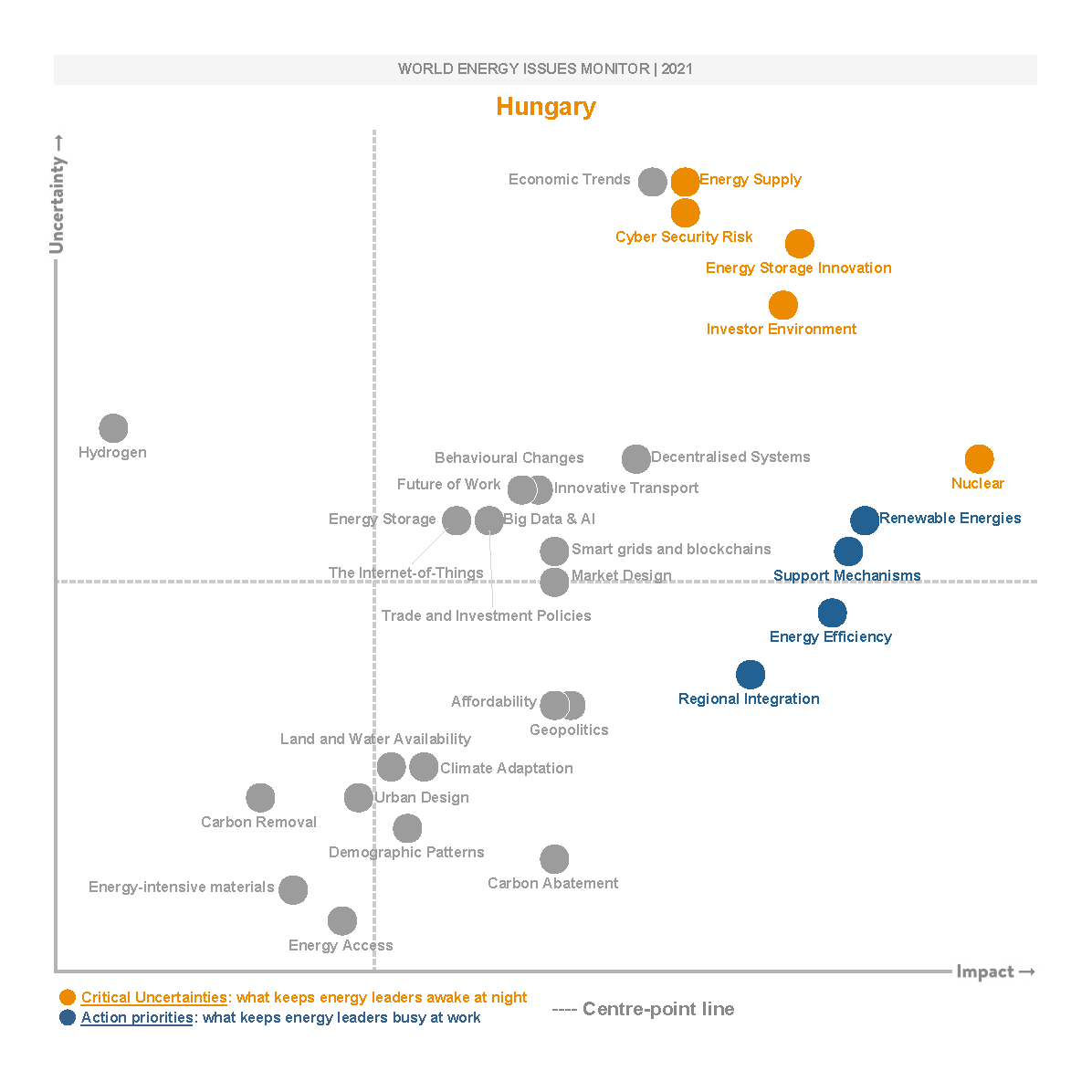 Hungarian energy imports are above the EU average. In 2019, domestic production was at 446 PJ, while imported energy was at 1204 PJ (31 % of the electricity, 88 % of the natural gas and 89 % of the crude oil consumption), and the total energy exported was at 435 PJ, the primary energy consumption was 1108 PJ and stored was 107 PJ. In 2019, 48% of Hungary's domestic electricity production was from nuclear, 25 % came from natural gas, 12 % from coal and lignite. Renewable energy sources accounted for just over 13,7%, but overall solar PV production was 2.36 times higher than in 2018 (http://www.mekh.hu/official-statistics). Despite an adequate level of overall electricity interconnection (capacities are equal with 50% of domestic production), implementing planned infrastructure projects (from Austria and Slovakia) could lead to cheaper electricity imports from Western Europe. Hungary has significant storage capacity (commercial and security) of natural gas at the regional level (6,3 billion m3/221.6 PJ) [National Energy and Climate Plan 2020 - NECP 2020].
The energy efficiency of the Hungarian economy needs to be improved. The processes of recent years indicate the need to rethink the energy efficiency measures used to date, to develop new incentives, to introduce a commitment system, and to make effective use of the potential of the approach. Without encouraging investment in energy efficiency and taking further action, there is a risk of being left with high energy and carbon intensity and of not being able to take advantage of the economic benefits of high energy efficiency (NECP 2020).
Nuclear appears as the main action priority for Hungary's energy leaders. The country has four nuclear reactors that provide nearly half of its power capacity. Since the four blocks of Paks 1 nuclear power plant have been already amortised, this source has a cost advantage, and the four blocks will remain in operation till 2032-36. The ongoing project is building a 2.4GW nuclear power plant (Paks 2) to replace the Paks 1. The primary target to build the new plant is to generate electricity without CO2 emissions and to secure the power supply in the country.
Low-carbon renewable sources (energy supply) are improving. In 2017, just 1% of gross inland energy consumption was covered from low-carbon renewable sources, while highly polluting biomass contributed approximately 10%. From this low base, solar installations show a rapid increase (reaching 2 GW at the end of 2020 [mavir.hu]), and this trend is set to continue in the future (reaching 2.5 GW by 2025, 6GWp by 2030 and expected to reach 12GW by 2040) [NECP 2020].
R&D spending increased from 0.98% of GDP in 2008 to 1.53% in 2018. This level is high for Central Eastern European countries, but remains below the EU average of 2.11% and Hungary's 2020 target of 1.8% (EU country report 2020). The investment needs will amount to up to USD 54.77 billion until 2030, representing around 3.5% of Hungarian GDP each year. These needs relate in particular to improving the energy efficiency of buildings, investments in renewable energy and sustainable mobility, in order to meet energy and climate objectives (NECP 2020). Greening the economy requires investment in energy efficiency, climate change resilience and waste management. Increased investment in research, innovation, infrastructure and skills are essential for improving productivity and for long-term growth that benefits society as a whole. Public and private investment as a share of GDP is high, but its composition could be better geared towards raising productivity. Research and innovation capacities need to be enhanced to improve moderate innovation performance (EU country report Hungary SWD/2020/516 final).