The India Member Committee of the World Energy Council aims to be the foremost energy think-tank of the country and the voice of the sector. The organisation is truly representative of the Indian energy sector and contributes to advancing the energy goals of India. Its mission is to facilitate review, research and advocacy of energy technology, policy and strategy; to provide a platform for dialogue within the Indian energy sector; and to collaborate with member committees worldwide towards long term sustainable supply and use of energy. The India Member Committee brings together high-level players in the energy sector together to forge a better understanding of energy issues towards identifying and implementing sustainable, effective solutions.
Mr Gurdeep Singh, is Chairman & Managing Director of NTPC Limited, the largest power generating company in India. Mr Singh has nearly three decades of rich and varied experience in the sector. He started his professional journey with NTPC and his career spans both Indian and Multi-national Companies such as PowerGen, CLP, IDFC, CESC and AES, Gujarat State Electricity Corporation Limited (GSECL). During his tenure as Managing Director, GSECL, he conceptualized and implemented world's first canal top solar power plant. A mechanical engineer from National Institute of Technology, Kurukshetra, India, he has obtained leadership training from IIM Ahmedabad and global institutions like Saïd Business School-Oxford, Darden School of Management-Virginia, USA, Singapore Civil Services College-Singapore.
Energy in India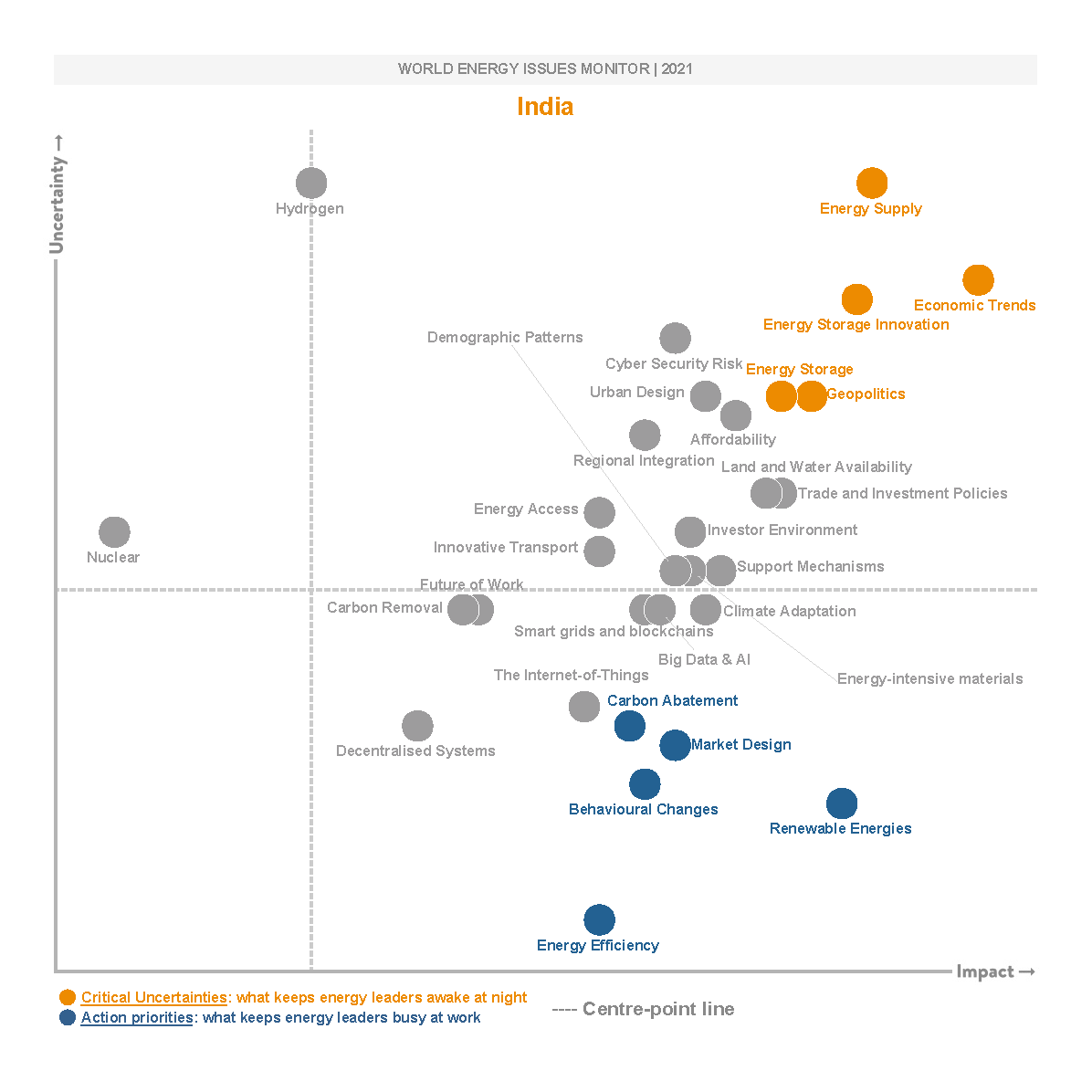 Energy storage and renewable energy are an integral part of India's energy transition, whilst economic trends is another area which is under scrutiny today due to the global pandemic.
2020 was a year where the whole world was impacted by the Covid-19 pandemic. Respondents to this year's Issues Monitor feel that India has a reasonably high level of preparedness to respond to this shock, as well as responding to extreme weather events (India's eastern coast is particularly susceptible to cyclones). On the other hand, respondents also note that readiness can be improved to face threats posed by natural disasters, malicious risks and demand-side disruption.
India's national grid has a peak load of over 180GW. Maintaining grid stability with a high degree of renewables penetration will be a challenge. Innovations will be required in storage including lithium-ion batteries and green hydrogen. Advances in these technologies will also help the Indian government vision for development of the transportation sector using electricity and hydrogen as fuel.
Over the past three years, the number of renewable energy installations in India has outperformed conventional energy installations. India plans to have 60% of its capacity from renewable energy by 2030 (Report on optimal generation capacity mix for 2029-30, CEA). The government has taken many steps by promoting hybrid renewable by innovative policies. Together with France, India launched the International Solar Alliance with the vision of 'One World One Sun One Grid' which connects the grid internationally.
Economic trends became an issue globally, with the world waiting for recovery following the pandemic. The Indian government has launched its ambitious scheme of 'Atmanirbhar Bharat' (Self-reliant Bharat) with a focus on manufacturing in India and making India self-reliant as a means to improve GDP and the economy overall. Indian power consumption has already returned to pre-pandemic levels and a faster rate of growth is expected in 2021.
India is focusing on transition towards a more sustainable future by revamping policies in different sectors. This includes the Digital India initiative, which was launched by government in 2015, to make the country paperless. India is also actively pursuing making its national grids smart (National Smart Grid Mission). Special focus is being paid to energy efficiency with savings of 388 BU (Impact of energy efficiency measures for the year 2018-19, Bureau of Energy Efficiency) by 2030 among different sectors using different schemes by the Bureau of Energy Efficiency. Pradhan Mantri Ujjwala Yojana was started in 2016 with the aim of providing clean cooking gas to under privileged households. The programme has transformed the lives of more than 80 million households to date. Under Saubhagya yojana launched by the government to drive the electrification of householders, 99% of the target (26 Million) has been reached in three years.
India is looking at a cleaner and self-sufficient future by transitioning towards e-vehicles, which will reduce its need for imported oil and also reduce the impact on climate change. There will be significant opportunities for solar and wind generation (onshore and offshore wind turbines) together with development of the hydrogen economy to provide an additional boost to the sustainable development of the energy sector.