The Italian Member Committee of the World Energy Council is a non-profit multi-energy association based in Rome, set up under the patronage of the Ministry of Foreign Affairs and the former Ministry of Industry, Trade and Crafts in 1988. The members' network brings together industry, institutions and universities and represents the different levels of all energy sources. Due to these characteristics, the Committee has taken on a role of "super partes" in the Italian energy sector. The Italian Member Committee promotes the World Energy Council's mission and objectives and participates in its Global Studies Programme and is active in publishing the results of these studies in Italy. The Committee also participates in furthering the national energy debate, mainly organizing conferences and workshops on key energy issues and acts to provide reliable and up-to-date information at all levels, not only for people working within the sector.
Marco Margheri, Councillor and Vice Chair of the World Energy Council's Italian Member Committee since 2011, today holds the position of Chair of the Committee. In addittion to being ENI's USA International Relations Office SVP, Marco Margheri, is also Council Member of the ECFR (European Council on Foreign Relations) and Executive Committee of the IAI (Institute of International Affairs). Previously, it had covered several responsibility in Edison, General Electric - Oil&gas and Young&rubicam - Cohn&wolfe.
Paolo d'Ermo, Secretary of the World Energy Counci's Italian Member Committee since 2016, is also a member of the Italian Order of Journalists, Member of the Board of the Italian Association of Chemical Engineers, Communication Manager of AIDIC's Energy Transition working group, and a Member of the Scientific Committee of ConferenzaGNL and Hydrogen Energy Summit&Expo (HESE). Analysis of energy policies, development of multi-stakeholder dialogues on energy transition issues, and management of training courses, project management of international conferences, are just some of the features that outline his profession in the energy sector.
Paolo Storti, Senior Energy Analyst since 2001 and currently Operating Director for the Italian Member Committee, holds a degree in Environment and Development Economics. As part of his professional experience, he developed specific programming and communication skills on issues related to the energy-environment nexus, especially from the point of view of both technological and regulatory developments, managing international conferences, training courses and in-depth studies.
Energy in Italy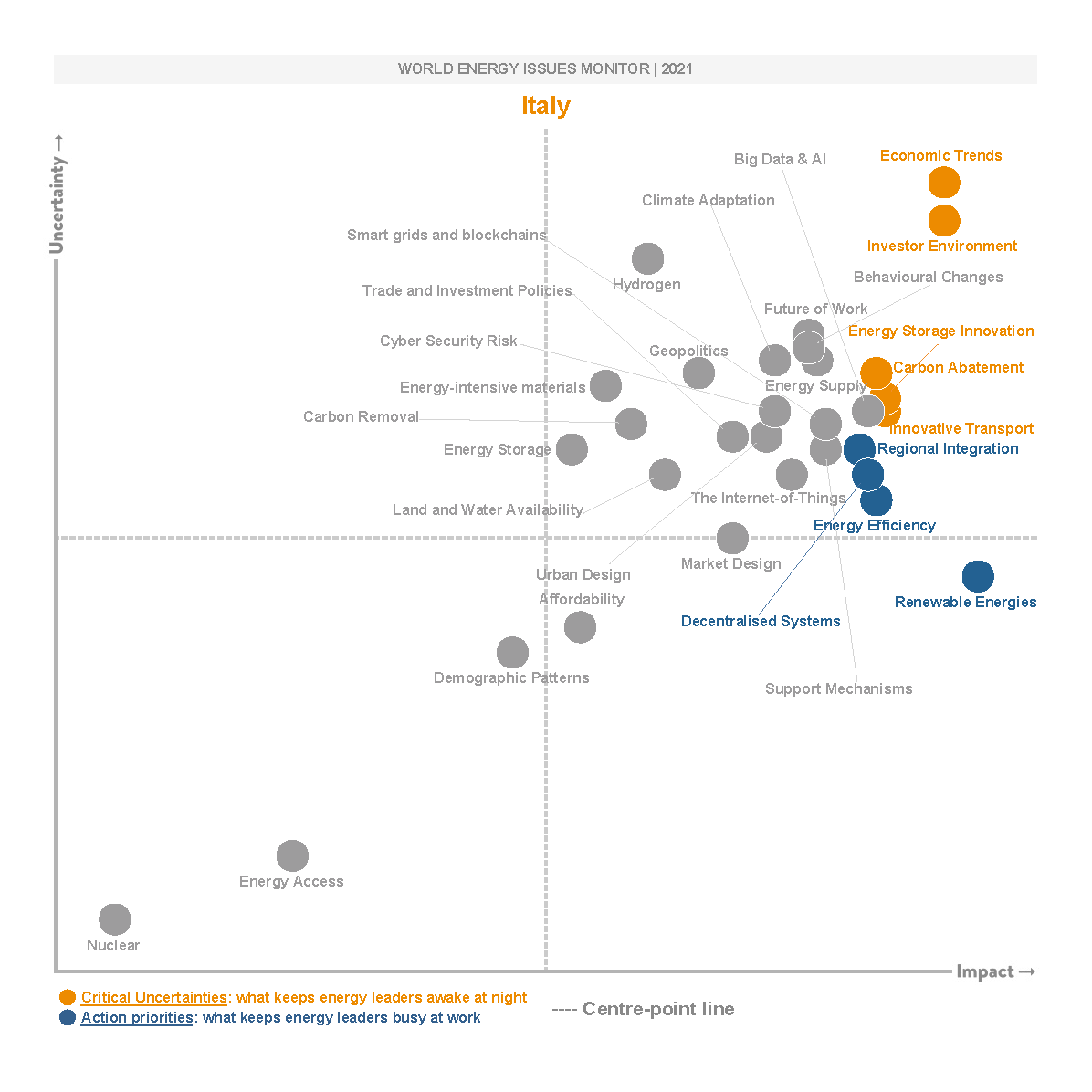 In a global context characterised by an increasing level of economic uncertainty mainly due to the Covid-19 pandemic, economic trends and investor environment represent the most critical uncertainties for Italy's energy leaders in 2021. They also pay close attention to energy production and storage innovations, carbon abatement strategies and innovative transport, mostly because of the rapidly evolving technological improvements and regulatory frameworks consistent with the energy transition goals.
The country is perceived as well equipped to face future pandemics, malicious risks (cyber-attacks, terrorism, etc.) and demand-side structural changes. This is particularly true in the energy sector where digitalisation is the top priority for the country as it is vital to improve energy security and sustainability. In particular, investments in disruptive digital technologies such as 5G architecture, cloud systems and cyber security, together with the implementation of a single internet network, can bring outstanding benefits. New business-to-consumer models can be developed, as well digitalisation processes to improve efficiency in energy consumption.
Digital technologies such as smart meters are a key step in the modernisation of the electric grids. In parallel, in case of an excess of energy produced by variable renewables, storage systems can play a major role, increasing system flexibility. Digitalisation also enables demand response, an opportunity that can complement energy storage solutions.
The deployment of renewable energies and the management of climate change are also perceived as primary concerns. In its National Energy and Climate Plan, Italy aims to achieve a 30% renewable energy share in gross final energy consumption by 2030 (with a target of 22% in the transport sector). For this reason, RES decentralised systems, the consolidation of sustainable centralised plants (namely hydro and natural gas), and energy efficiency measures represent the action priorities for energy leaders to achieve decarbonisation targets. In this framework, the Italian energy leaders all agree on the need to improve and simplify authorisation procedures, which must address regulatory and social aspects in an integrated manner. They also favour a cultural evolution regarding the acceptability of new projects and new plants both on a national and regional-local scale.
Regarding the transport sector, Italy has the opportunity to position itself as a leader in an integrated model of sustainable mobility which, through the improvement and innovation of distribution networks, integrates traditional fuels with new fuels and carriers such as electricity, biofuels, methane in compressed and liquid form (CNG and LNG). In parallel, the challenge of transport sector decarbonisation offers the opportunity for the development of innovative supply chains such as those of bio-methane and hydrogen.
Other areas of opportunity will be the application of green hydrogen in energy-intensive industrial processes and storage systems. According to the Italian Ministry of Economic Development, 12.17 billion USD of investments will come from both the public and private sector. Green hydrogen produced from renewables will have a priority, but decarbonising hard-to-abate sectors will also require the contribution of blue hydrogen (with the application of CCUS) as an instrument to a faster transition: in fact, it will favour the creation of a hydrogen market and lower the overall costs. In this area, as well as in the carbon abatement (CCS) and RES offshore options, the national industrial legacy and expertise of the Oil & Gas sectors will play an important role.
New investments in the energy sector will be made thanks to the introduction of a capacity market and ancillary services market reform.