The Italian National Committee of the World Energy Council (WEC Italy) is a non-profit multi-energy association based in Rome, set up under the patronage of the Ministry of Foreign Affairs and the former Ministry of Industry, Trade and Crafts in 1988. WEC Italy's members' network brings together industry, institutions and universities and represents the different levels of all energy sources. Due to these characteristics, the Association has taken on a role of "super partes" in the Italian energy sector. WEC Italy promotes the World Energy Council's mission and objectives and participates in its Global Studies Programme. It is also active in publishing the results of these studies in Italy. The Association also participates in furthering the national energy debate, mainly organizing conferences and workshops on key energy issues and acts to provide reliable and up-to-date information at all levels, not only for people working within the sector.
Energy in Italy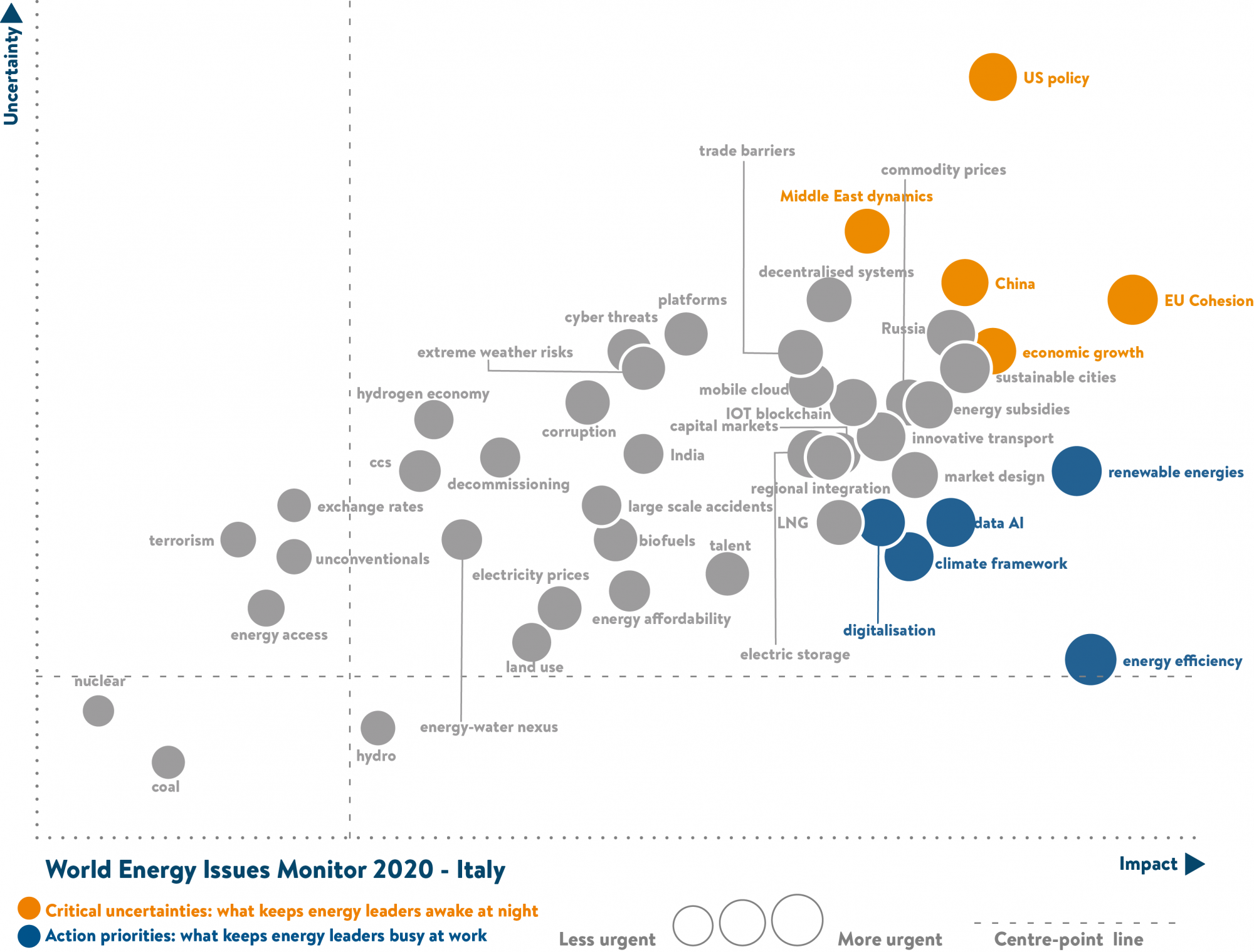 Comparing 2019 and 2020 results, Energy Geopolitics lead the uncertainties section for Italy's energy leaders, with main concerns revolving around EU Cohesion, US Policy and China, together with Sustainable Cities evolution. Meanwhile, digitalisation and technology issues move completely into the Action Priorities section, led by Energy Efficiency, Renewable Energies and Market Design.
US Policy continues to represent a very significant Critical Uncertainty. Developments on tariffs and international trade dynamics have added a higher degree of uncertainty. The most relevant energy issue in the relationship with the US involves natural gas. The US is negotiating LNG supply agreements with a number of European countries, including Italy, which can help to lessen dependence on a single supplier. Domestic US policy on export licences is being monitored closely to assess the expected growth of export volumes.
EU Cohesion is perceived as an issue of higher uncertainty. The main focus has been on the Clean Energy for all Europeans package which was completed in 2019. Setting new rules for renewable energy, energy efficiency, emission reductions, energy infrastructures and the production of National Energy and Climate Plans, the package poses challenges especially regarding the coordination of energy polices among EU member states. Regulation and permitting procedures require improvements for development of energy assets needed to reach the 2030 and 2050 EU decarbonisation goals.
Sustainable Cities are also seen with increased uncertainty. Cities play a growing role in the country's economic, infrastructure and social development. Balancing energy equity, sustainable mobility as well as the reduction of local pollutants will be required in designing sustainable cities. Italian energy institutions are engaged in this process in urban areas. However, the biggest challenge remains identifying new flexible resilience tools to effectively convert existing urban infrastructure, buildings and transport networks into smarter and more sustainable systems.
Energy Efficiency remains the leading Action Priority to achieve the three interconnected objectives of competitiveness, security and energy efficiency. Policies and practices in efficiency can meet these objectives without placing additional financial burdens on households and businesses. The 2019 budget law provides tax deductions (IRPEF and IRES) for investments in energy efficiency measures, particularly for the redevelopment of buildings in line with European guidelines.
Renewable Energies emerge with higher impact and become an Action Priority. The price reduction of photovoltaic panels and wind turbines has boosted investments in these technologies over the year. In the January-September 2019 period, renewable sources met 36.1% of the country's electricity demand. Together, solar and wind power covered 14.5% of national electricity demand.
Market Design is also identified as an Action Priority. The need for timely adaptation of the energy market is necessary to support technological evolution and enable renewables growth together with flexibility and security of supply. The newly launched Capacity Market and the advancement of PPAs for renewable plants are among the most significant developments. System operators will be heavily involved in this process, as their investments depend on signals that the market will be able to offer.
Italian energy leader's concerns and actions are aligned with technological developments, environmental awareness, security of supplies and geopolitical issues. In the same way, Italian public and private energy actors are implementing actions to support the strengths of the important Italian legacy on efficiency, natural gas and renewable energies along with the resilience and security of the energy sector.
Furthermore, in the context of the Energy Transition, natural gas, bio–methane, electric mobility and the development of "green fuels" (biofuels from non-food crops) technologies are increasing the portfolio of actions towards sustainable mobility. Moreover, the digitalisation of energy chains is at the core of businesses' strategies, empowering more efficient and flexible asset management along with new business models.