Japan Power Association (JPA), the forerunner of current Japan Energy Association (JEA), was established in 1927 in response to the foundation of World Power Conference. JPA was dissolved in April, 1944, during World War II. In 1950, JPA was established as an incorporated organization, and a year later, in 1951 Japan rejoined the World Energy Council, and set up the Japanese Member Committee. JEA's core activities include research on energy issues and gathering of information to promote more efficient energy use. Its goal is to contribute to the activities of all energy industries and energy-related stakeholders.
Naomi Hirose is the former president / CEO whose service at the Tokyo Electric Power Company (TEPCO) spans four decades.
He joined the company in 1976, having gained an appreciation for the energy industry following the 1973 Oil Shock, and worked in a number of management positions from 1992 to 2005, including corporate planning, sales, marketing, and customer relations.
Mr. Hirose became an executive officer in 2006, and in 2008, conceived and spearheaded a campaign promoting the economic and environmental benefits of electrification, called "Switch" that was a Japan-first. In 2010, he re-energized the company vision for global expansion.
Immediately after the 3.11 Fukushima Accident, Mr. Hirose dedicated himself to create the system for Nuclear Damage Compensation. After becoming President and CEO in 2012, he led the company in addressing a number of highly complex issues such as water management and decommissioning plans for the Fukushima Daiichi Nuclear Power Station, compensation for the accident and Fukushima revitalization, and keeping TEPCO competitive while facing the deregulation of Japan's electricity market.
He left TEPCO in 2021, and currently serves as Chair of Japan Energy Association, i.e. World Energy Council Japanese Member Committee.
Mr. Hirose received his B.A. in Sociology from Hitotsubashi University in 1976, and his MBA from Yale School of Management in 1983.
Mr. Masaaki Hanaoka has been secretary general of WEC Japanese Member Committee since July 2020. He holds a Masters' degree in science and technology from the KEIO University, Tokyo, Japan. He graduated in 1987 and joined the Tokyo Electric Power Company that same year.
Energy in Japan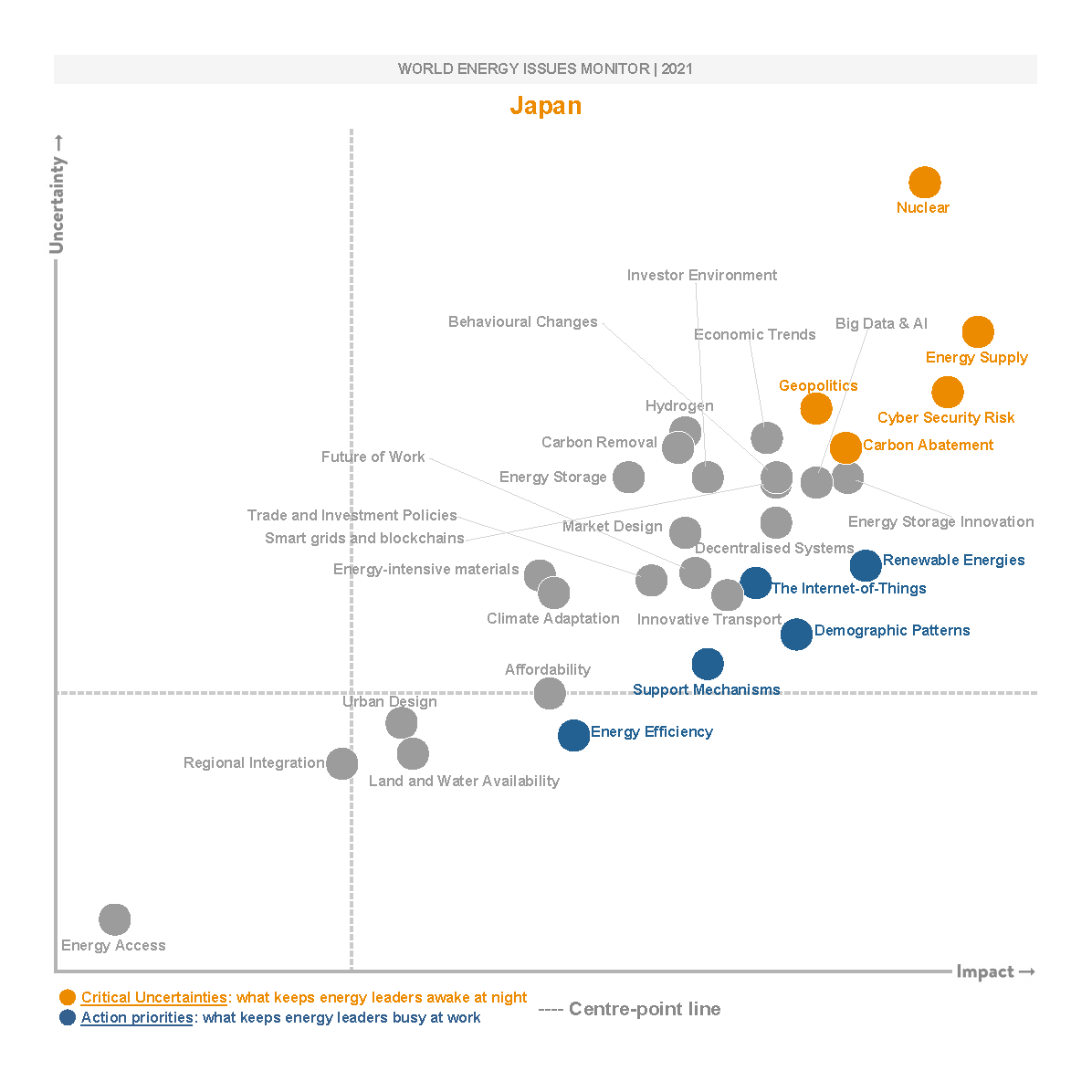 Looking at Japan's 2020 Issues Monitor, at a first glance there is a clear positive correlation about each issue - the higher the impact (horizontal axis), the higher the uncertainty (vertical axis). This can be seen with both action priorities and critical uncertainties. Respondents think that all issues raised in the survey have a degree of impact and uncertainty.
The top three issues energy leaders responding to the survey plan to prioritise in 2021 are nuclear, climate change management and future of work. Nuclear is considered a top priority to be addressed and is also listed as the top critical uncertainty. This is closely related to the fact that renewable energies are at the top of the action priorities.
Following the Fukushima Daiichi nuclear plant accident in 2011, it has been extremely difficult to restart nuclear power plants or to plan new expansion in Japan. Meanwhile, fossil fuels such as LNG and coal are making up for this shortfall. Respondents recognise that it is not realistic to think of removing fossil fuels or nuclear power capacity immediately. At the same time, they look for the way to a transition to a renewable energy-centric society.
In this context, climate change management has come to be considered very important. There is growing concern in Japan, that heavy rains and super typhoons due to climate change may increase further. On 26 October 2020, Prime Minister Yoshihide Suga pledged to achieve net-zero greenhouse gas emissions in his first address in the Diet. It is widely recognised that pursuing swift action, such as strengthening the use of renewable energies, to implement the Paris climate agreement is essential.
In recent years, the declining birth-rate and an aging population have become an urgent issue in Japan. Faced with a decreasing working population, the country is striving for workstyle reforms to improve labour productivity. The internet of things (IoT) becomes one of the action priorities to solve this, but, Covid-19 is exacerbating the situation. Many people who are being forced to work from home are beginning to worry about future of work and calling on government to implement policies to change the structure of working styles immediately.
Regarding Japan's preparedness, energy leaders assessed the country as a whole as highly prepared for natural disasters and extreme weather events. Japan is well known for being susceptible to various disasters almost every year. A century ago, a famous physicist gave a warning, "Natural disasters come when you forget." It might be said that preparedness for such typical disasters is commonly recognised by the public. However, respondents recognise that they are not well prepared for emerging risks such as pandemics and cyber-attacks. As a result of the opinion poll (Nikkei September 2020), the percentage of people who put Covid-19 measures as a priority issue was the highest, regardless of generation.
As soon as the new administration started, the need for digitalisation was emphasised. The main feature of the strategy is the establishment of a government entity in charge of all things digital: a digital agency. A new organisation with five hundred staff is to be set up in 2021. With this strong influence, there is no doubt that digitalisation will be promoted to advance energy transition.