Manuel Sapiano is Chair of the World Energy Council's Malta Member Committee and Chief Executive Officer of the Energy and Water Agency (EWA) within Malta's Ministry for Energy, Enterprise and Sustainable Development. In this role, he coordinates a team of experts with responsibilities for the formulation, evaluation, monitoring and implementation of national policies concerning the use of energy and water in a sustainable manner and the formulation of plans to meet National and EU energy and water resources management targets.
Henry Debattista is Secretary of the World Energy Council's Malta Member Committee and works as an Officer within the International Office of the Energy and Water Agency where he follows the Agency's membership in regional and international organisations, coordinating the participation of technical experts from the Water and Energy Units in the initiatives and activities led by these organisations. He also leads the Agency's participation in EU funded projects, in particular where such projects are of a cross-sectoral nature.
Energy in Malta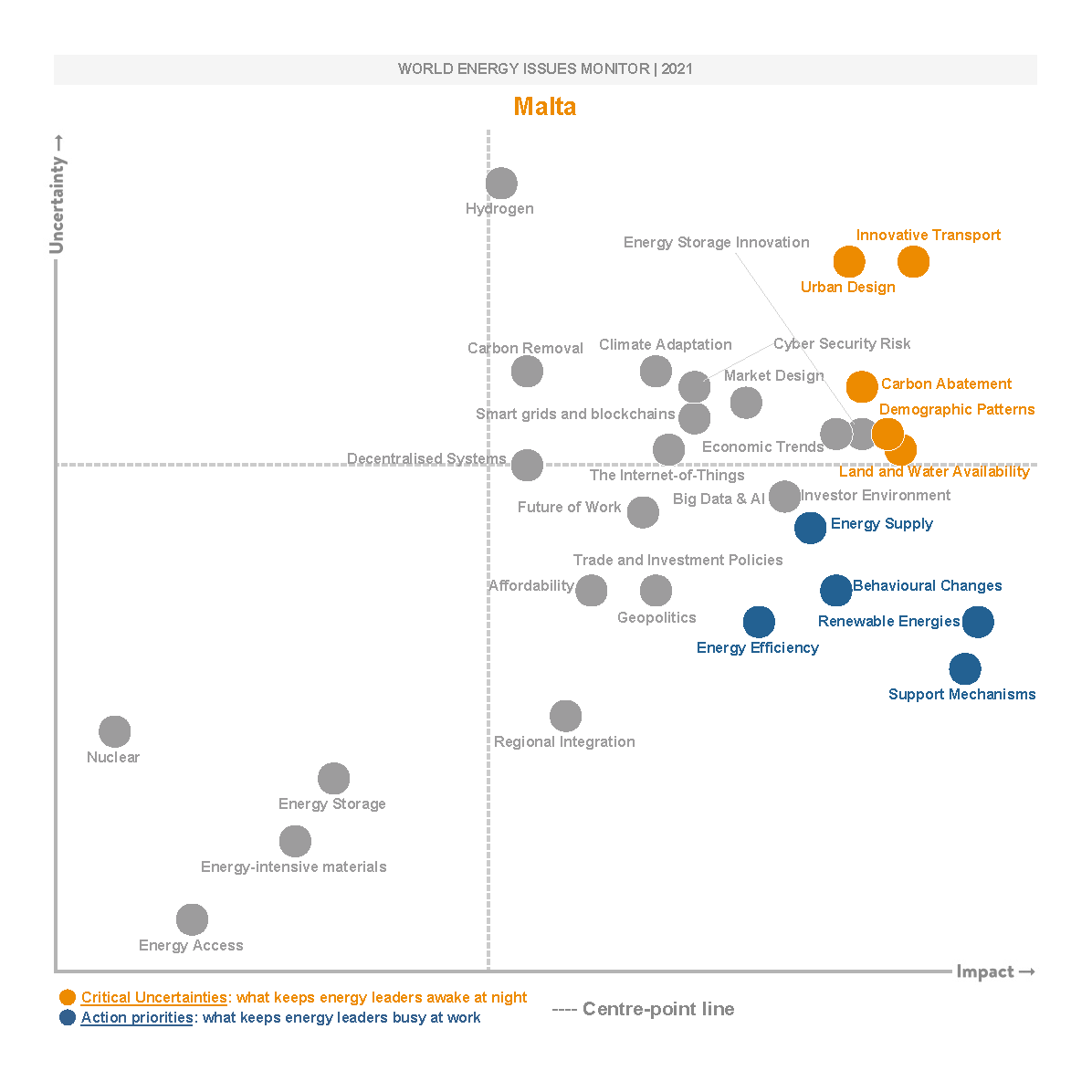 Malta's energy leaders profile an energy landscape where a number of closely related issues are considered as critical uncertainties.  The issues can be traced back to the Island's high population density which poses severe limitations on land use, options for transport modes, cost-effective carbon abatement potential, and ultimately urban design.
Concurrently, the Energy leaders expect to focus on green energy supply, energy efficiency and behavioural changes. These areas are essential for Malta to continue to decarbonise its economy and make best use of the limited spatial resources.
2020 was a particularly challenging year with significant financial resources channelled towards sectors that were badly hit by the pandemic. Malta was particularly vulnerable in view of its significant reliance on tourism. Nevertheless, funding of actions for decarbonisation continued to be prioritised as can be seen from the sustained development of renewable installations.
As from 2021, Malta will start to implement the National Energy and Climate Plan (2021-2030) and is expected to have in place a Long-Term Renovation Strategy for the Buildings Sector as well as a Low Carbon Development Strategy until 2050. These plans and strategies outline Malta's optimal path towards carbon neutrality in 2050.
In the field of renewable energies, the deployment of photovoltaic installations will be sustained through financial aid and support and will also be extended to take into account new innovative projects that focus on the development of offshore renewable energies. The emergence of new technologies that take advantage of offshore energy irrespective of sea depth will eventually enable Malta to overcome critical uncertainties associated with restricted land mass and open new opportunities for carbon abatement.
Focus will also be given to improved grid integration of renewable energy sources; in particular through support for a wider uptake of battery storage. This will mitigate issues on the low voltage grid and allow for better demand management. Work will also continue to implement the necessary grid and charging infrastructure to support the electrification of the transport sector. Installation of shore-to-ship charging infrastructure and additional vehicle charging points is underway and will continue during 2021.
Deployment of renewable energy will continue to be complemented by several measures addressing energy efficiency targeted at both industry and residential sectors.  These include information campaigns, which are deemed essential to drive the necessary behavioural changes to make best use of energy savings options.
In line with the National Energy and Climate Plan, support for Research and Development has been extended to specifically cater to R&I in Energy and Water.  This is an important development, as for the first time, there is a clear acknowledgement of the importance of providing direct national support to aid R&I in these important sectors with a view to creating synergies between the private and public sectors and academia, and developing a body of knowledge essential for both policy development and supporting green industry.
To complement all these actions, Malta is also looking at further developing its energy supply sector such that it is not only capable of integrating a higher share of renewables, but also ensures that the desired level of security of supply is maintained. This requires specific solutions in view of the island's insularity. In particular, Malta will seek to ensure that its electricity supply can continue to meet the growing demand and is capable of coping with unforeseen events such as the incident that occurred between December 2019 and March 2020 when Malta's only electricity interconnector with mainland Europe was severely damaged by a ship anchor.  Such situations underline the importance for investment in redundant power capacity and self-sufficiency.