Hector Cotes holds a bachelor's degree in Industrial Engineering and two master's degrees: one from INCAE Business School and another from Nova SouthEastern University, Florida.
He is currently the General Manager of Electron Investment, S.A (EISA), a renewable energy generation company of 86MW installed capacity. Previously he served as CFO of Grupo Eleta. His experience includes the VP of Operations of Profuturo (administrator of private pension funds of the Banco General Group) and several management positions in the Panama Canal (Capital Program Coordinator, Cost Manager, Risk Manager, among others).
Mr. Cotes is Immediate Past President (2017-2018) of the Panamanian Association of Business Executives (APEDE), where he has been active since 2004 and member of the Board of Directors on several occasions, serving as Vice President and Secretary of Finance. He is currently Vice President of the National Committee of INCAE Business School for Panama.
In October 2018 and again in 2019 he was recognized as one of the top 75 executive leaders of Panama with the best professional reputation by Summa Magazine and MERCO.
Dr. Gonzalez graduated from the Technological University of Panama where she obtained a bachelor's degree in Electromechanical Engineering and has a PhD in Electrical Engineering from Texas A & M University, USA. Since 2011, she has been Assistant Professor at the Department of Electrical Engineering of the Technological University of Panama (UTP), where she is also Director of the SMARTS-E Research Program. Dr. Gonzalez has published multiple articles in indexed journals and has given conferences at the national and regional levels. Her areas of interest include: energy planning, smart cities, sustainable engineering, design and control of electrical machines, power electronics, renewable energy systems and modeling of energy systems.
In addition to her work at the UTP, Dr. Gonzalez is a member of scientific associations such as the Panamanian Association for the Advancement of Science (APANAC), or the IEEE where she is a Senior Member and has volunteered in different high-level positions within the Panama Section. For her work on the IEEE Power and Energy Society and Women in Engineering in Latin America and Panama, she was one of the recipients of the 2016 IEEE MGA Achievement Award and the 2016 IEEE Panama Section's Manuel Lopez Spla Award. Finally, since 2018, Dr. Gonzalez is Executive Assistant and Representative of the Academia in the Board of Directors of The World Energy Council's Panama Chapter.
Energy in Panama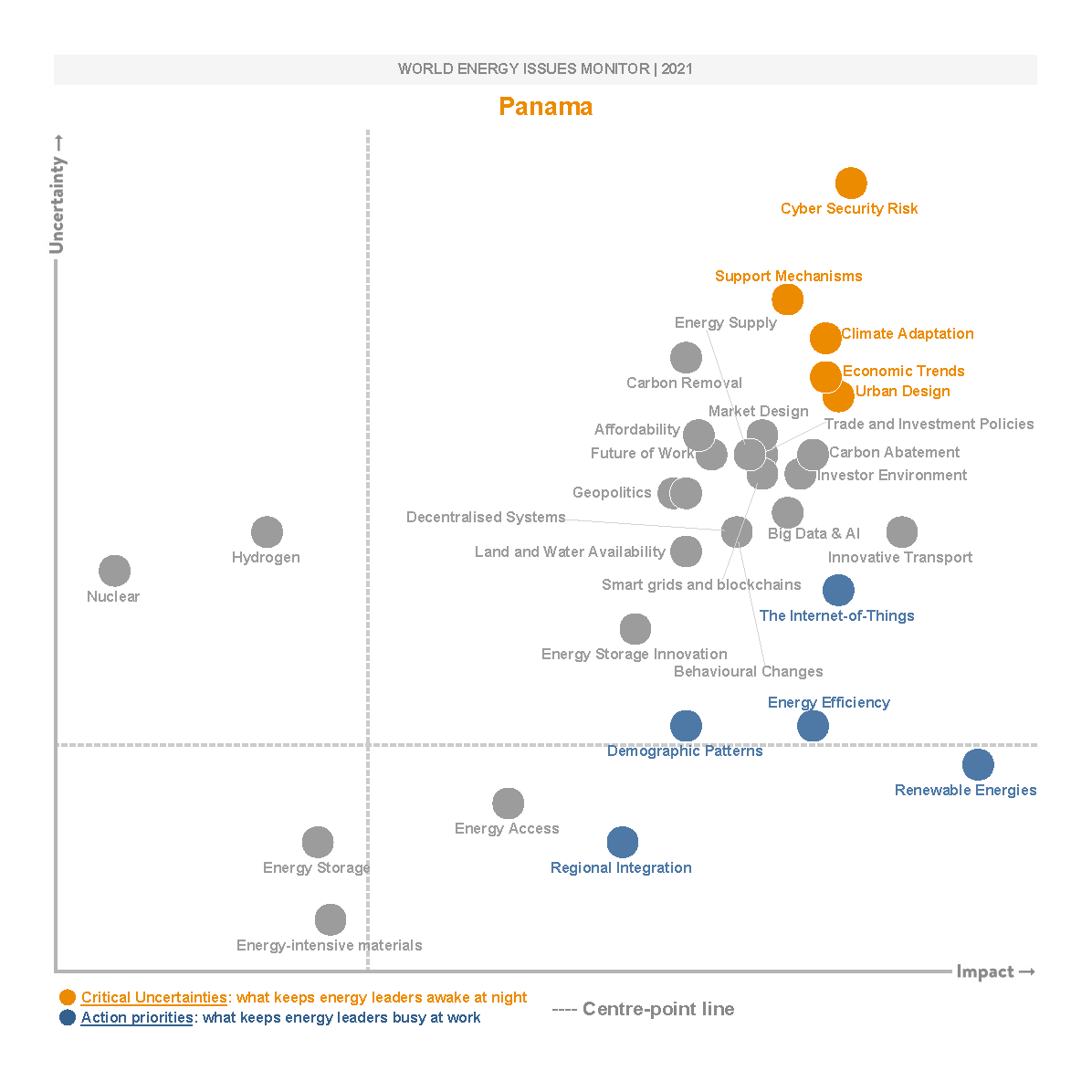 This year's Issues Monitor provided interesting insights for the Panamanian energy industry. New issues around digitalisation jumped to the top of local energy leaders' concerns, while efficiency and renewables are positioned as top action priorities.
Energy leaders seem particularly concerned with low preparedness levels against material risks, including those intensified by the enforcement of lockdowns. Consequently, they proposed key points to focus on to address some of the country's important vulnerabilities, while also striving to secure a sustainable and prosperous future.
Cyber security threats jumped to the forefront of critical uncertainties in this edition of the Issues Monitor, after being considered a relatively low concern in 2020. This shows that current digitalisation trends and foreign news of malicious software attacks are keeping Panamanian energy leaders awake at night.
Energy efficiency remains an action priority. This comes as no surprise, given the rapid demand growth the country was experiencing before the enforcement of lockdowns. In future years, the effect of recently enforced building regulations and equipment labelling should help progressively reduce demand in key sectors. However, respondents believe this should remain a priority for policymakers, as it is viewed as a low-hanging fruit with great potential for both the short and long term.
Renewable energies emerged as a high action priority, given the country's increasing dependency on fossil fuels, exacerbated by the construction of combined-cycle gas turbines (CCGTs). There is an important interplay here, as this appears misaligned with the nation's decarbonisation goals. Leaders took notice of this, raising concerns around climate adaptation and the need for stronger support schemes for renewable energies, while also flagging out the country's abundant renewable potential that could help it move away from fossil fuel dependency.
With one natural gas combined-cycle facility already in operation and two more in the pipeline, these centrals will cover over 75% of the country's peak demand and could be operating for up to 30 years. Considering the low cost that non-conventional renewables have already achieved, and the country's current decarbonisation needs, the introduction of such high volumes of NG CCGT capacity can be considered as a step in the wrong direction.
Energy access remains one of the top priorities for energy leaders, as 8% of the population lacks energy access. The country has been tackling this issue through ambitious programmes and aims to achieve universal access in its territory by 2030. Current efforts have been promoted by various actors, including utilities and government institutions. Yet, development banks have played an instrumental role and have incorporated gender and inclusion considerations as part of their programmes, setting an important example for future initiatives.
Energy leaders seemed especially concerned by low preparedness against weather events and natural hazards. These concerns unfortunately materialised during widespread flooding late in 2020, which highlighted the need to increase resilience against these issues. Pandemics and demand disruption also arose as sources of concern, with one participant suggesting a re-allocation of risk to safeguard consumers. As the 2020 World Energy Trilemma Index report highlighted, Panamanian ratepayers carry most of the demand risk, as over 95% of power generation is contracted in the long term. This resulted in ratepayers bearing most of the financial brunt caused by lockdown-induced demand shocks.
With eyes on the future, national energy leaders proposed initiatives to address the key risks and opportunities highlighted by the 2021 Issues Monitor. Digitalisation and more robust monitoring and response systems, for example, can add resiliency to the country's systems at times when they are needed the most. At the same time, promoting consumer-centric solutions and electric mobility can help diversify and decentralise power generation and control, while also addressing decarbonisation and fossil fuel dependency concerns.