Associação Portuguesa de Energia is a non-governmental, non-profit charity, aiming to promote sustainable energy, through reflection, debate and targeted initiatives, which will improve the energy sector's contribution to the Portuguese economy and quality of life. The Association is the national member committee of the World Energy Council, and has among its constituent members the main energy operators, industries and services companies.
Jorge Cruz Morais is the Chair of the Portuguese Energy Association, the national member committee of the World Energy Council. He holds a degree in electrical engineering (Instituto Superior Técnico, 1980) and a MBA (Universidade Nova de Lisboa, 1988). He began his career at EDP, in 1983, in Grid Distribution Development. He was a non-Executive Member of the Board of Directors of Turbogás (1998-2000), and of Electricidade dos Açores (1999-2000) and Board Member of the Centre for Energy Conservation (1993-1996). Between 2000 and 2004, he was an Executive Member of the Board of Directors of ONI SGPS and other companies in the ONI Group, having assumed the function of CFO between 2002 and 2004. In 2005 and 2006 he was the CFO at HC Energia and Naturgas Energia (both EDP Group). From 2006 until February 2012 he was an Executive Member of the Board of Directors of the EDP Group. Since February he has been the President of EDP Internacional and General Manager of the EDP Group.
Bento de Morais Sarmento was appointed Executive Secretary of the Associação Portuguesa da Energia, the Portuguese Member Committee of WEC, in October 2010. He holds degrees in Chemical Engineering (Instituto Superior Técnico, 1968) and Refining Engineering (Institute Français du Pétrole, 1973) and a MBA (Universidade Nova de Lisboa, 1986). He was appointed deputy-chairman at the Energy Emergencies Planning Board from the Ministry of Industry and Energy in 1986. He has also served as deputy director-general at the Directorate-General for Energy and Geology. He has been representative at several energy related international committees, namely at NATO, IEA and EU and participated in a few international missions.
Energy in Portugal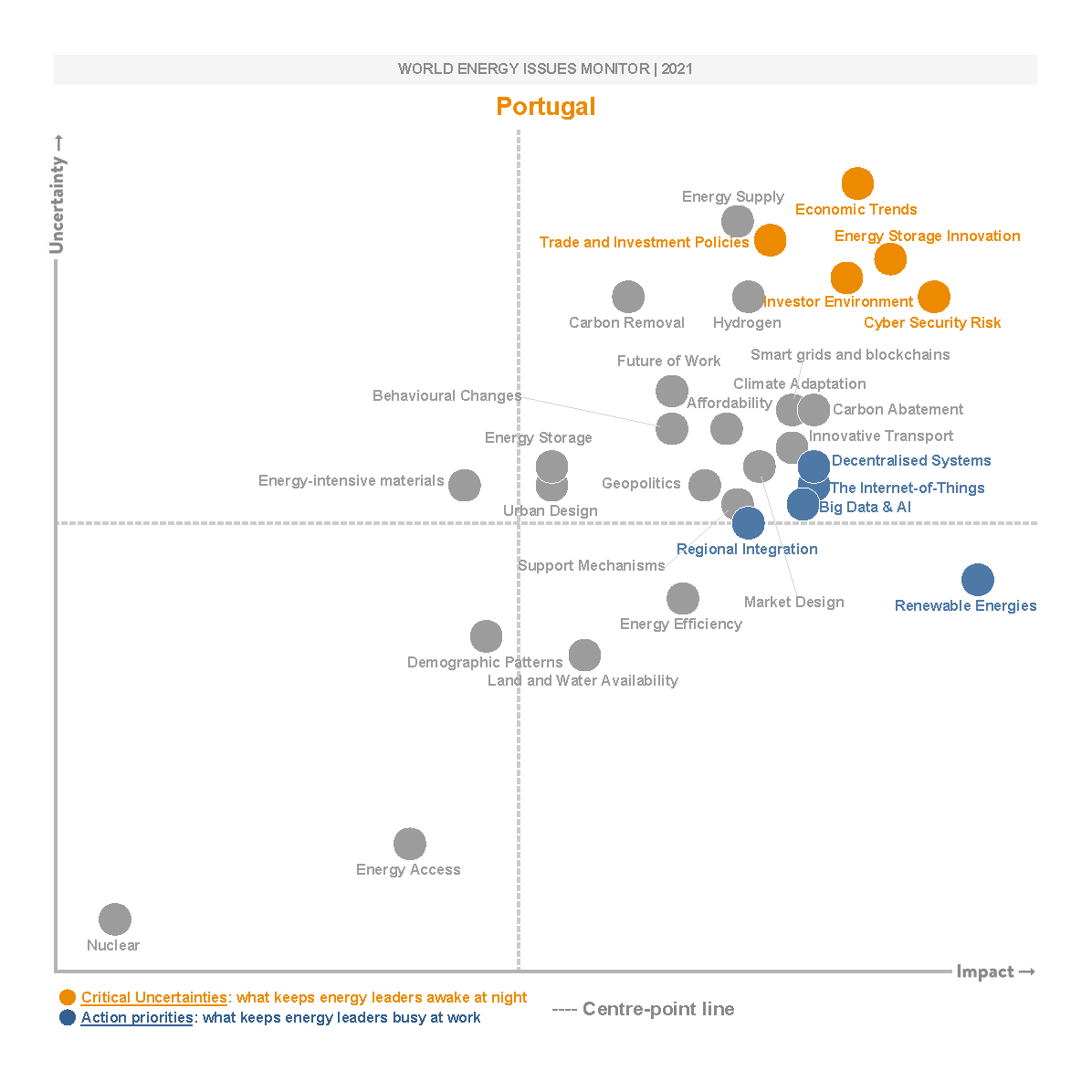 As in previous Issue Monitors, Portugal's map shows renewable energies as a prominent Action Priority, indicating how deeply the decarbonisation targets are embedded in energy leaders' minds and in the investment plans of the sector. This corresponds to an already long-standing tradition of clean energy promotion that accelerated at the turn of the century through the adoption of more and more ambitious policies and targets driven by legislation and Action Plans (e.g.: Council of Ministers Resolution 20/2013 for Renewable Energy and Energy Efficiency in the 2020 horizon).
Noticeably, IoT and big data & AI also appear as Action Priorities, whereas in last year's report those issues were placed firmly in the Critical Uncertainties area – a radical change that indicates how important the capacity to collect and analyse information has become to the efficient management of systems and business. Surprisingly, cybersecurity, the counterpart of data management, remains as a critical uncertainty. This indicates that protecting systems' operation and complying with the existing regulations (e.g.: General Data Protection Regulation EU 2016/679) still keeps energy leaders 'awake at night'.
The electricity sector in Portugal is becoming a quite decentralised system due to the increasing connection of distributed generation to the electric grid. This has been occurring for many years now and continues to progress thanks to the support to mini- and micro-generation. The calls for PV generation with associated storage to operate in the competitive market (e.g.: dispatch 5921/2020) have also supported the expansion of distributed generation.
Regional integration has also become an Action Priority, since the rush to power generation from variable energy sources requires increasing the interconnection capacity between Iberia and France to fully access the European energy market, which may absorb electric generation exceeding national load.
In the Critical Uncertainties area, we notice three related issues, economic trends, trade & investment policies, and investor environment. These uncertainties are likely to be a consequence of the disturbance of the global economy as a result of the pandemic, coupled with the reversion or lack of implementation of international trade agreements, or a consequence of changing fiscal measures. Nevertheless, a real impact on investment is not apparent for renewable generation projects, which keep receiving many applications. Neither is it affecting the new interest in green hydrogen production.
Issues leaders intend to prioritise in 2021 include hydrogen and energy storage innovation. Both issues have been attracting the attention of investors in Portugal following the approval of the National Strategy for Green Hydrogen, that foresees an investment of (8-10 billion USD) until 2050, distributed by industry, transportation, energy, R&D (Council of Ministers Resolution 63/2020).
The perception of the country's preparedness to face threats, — telluric, climatic, biological, or digital —is mostly assessed as very low, low or medium. This indicates that more attention must be paid to the prevention and response to those risks, which tend to be ignored until they materialise, as the Covid-19 pandemic demonstrated.
Other challenges, such as the consumer-centric displacement of the energy business are occurring more gradually and receive increased attention.
A large number of opportunities were suggested for the energy transition in Portugal, most of them relating to digitalisation and decarbonisation, but also to market design and infrastructure. Hydrogen-related opportunities received several nominations, reflecting its potential for decarbonising certain sectors, suggesting technologies for its production, recognising its capability to utilise existing infrastructures and for propelling the economic recovery, showing that 'hydrogenation' of the energy system is expected to complement the current 'electrification'.