The World Energy Council Romanian Member Committee is a non-governmental organisation and a founding member of the World Energy Council. It is also a strategic partner in Romania's sustainable energy development programme. World Energy Council Romania offers useful and topical information for all forms of energy (coal, oil, gas, nuclear, hydro and renewable); has a steady communication strategy with its members, keeping them abreast with the latest energy policies; represents the interests of its members within the meetings and events organised by the World Energy Council; and contributes to decision making at worldwide level, with Romanian representatives in all of the World Energy Council's Study Groups.
Dr Iulian Iancu has served as Chair of the World Energy Council Romanian National Member Committee since 2004.
Iancu graduated from University Business School - Oxford, Great Britain, specializing in management and holds a Ph.D. from the Petroleum-Gas University of Ploieşti.
He has been a deputy in the Romanian government since 2005 holding the position of Chairman of the commission for industries and services in the Chamber of Deputies until 2020. He was the Secretary of State in the Ministry of Economy and Trade from 2000 to 2004.
Iancu has held multiple management roles throughout his career including President of the National Regulatory Authority for Natural Gas (2000) and the Deputy General Manager of SNGN Romgaz Medias (1999-2000).
He is also an Associate Professor at the Petroleum-Gas University of Ploieşti and Bucharest University of Economic Studies.
Stefan Gheorghe became Secretary of the Romanian Member Committee of World Energy Council in December 2017.
Gheorghe holds a Ph.D. in electroenergetics from the "Politehnica" University of Bucharest (1994) and an MBA with the OPEN University Business School – UK (2004). He has over thirty years of experience in the Romanian energy sector, in various positions of execution and top management of transmission, distribution, supply and generation of electricity.
He also worked in various study boards and international working groups as a representative of the Romanian electricity distribution sector, as a member of CIGRE and EURELECTRIC, currently as a member of the largest world organization of electrical and electronics engineers, IEEE - Institute of Electrical and Electronic Engineers (USA).
Gheorghe has a teaching career as Associate Professor in two Romanian Universities: "Valahia" University of Targoviste, at the Faculty of Electrical Engineering and "Politehnica" University of Bucharest at the Faculty of Power Engineering. He has also published nearly 100 scientific papers in the country and abroad, books, university courses and international energy reports.
Energy in Romania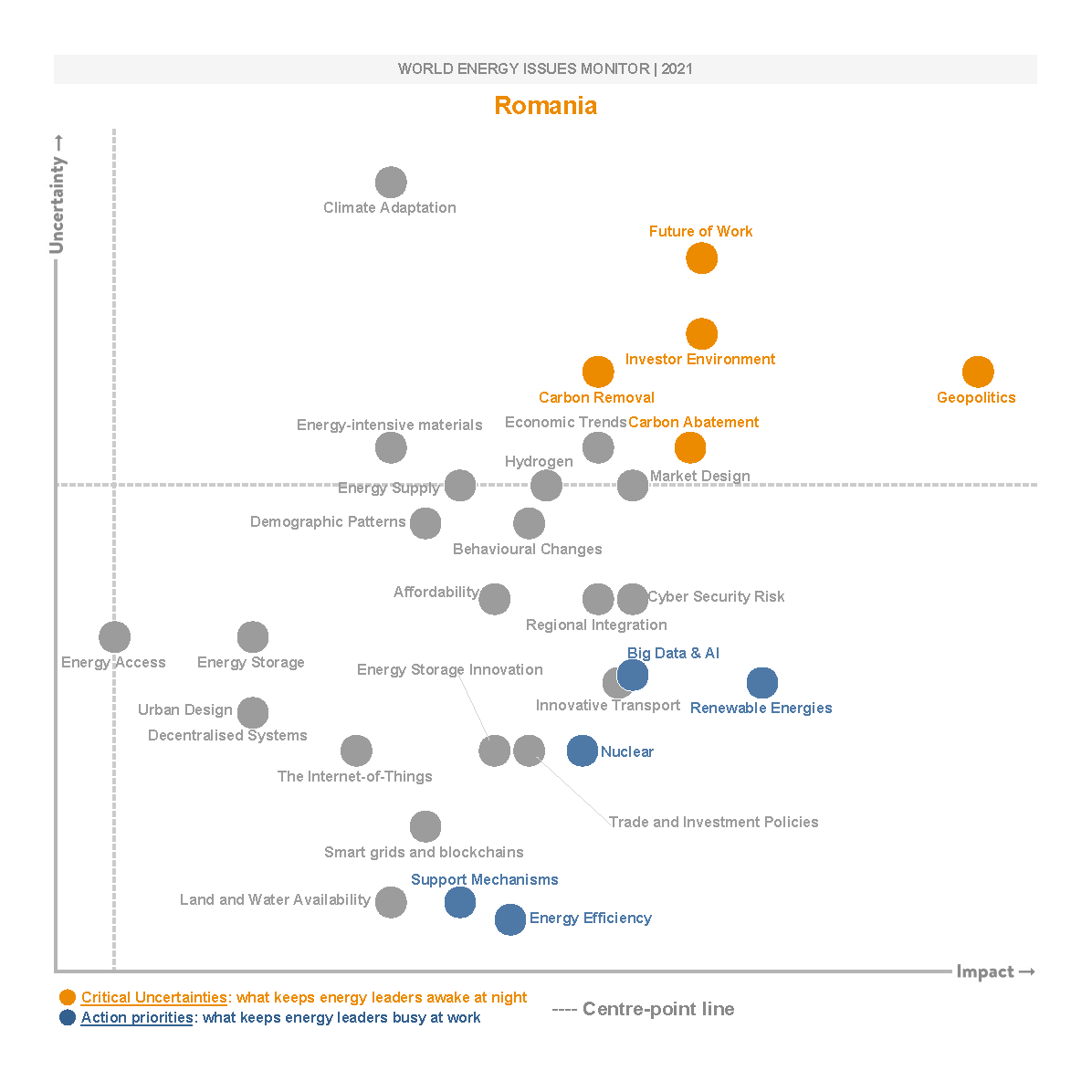 Romania has a well-balanced primary energy resources mix and low dependence on imports. However, transition means other patterns; less and finally no coal, more sources with zero GHG emissions (nuclear and renewables), and more natural gas and hydrogen. During 2020 some steps have been taken with this purpose in mind; agreements with prominent European and American companies to retrofit Unit 1 and finish Units 3 & 4 of the Cernavoda Nuclear Power Plant and commissioning of the Romanian share of BRUA (Bulgaria-Romania-Hungary-Austria) gas pipeline. Natural gas can be provided using present depleting reserves and the new ones discovered in Black Sea platform.
The lack of appropriate legislation on offshore deposits development, the difficult conditions of deep-water investments, Russia's gas quasi-monopoly, and neighbouring countries owning similar projects bring concerns in this respect. As a result, Romanian energy leaders perceive geopolitics as an issue with high uncertainty and high impact.
Another critical uncertainty is future of work, which is linked to the current economic recession induced by the coronavirus, coupled with the needed transformation of the coal industry. This concern is also connected to the uncertain state of the energy sector's investment environment, which is unclear in the current environment of the pandemic and the country's economic recession. The uncertainties generated by carbon removal and/or abatement are specific to all countries with a large share of coal in their energy balance. It is not clear how these two issues will lead to increasing the share of renewable energy sources through new offshore wind plants in the Black Sea. Also, it is uncertain how the BATs (Best Available Technologies) will be deployed and implemented in all branches of the country's economy.
Concerning action priorities, 50% of respondents see digitalisation as a priority. It is essential to increase the interconnection rate inside the European internal market, increase the system's resilience, adequacy, fast response, and security with appropriate protection against cyber-attacks. This will be done through smart metering, the development of smart grids, the implementation of technologies that help consumers to be more active, aggregators, prosumers and grid-to vehicle and vehicle-to-grid technologies. An increase in renewables further improves energy storage at the system level, so the second priority is the implementation of innovative solutions in energy storage.
Climate change management was also identified as a top priority. Renewable energy remains one of the most important tools to achieve climate neutrality. According to the National Energy Climate Change Plan, (NECCP), the percentage of renewable sources contribution in gross final energy consumption is approximately 26.5% in 2021 and 27.9% in 2030. This target can be reached by promoting investment and increasing system reliability through regulatory measures (especially new support schemes for high efficiency co-generation and renewables) which are considered priorities. Another tool is energy efficiency with the aim to apply "energy efficiency first principle" promoted by the EU Directive. Measures for reducing coal contribution and increasing nuclear participation are taken into account in the country's proposed Energy Strategy (Romania Energy Strategy 2020 – 2030 with perspective for 2050) and the National Energy Climate Change Plan.
Finally, the perception on the country's lack of preparedness to respond to identified challenges (more than 50% of the answers) can generate priority actions for the energy sector: including natural hazards (earthquakes), extreme weather events, pandemics, malicious risks (cyber-attacks, terrorism), demand-side structural changes and disruption (influence of consumers on energy business operations).