The Russian National Committee of the World Energy Council was established as a non-profit organisation at the end of 2000. It is an active member of the World Energy Council, its technical committees and working groups, and participates in events organised by the World Energy Council as well as hosting and organising other World Energy Council-related events. The Committee aims to collaborate with countries and continents to solve global energy issues. The unique nature of the World Energy Council as an "umbrella" organisation for each international committee makes the Committee a unique organisation in Russia's energy sector, with a great deal of national and international influence.
Mr. Alexander Novak, born August 23rd, 1971 in the Donetsk region of the Ukranian SSR, is currently serving as Russia's Minister of Energy.
From 2000 to 2002 he was Deputy Mayor of Norilsk on financial and economic issues and First Deputy Mayor of Norilsk.
In 2002 – 2007 Mr. Novak was Vice-Governor of the Krasnoyarsk region, Head of the Main Financial Directorate of the Krasnoyarsk region administration.
From July 2007 to September 2008 he was the First Vice-Governor of the Krasnoyarsk region and from July to September 2008 he was also the Chairman of the government of the Krasnoyarsk region.
From September 2008 he was the Deputy Minister of Finance of the Russian Federation and from October 2008 a member of the board of the Russian Ministry of Finance.
He is a graduate of the Norilsk Industrial Institute and the Moscow Lomonosov State University (MSU).
Mr. Novak has held the position of Minister of Energy of the Russian Federation since 2012.
Has been the head of the Russian National Committee of the World Energy Council since September, 2016.
Mr. Alexey Gospodarev born on June 28, 1979 in the Belaya Kalitva city in Rostov Region.
He graduated from the Moscow State Institute of International Relations (University) MGIMO in the direction of international economics with a degree in Finance and Credit. Also has a law degree and a PhD in Economics.
From 2002 to 2021, he held various positions in state bodies of Russia, in particular, he headed Departments of International Cooperation of the Ministry of Industry and Trade of the Russian Federation and later of the Ministry of Energy of the Russian Federation.
In 2021, he was appointed Executive Director of the Russian Member Committee of the World Energy Council.
Energy in Russia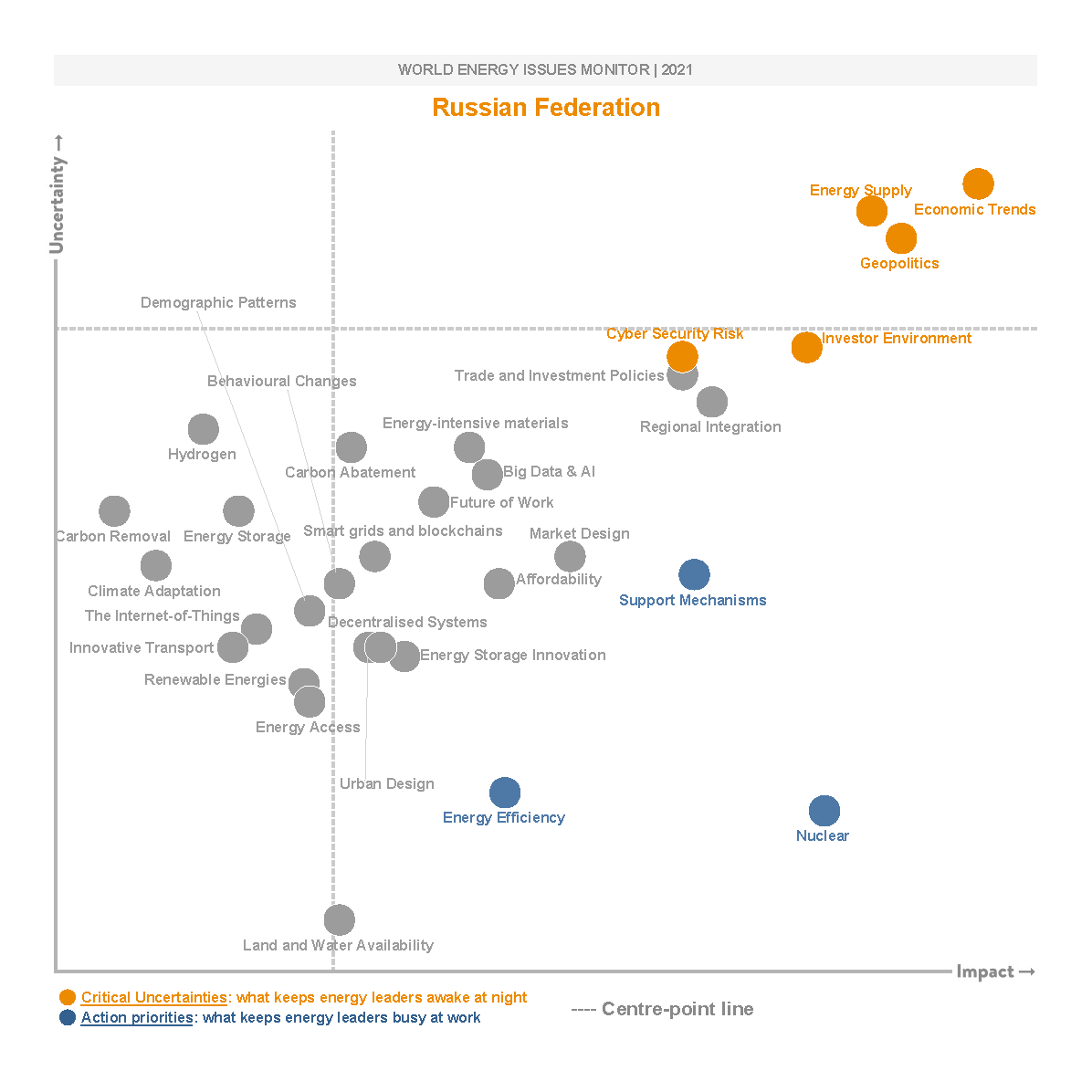 Compared to last year, there is considerably less uncertainty around the Russian energy sector's ability to manage key issues, as most of them lie below the centre-point line. Critical uncertainties arise from worldwide challenges such as global economic and geopolitical environment, as well as commodity price volatility. Action priorities come as a natural response to these concerns and include higher energy efficiency, together with the development of state support mechanisms.
Almost half (44%) of respondents plan to prioritise digitalisation in 2021. In recent years, Russia has made great strides in digitalisation. Russian energy stakeholders fully participate in this process today with digital substations being put into operation, smart metering as well as power equipment condition virtual monitoring and diagnosis systems being widely implemented. In addition, several new projects have been implemented including dozens of smart fields and wells operating in the oil & gas sector, the first steps in using machine learning being taken, digital twins being leveraged, etc.
In 2020, the Russian nuclear industry celebrated its 75th anniversary. Over the years, Russia has accumulated unprecedented knowledge and experience, which allowed it to establish itself as one of the leaders in the field. Today, Rosatom makes a positive contribution to fighting climate change. Nuclear power is the largest provider of clean energy in Russia. It powers a quarter of the lightbulbs in the European part of the country. This year alone, Rosatom fully commissioned the world's only floating nuclear power plant. It connected to the grid the first Gen III+ power unit in Europe in Belarus and the fourth such power unit in Russia at Leningrad NPP. Overall, Rosatom has connected 17 power units in 15 years to the grid both at home and abroad. Each year, Russian-designed NPPs prevent over 200 million tons of CO2 emissions all over the world, decarbonising the economies of many countries.
The Russian government is now adopting a strategy for long-term development of the Russian Federation with low greenhouse gas emissions to 2050. According to the strategy, energy efficiency and environmental projects are expected reduce Russian GDP carbon intensity by 8-10% to 2030 and by 40-50% to 2050, along with multiple economic growth. Planned measures comprise the establishment of next-generation smart heating, electric power and natural gas grids, energy storage, demand response, e-mobility, energy losses decrease, increasing efficiency of energy consumption and smart metering.
The National Plan for Economic Recovery includes a range of energy sector support measures, such as major infrastructure projects (mainly in electric power and nuclear industries), participation of private investors in investment projects on the Arctic shelf, stimulating modernisation of oil refineries, bans on the imports of oil products to Russia, and establishing stimulating tax conditions for refining of LPG and ethane into petrochemical products. The support measures also include providing conditions for setting up an unfinished oil wells stock to support oilfield service companies during the period of reduced oil production, providing conditions for an increase in the capacity of gas transmission systems, LNG production development, and government support for localisation of LNG equipment production.
Concerns that keep Russia's energy leaders awake at night naturally reflect the global instability, aggravated by Covid-19 and related economic problems. The deepest global economic recession in recent decades and an unstable oil price level are responsible for critical uncertainties not only in Russia, but on the European and global issues maps as well. However, the energy sector is expected to recover rapidly in 2021.
About 80% of experts positively assessed the preparedness of the Russian energy sector to overcome the listed crisis events (natural hazards, extreme weather events, pandemics, malicious risks), while 50% of respondents saw its preparedness levels as "medium" to manage demand-side structural changes and disruption.