Serbia (at that time part of Yugoslavia) became a member of the World Energy Council in 1924. As one of the WEC's founders, the Yugoslav World Energy Council Member Committee, including high federal government officials and leading experts in all energy sectors, was active all the time both on local and international scene. At present the Serbian World Energy Council member committee is continuing this practice. Its membership (individuals from governmental institutions, universities, scientific institutes, energy industries and consulting and other companies, as well as from professional associations in the energy field as the MC collective members) takes an active part in all energy related matters in the country.
Dr. Nenad Djajić, chair of the Serbian Member Committee of the World Energy Council, is Professor Emeritus at the Mining and Geology Faculty of Belgrade University. In parallel to teaching students, he has gained experience in solving complex energy problems, including energy strategies, studies and projects in energy efficiency, spatial planning, municipal energy, modelling and balancing energy-producing processes and promotion of renewables. Dr Djajic is the vice-chairman of the Serbian Scientific Society, a full member of the Serbian Academy of Engineering Sciences, and Editor-in-Chief of journal "Energy". He is the author of 3 university textbooks and 4 monographs, as well as of more than 470 papers. He took part in more of 230 studies and projects in the field of energy and reviewed 19 university textbooks and monographs. As a participant of many international and local conferences, he presented papers on the sustainable development energy in Serbia, the optimum structure of final energy consumption, improved energy efficiency and use of local energy sources.
Dr Miodrag Mesarović, Secretary General of the Serbian WEC Member Committee, is a Senior Advisor in Energoprojekt Entel Consulting Engineers Co. in Belgrade. He graduated from the Electrical Engineering Faculty University of Belgrade, and specialized in nuclear technology in Sweden and France. He holds a doctorate of Technical Sciences from the Mechanical Engineering faculty of the University of Belgrade. His professional experience includes local and international energy projects' planning and design, nuclear safety and environmental protection, as well as strategic energy sector development planning, energy economy, and financing in the energy sector. He was an invited lecturer for postgraduate studies at several universities of former Yugoslavia. Dr Mesarovic is a full member of the Serbian Academy of Engineering Sciences and chair of the Academy's Energy Board. He is chair of the Scientific Board of the Serbian Association of Thermal Engineers, as well as member of the Board of the Serbian Nuclear Society and a member of the Serbian National Committee of CIGRE. Dr Mesarovic is author of over 270 scientific and professional papers, as well as many monographs and university textbooks.
Energy in Serbia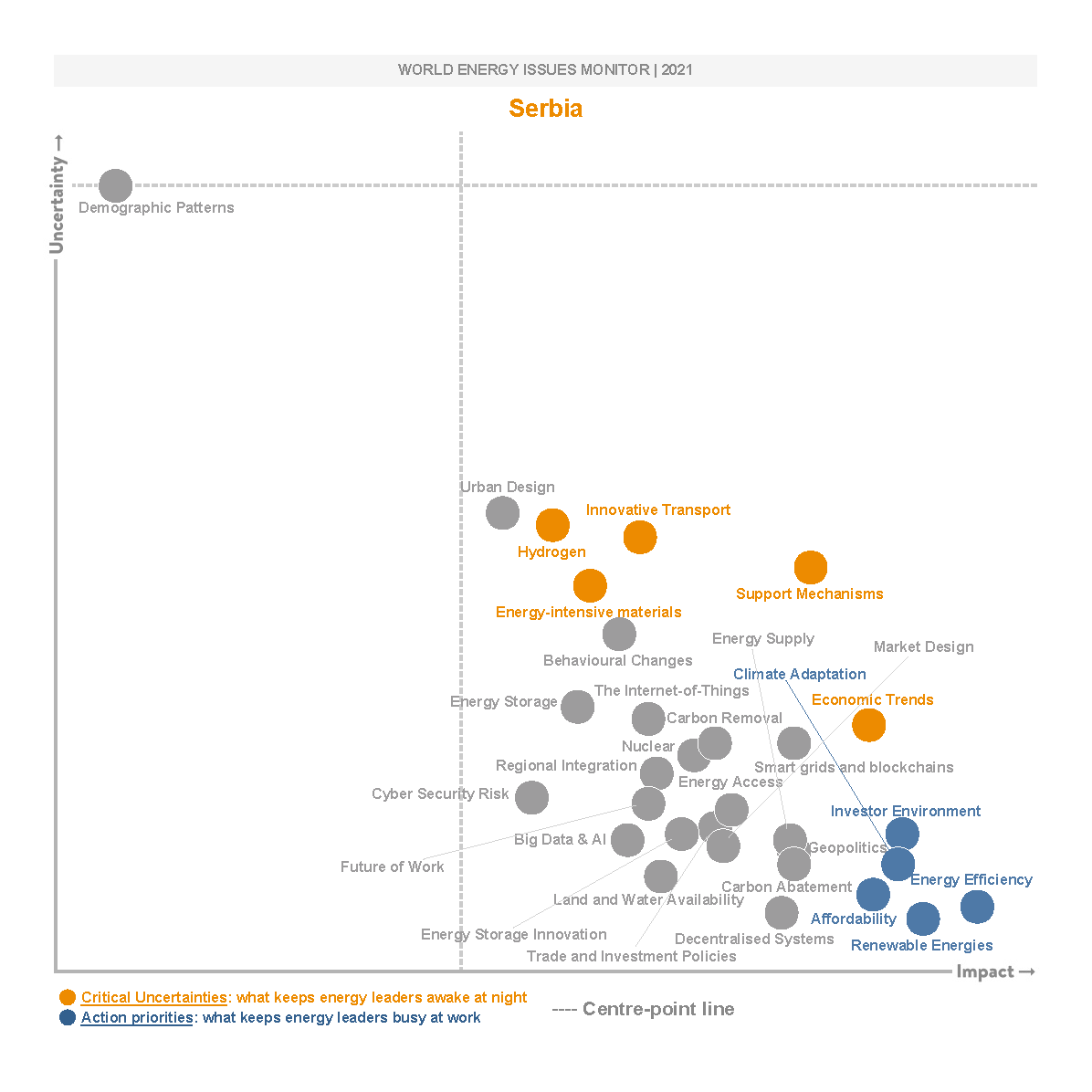 Most of the Serbian respondents to this year's Issue Monitor (61%) ranked energy efficiency as a top priority. This reflects awareness of low energy efficiency in the country as well as limited progress in achieving the goals set by a series of action plans. Along with a weak economic potential of the Serbian households which account for nearly half of total consumption (Energy Balance for the Republic of Serbia 2020), there is also low interest in improving the energy performance of buildings due to the low price of electricity, generated mostly by burning cheap indigenous coal, without carbon tax paid for emissions.
Almost the same number of respondents (60%) see climate change management as a high priority in the integrated energy and climate planning for transition away from coal towards renewable and other carbon-free energy sources. With most of the country's hydro potential already in use, and with a limited potential for other renewables, Serbia sees difficulty and high costs in energy transition. At the same time, the country drafted its Low Carbon Development Strategy, which suggests replacement of coal with natural gas by 2040. Energy leaders see natural gas as a bridge from coal to a carbon-neutral energy system. Of particular concern is the switch to imported natural gas, with a loss of national security of energy supply, since coal-based electricity is the only energy source in which Serbia is currently self-sufficient.
An earlier enthusiasm for renewables has declined; less than one third of respondents (29%) sees renewable energies as a top priority. The reason is the rising awareness of the challenge for renewables to ensure a desirable and cheap energy supply. Irrespective of high government subsidies and considerable private investments in wind and solar, Serbia failed to reach its goal of 27% renewables in gross final energy consumption until 2020 (National Renewable Energy Action Plan of the Republic of Serbia). Although attributed the highest share in local potential of new renewables and well subsidised, local biomass did not attract adequate interest from investors. Also, a large hydro potential shared with bordering countries remains unused, and construction of small hydro met with protests from local communities due to administrative failures. Energy leaders see solar PV generation worth considering in the long term.
Respondents have also raised concerns regarding the country's level of preparedness to respond to both natural and human-induced threats to Serbian energy systems. This particularly concerns respondents' perception that the country has a low level of preparedness to face natural hazards (86% of respondents), extreme weather events (59% of respondents) and malicious risks such as cyber-attacks, terrorism, fire-setting or invasions (72% of respondents). On the other hand, respondents have mostly agreed on a medium level of preparedness to respond to pandemics (56% of respondents) and demand-side disruption (53% of respondents), acknowledging some governmental efforts in these fields.
Opinions shared in the open section of the survey indicate that ensuring a well-established long-term energy strategy (currently limited to 10-15 years) represents the best opportunity for advancing energy transition in Serbia. Specific areas that would benefit from this longer term planning include decentralisation and diversification of energy supply, an adequate energy pricing that reflects costs including cross-border adaptation, regional interconnections, and widespread digitalisation of energy systems to ensure demand-side innovation and prosumer engagement. For adequate legal, economic and technical solutions in sensitive energy matters, respondents put an emphasis on local expertise needed for government and corporate decision-making and call for wider education in energy matters and the setting up of a multidisciplinary national energy institute.