SANEA is the South African member committee of the World Energy Council. It was formed in 1923 and was a founder member of WEC. Registered as a not-for-profit company, SANEA is governed by an independent Board elected by SANEA members. SANEA members come from the governmental, mining, industrial, commercial, financial, legal and academic sectors and also include individual citizens. SANEA strives to promote greater understanding of energy matters in all levels of society and it achieves this through conferences, lectures, articles, strategic briefings, media interviews and committee work. Its vision is "Energy People Working Together".
Energy in South Africa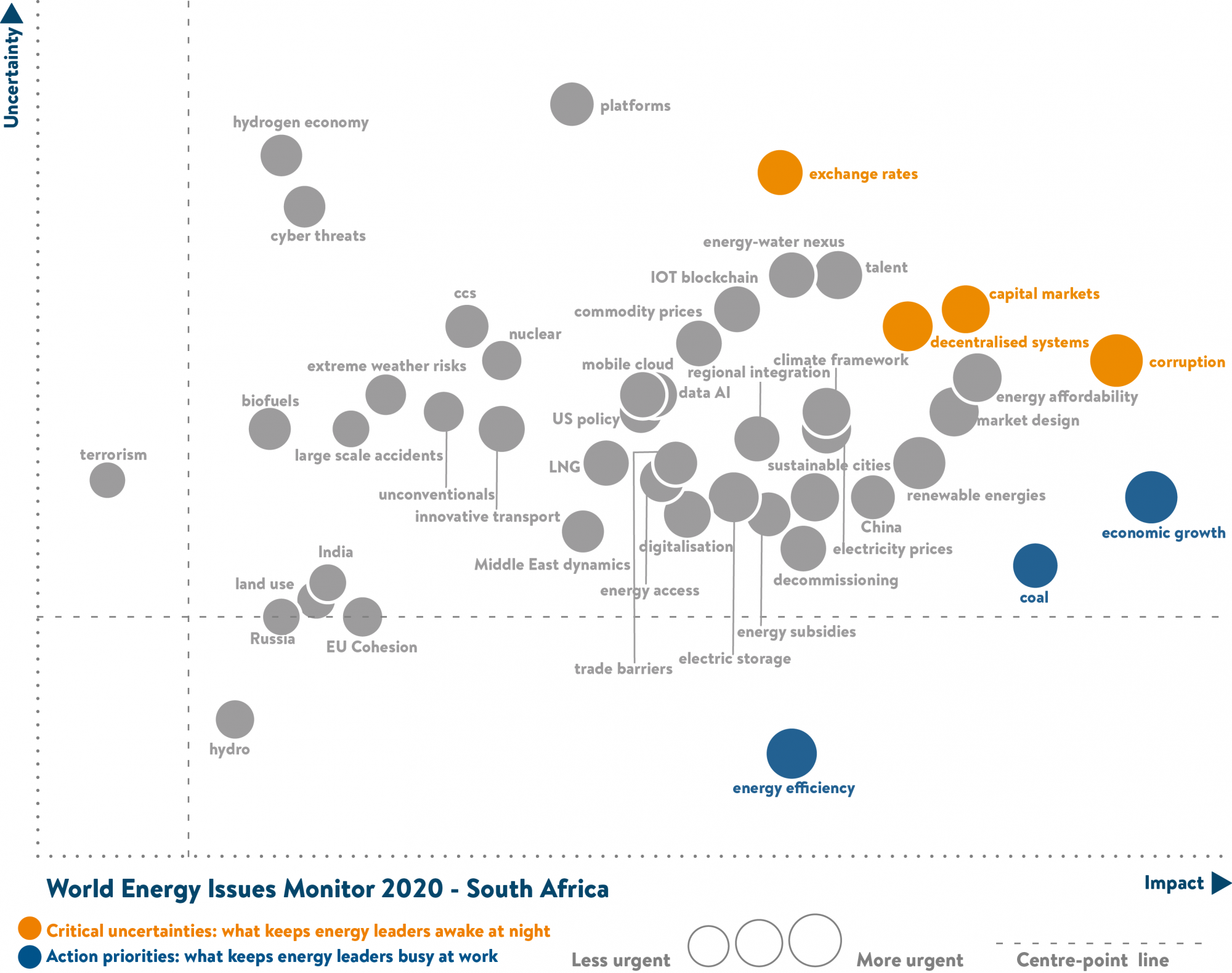 Comparing 2019 and 2020 results, South African energy leaders attribute a higher level of uncertainty to many of the issues that were already highlighted last year. The release of South Africa's Integrated Resource Plan (IRP) in October 2019 has laid out a clearer vision for the country's future. Electricity storage has become less important as an Action Priority but remains a key issue, particularly given the rise in renewable energy uptake in the country.
Energy Affordability rises in the uncertainty section due to changes introduced by the government to split the state electricity utility into separate generation, distribution and transmission businesses under a state holding company. The move is aimed at promoting competition as a driver for higher affordability. As the programme is at an early stage, uncertainty remains high. Electricity and liquid fuel prices have been rising and various mechanisms to reduce electricity costs are under consideration.
Capital Markets are also seen as more uncertain due to recent moves to restructure the state electricity utility. The main concern revolves around the restructuring of Eskom's debt. Investment in renewable energies has risen due to the Renewable Energy Independent Power Producer Programme and the opportunity for rooftop solar.
Decentralised Systems move from Action Priority to Critical Uncertainty. The IRP2019 impacts perceptions around this issue as it aims for 20.4GW of power capacity to be generated through solar and wind between 2022 and 2030. At the same time, Eskom unveiled its Distributed Battery Storage Programme, committing to solar-plus-storage and energy storage projects totalling 1,400MWh. Uncertainty revolves around medium term grid prices.
Economic Growth has been the leading Action Priority since 2017. Private sector participation in the economy is being promoted in energy and beyond as a strategy to enable growth. The strategy was put forward by Finance Minister Tito Mboweni in a bid to improve business confidence. However, it faces a challenge from opposition parties and social groups concerned about job losses as a result of privatisation.
Coal is perceived as having much greater impact but still a low level of uncertainty. The IRP2019 projects that by 2030 almost 60% of South Africa's electricity will still be generated from coal, dropping from today's 77% share. Significant increases, primarily in wind and solar, are expected to replace some coal capacity by 2030. Any new coal projects will be designed to be more efficient and with lower emissions.
Renewable Energies remain an Action Priority but are considered more uncertain. This may reflect the challenges to integrate new renewable resources into a traditionally centralised energy system. By positioning renewables as a priority area, the IRP2019 should reduce uncertainty around large scale, grid connected renewable energy projects going forward.
Once again, the World Energy Issues Survey is useful in highlighting the Critical Uncertainties and Action Priorities that South Africa needs to focus on. Besides those issues that are ranked highest, there is useful knowledge to be gained by examining how issues ranked high in previous surveys have moved over time. One example is Energy-Water-Food nexus – last year, it was the second highest Critical Uncertainty; this year it has dropped back significantly even though it is still a critical issue to address and manage. Other issues are just perceived to be more important this year.