The Sri Lanka National Committee aims to promote sustainable energy development in Sri Lanka, as a part of the World Energy Council's energy vision. As a member of the World Energy Council network, the organisation is committed to representing the Sri Lankan perspective within national, regional and global energy debates. The committee includes a variety of members to ensure that the diverse energy interests of Sri Lanka are appropriately represented. Members of the committee are invited to attend high-level events, participate in energy-focused study groups, contribute to technical research and be a part of the global energy dialogue.
Dr Batagoda is a BA Honours (in Geography) Graduate from the University of Sri Jayawardanapura and also holds a PhD in Environmental Science from University of East Anglia, UK, MSc in Natural Resources Management from Michigan State University, USA and an Attorney-at-Law of the Supreme Court of Sri Lanka. In addition, he holds a Certificate in Public Administration from the Institute of Development Administration, Sri Lanka. Dr Batagoda is Secretary to the Ministry of Power & Energy, having previously been Deputy Secretary, Ministry of Finance and Planning Sri Lanka. In addition, he is a Board member of, SAARC Development Fund, Securities and Exchange of Sri Lanka, Lanka Litro Gas, Lanka Sugar Company, Regional Development Bank, Sri Lanka Carbon Fund, Tea Research Institute, National Science and Technology Commission (NASTEC) and United State-Sri Lanka Fulbright Commission. He was the Director General of the Department of Public Enterprises and National Planning, Ministry of Finance and Planning. He held several senior positions in the Ministry of Public Administration, Ministry of Plantation Industries, Ministry of Environment and Natural Resources (Director-Climate Change and Global Affairs). Further, he has served as an Assistant Secretary to his Excellency the President of Sri Lanka, Presidential Secretariat. Dr Batagoda has authored several books including State of the Environment in Sri Lanka, The Economic Valuation of Alternative Uses of Mangrove Forests in Sri Lanka and co-authored books including Urban Air Quality Management in Sri Lanka, Theoretical Manual for Environmental Valuation in Sri Lanka and Fiscal Policies on Fuels and Vehicles in Sri Lanka.
Energy in Sri Lanka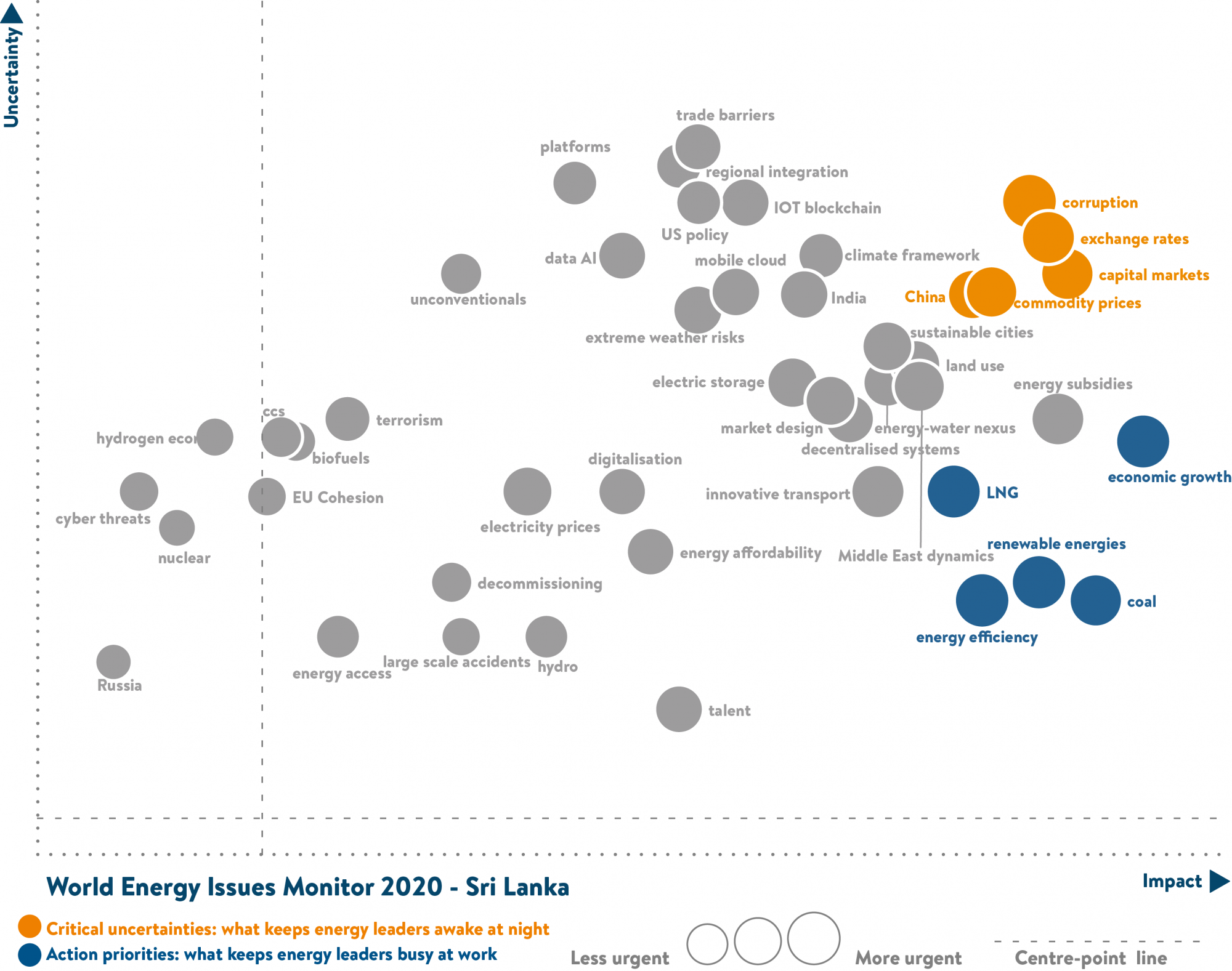 The 2020 Issues Monitor for Sri Lanka indicates challenges to the vision of achieving carbon neutrality and complete transition of the energy value chain by 2050. Subsidised energy prices and continued reliance on imported fossil fuels are a burden to the economy. As an island nation that is exposed to extreme climate phenomena, reducing the dependency on imported petroleum products and coal is an urgent Action Priority.
Capital Markets emerge with higher impact because of the country's need for external financial support to develop the domestic energy industry into a more secure and sustainable system. The country plans to reduce dependence on imported fuels and increase the share of cleaner energy sources by introducing LNG as well as solar and wind. However, these will need support from multilateral finance institutions and foreign and local banks.
China, which is also identified as a Critical Uncertainty, has been a strong investment partner, providing loans for infrastructure projects, including power projects.
Commodity Prices persist as a Critical Uncertainty as the country moves toward increasing the share of renewables in the energy mix to reduce import dependence. Energy Subsidies emerge with greater impact and reduced uncertainty. Electricity prices do not reflect costs, requiring direct and indirect subsidies. Cross-subsidies to finance electricity tariffs cannot be fully recovered from high-end users due to disparities in pricing and sales volumes in subsidised and surcharged categories. Solar PV distributed generators are not required to pay capacity costs, although they impose a demand on the grid at peak times. Pricing policy on petroleum products is not consistently implemented.
Economic Growth moves from Critical Uncertainty to Action Priority. Sri Lanka's economy has seen healthy growth since the end of the Civil War in 2009. However, this growth, coupled with urbanisation, has led to a rise in energy demand, and the economy has moved away from reliance on agriculture and manufacturing industry, to a more service-oriented system.
Coal remains an Action Priority. The lower cost of coal-generated electricity compared with renewable energy remains a challenge to decarbonisation. Since the country's economically viable major hydro potential has already been developed, wind and solar are the possible new alternatives. However, large capacity additions from intermittent renewables expose the technical limitations of the country's small isolated grid. Growing demand for energy is being met by increased fossil fuels imports, mainly oil and coal.
Renewable Energies persist as an Action Priority. The share of imported fossil fuels in power generation has increased, due to rising demand for electricity. Stepped-up deployment of renewable energy technologies would ease the burden on the treasury while making it easier to gradually ease energy subsidies. The Standardized Power Purchase Agreement (SPPA) for private investment in grid-connected small renewable power plants (less than 10MW) added 368 MW of new capacity, contributing to over 12% of total annual electricity generation in 2018.
Major impediments for Sri Lanka to achieve desired levels of energy supply at the quality and price desired by the society originate from weak sector governance. External impacts of high fuel costs and limitations of renewable energy may be managed with strong and consistent regulatory oversight devoid of administered prices and strengthened management of electric and petroleum utilities. The transport sector, the largest energy end-user ahead of households, commercial and manufacturing, require significant investments and policy change to ensure that an energy efficient mobility can meet demands of a growing urban population.