World Energy Council Turkish National Committee (DEK – TMK) was founded in 1949 as an "organisation serving the public interest" and acts as a roof organisation for energy related NGOs operating in the country (www.dunyaenerji.org.tr). Presently, the Committee has a wide range of members from all energy related industries from public/private sector, energy associations to universities, experts, NGOs and private individuals. The committee's main objective is to facilitate dialogue on domestic and global energy issues via various activities and events, as well as international projects, national reports and related publications (For more: @WEC_Turkey).
The Committee hosted the 23rd World Energy Congress in October 2016. The Congress, under the theme of "Embracing new Frontiers", was held in Istanbul with the participation of 4 Heads of State, 56 Ministers and more than 5.500 representatives from 151 countries including 266 speakers.
Alparslan Bayraktar serves as the Deputy Undersecretary of Ministry of Energy and Natural Resources (MENR) of Turkey and previously served as the General Director of Foreign Affairs and the EU. Prior to joining the Ministry, Mr. Bayraktar worked as a commissioner in Energy Market Regulatory Authority of Turkey (EMRA). Before public sector, he worked in private sector in energy and information technology fields both in Turkey and the US.
Mr. Bayraktar holds positions in various international organizations involved in energy governance. He is the Chairman of Advisory Board of Energy Regulators Regional Association (ERRA), an organization focusing on improving energy regulation in 37 member countries and increasing access to energy regulatory experience around the world, where he previously served as the Chairman. Mr. Bayraktar was also the Chairman of International Confederation of Energy Regulators (ICER), a framework with an objective of improving cooperation between regulatory authorities to contribute sustainability targets on a global scale.
Mr. Bayraktar received his BS in Mechanical Engineering from Istanbul Technical University, LLM in Law and Economics from Bilkent University and MA in International Relations from Fletcher School of Law & Diplomacy at Tufts University. He is an Adjunct Faculty at Bilkent University where he teaches Energy Law and Policy.
Energy in Turkey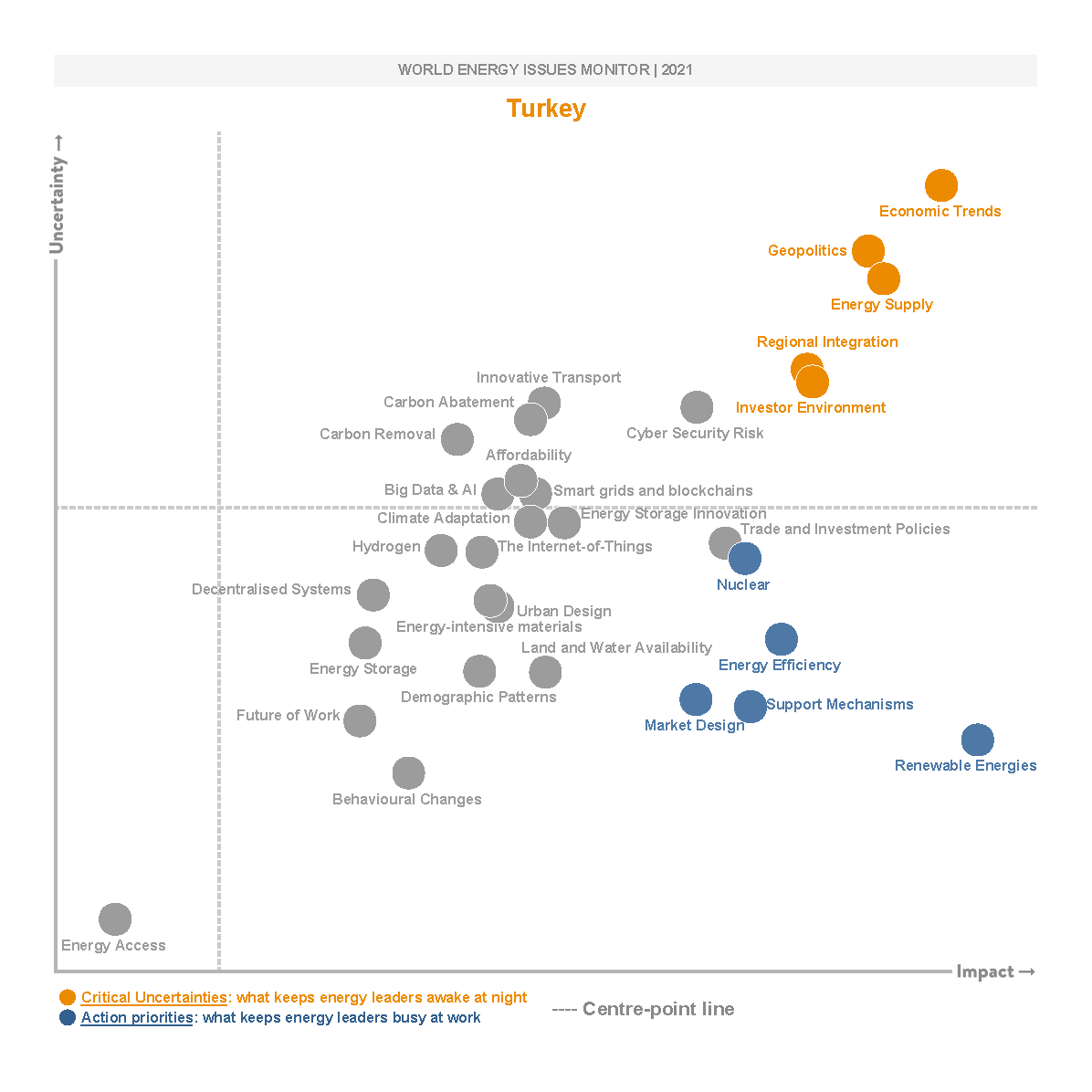 Renewable energies are seen as the top action priority for Turkey in 2021 according to the Issues Survey. Due to the ongoing transition process, support mechanisms and market design are also priorities that attract special focus. Economic trends arising out of the Covid-19 pandemic, in particular, appear as a critical uncertainty.
Turkey supports renewable energy power plant projects through two main incentive mechanisms – the Renewable Energy Resources Support Scheme (RERSS) and the Renewable Energy Resource Areas (RERA). While RERSS offers a purchasing guarantee with various tariffs for companies, RERA offers a tender process and prioritises domestic equipment manufacturing. Turkey plans to end RERSS by the end of 2021 and use RERA for supporting renewables. In the previous seven years, production capacity on renewable energy resources increased 10% annually, and its share of total production capacity increased to 50.4% (TEIAS).
Turkey prepared the National Energy Efficiency Action Plan in 2017, which outlines specific targets for energy efficiency. This strategy aims to decrease primary energy consumption by up to 14% by 2023 through 55 different policies that need to be implemented (MENR). To reach this goal, it is projected that Turkey needs to have USD 10.9 billion worth of investments in various areas (Industrial Development Bank of Turkey). Improving energy efficiency and management of consumers by sector will provide a more efficient growth pathway for Turkey's future energy demand.
In terms of energy market liberalisation, the establishment of the Energy Stock Exchange (ESE) in 2015 was critical for both the power and natural gas markets. In 2017, ESE initiated the Organised Wholesale Natural Gas Market. ESE offers gas market participants the opportunity to trade in daily, intraday, and day-ahead markets. The ESE plans to provide advanced energy trade options in future years, such as a Futures Natural Gas Market with forward price signals and physical deliveries (Turkey Energy Outlook 2020). Moreover, Turkey plans to restructure its gas market towards liberalisation, competitiveness and transparency in the future.
The first two units of the Akkuyu Nuclear Power Plant are under construction. The first unit of a planned total of four units will be operational in 2023 and will be followed by one unit every year. While nuclear will help as a complementary asset to renewables in reducing fossil fuel imports and reducing carbon emissions, Turkey plans to realise two further nuclear power plants.
Turkey continues its efforts towards energy market reforms after the announcement of the National Energy and Mining Policies in 2017. The gas import contracts that expire in 2021 and 2022 provide opportunity to increase the share of private entities. The measures to be taken by Turkey to attract investors' attention into the gas market will be the key for future developments. Economic uncertainties on a global level also discourage investors in investing in the energy sector.
The Covid-19 pandemic has created economic uncertainties globally, and Turkey is no exception. Economic slowdown caused a decrease in demand and postponement of investments in the Turkish energy sector as well. Although the dramatic decrease in energy prices was viewed favourably as Turkey is a net energy importer, volatility creates uncertainties for consumers. Tightening fiscal conditions and foreign currency fluctuations remain impediments for investors. Turkey announced a new economic program for 2021-2023, which includes measures to cope with the economic effects of the pandemic (Ministry of Treasury and Finance). If these measures succeed in helping the economy stabilise, Turkey can overcome the current problems and become an attractive centre for investors.