North America Network
The North America region currently consists of Mexico and the United States of America. As significant energy producers and consumers, energy plays a critically important and highly valued part in the North American economies. The transition to clean energy therefore creates both large challenges and major opportunities which drive the region's action priorities.
Regional action priorities that support the Council's mission and humanising energy vision are agreed on an annual basis by national Member Committees in the framework of a Regional Action Plan. In 2021, key topics of interest to members included hydrogen as a key constituent in the future energy economy, advanced nuclear/SMR's and transportation electrification needs and challenges.
The region has also addressed their countries' unique issues and challenges at energy forums and workshops focusing on topics such as, replacement of nuclear, regulation on CCS technology, smart energy policies, energy efficiency with advanced technologies, and trade issues.
The region organises the World Energy Council official regional forum, the North America-Latin America bi-regional forum which addresses energy efficiency, energy conservation, alternative energies, energy transport and fossil fuels issues.
Energy in North America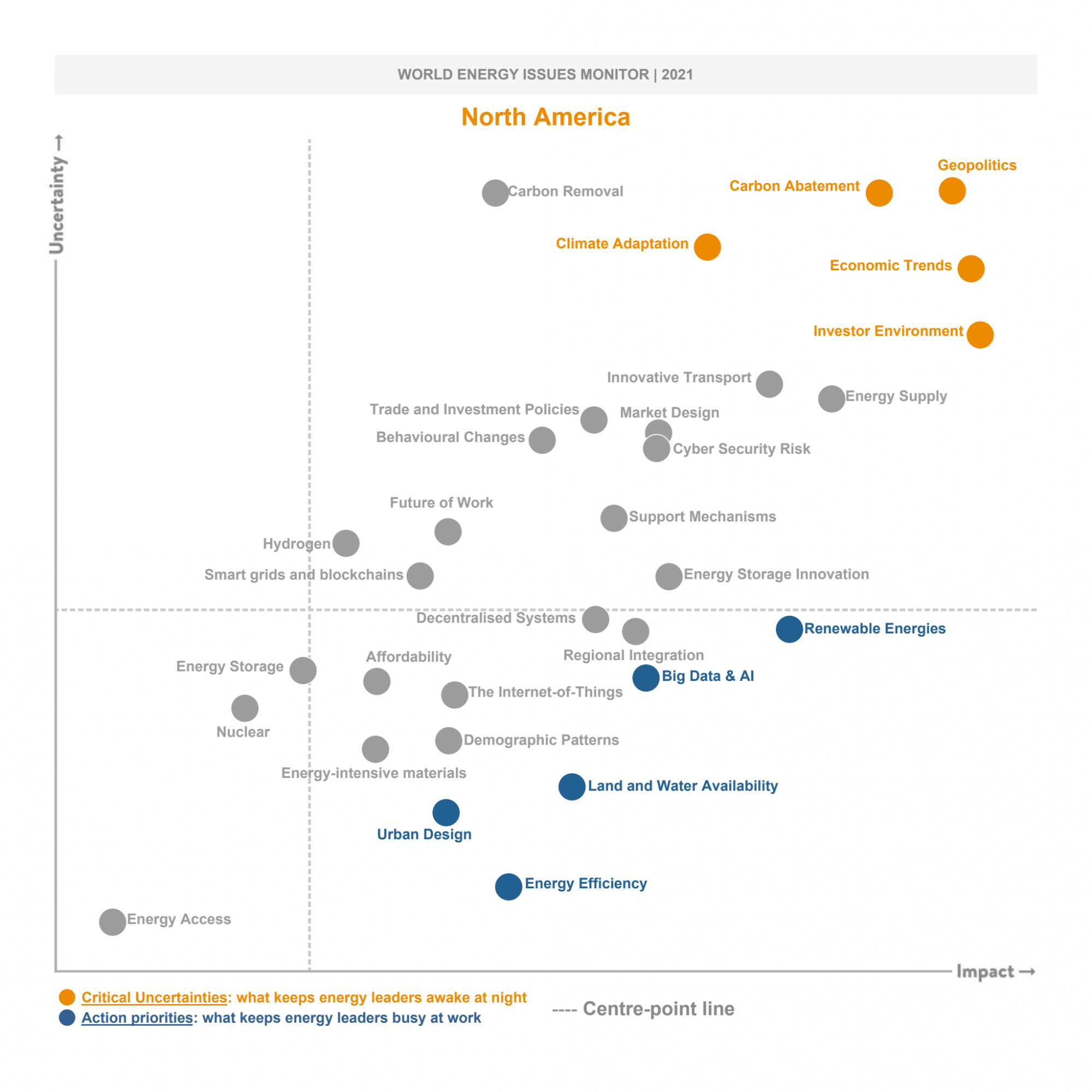 REGIONAL OVERVIEW & CONTEXT
The pandemic has also caused significant suffering in North America with economic trends and investor environment being critical uncertainties, reflecting the pandemic context that is evident in other regions. Critical uncertainties of climate adaption and carbon abatement also reflect some practical solutions for mitigating climate change, while also recognising the split in US politics, with Donald Trump's administration withdrawing the US from the Paris Agreement and Joe Biden already committing to re-join it.
The three North America countries are all significant hydrocarbon producers and have been affected by lower prices and reduced energy demand. All three countries are significant oil producers and have been affected by the fall in demand and lower prices. In common with other producers, there are concerns about whether there has been any permanent demand destruction with investment on new production capacity being postponed.
While oil majors across the world have seen significant losses, North American oil majors seem to follow a divergent path by doubling down on hydrocarbon investments and buying up rivals. In contrast, European oil majors are transforming themselves into International Energy Companies by investing in gas and renewables. Mexico has sought to use more of its oil domestically for power generation to secure national oil production, albeit at the expense of displacing renewable electricity and challenging its electricity supply security. This has polarised perspectives within Mexico with the private energy sector and local government supportive of energy transition aligned to the climate change agenda.
CRITICAL UNCERTAINTIES & ACTION PRIORITIES
The emerging findings for the Action Priorities and Critical Uncertainties were tested with the Council's North American energy community during a digital workshop in February 2021. The workshop supported the emerging findings while drawing out three overarching themes to summarise the region's current energy landscape:
1. US political reset permeates the region and beyond
The US Presidential election reflected a political reset more broadly while clarifying the policy direction for the energy sector. The return of the US to the climate change agenda provides renewed impetus to the COP26 negotiations later this year, with the Biden administration targeting net-zero by 2050. But US politics remain deeply polarised and Biden may need to focus on signaling direction rather than legislation. Biden's initial focus will be on the domestic pandemic recovery where there is some support to address societal problems exposed by the pandemic and to use the recovery to "build back better". The US political reset may also help Canada resolve its climate change tensions and persuade Mexico to re-engage.
2. Increasing contrast of North American Big Oil strategies
The pandemic has hit the finances of the oil industry heavily, with reduced demand and lower prices leading to significant losses and falling share prices. At the same time, the oil sector is being increasingly challenged by investors about its exposure to climate change risks, and this is prompting differing strategic responses from North American International Oil Companies (IOCs) to the European IOCs. While European companies like Shell, Equinor, and BP have been increasing their clean energy portfolio and transforming themselves into International Energy Companies (IECs), US companies such as ExxonMobil, Chevron, and ConocoPhillips have been increasing their shale oil assets in North America.
3. Strong drive for innovation coming from adjacent sectors
The pandemic has not slowed down innovation with advances in big data & AI from the technology sector feeding into the development of autonomous vehicles, with technology, vehicle manufacturers, and energy companies cooperating and competing. At the same time, the big technology firms are becoming increasingly vocal about clean energy and supporting innovative breakthroughs. The challenge will be to boost innovation and accelerate transition whilst paying close attention to the humanising agenda to ensure a just energy transition that avoids leaving any communities behind​​​​​​.
As part of World Energy Week LIVE 2021, a conversation focusing on Turning points in the global e-mobility transition was convened. Participants engaged in a dialogue about the electrification of transportation and how it is accelerating on many fronts globally, driven by national policies and enabled by rapidly evolving technologies and decreasing costs. As part of the discussion, they highlighted the importance for both national and community stakeholders to clearly understand the pace of change within the transportation sector and to develop strategies and programs to remove obstacles to the adoption of electric vehicle technologies. As part of the conversation participants encouraged stakeholders involved to consider what the key technology issues are that must be addressed to ensure that the global e-mobility transition meets its objectives, what steps economies as well as impacted communities can take to ensure that their residents can fully participate in the environmental and economic benefits of e-mobility, and shared lessons learned from North America that can offer guidance to other countries and communities in their own e-mobility transition.
NATIONAL MEMBER COMMITTEES IN THIS REGION