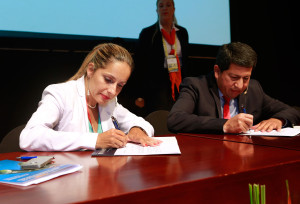 At the 8th Bolivia Gas & Energy International Congress, Claudia Cronenbold, Chair of the
Bolivian member committee
and Luis Alberto Sánchez, the Minister of Hydrocarbons and Energy, signed an agreement to establish an
Academy
to provide training programmes for future energy leaders.
Cronenbold said:
"The programmes will be based on four basic standpoints: physical, technical, economic and political / regulatory concepts. We aim to train future leaders to better understand the work of the World Energy Council and address energy issues in a holistic way. Our Academy programmes will highlight regional Bolivian energy problems, as well as what the world is doing in the energy sector - the new technologies and how they fit into the energy matrix, the countries that have successfully implemented new technologies and those that failed."

"The Bolivian Academy is based on involving youth in decisions with a base of knowledge about energy in a local and global context. We want to develop a group of future energy leaders who know each other and interact to achieve a common vision of the major energy problems faced by Bolivia, but most importantly, are also free to debate issues. One important area for our students to consider will be how to increase and diversify power generation in Bolivia."
The curriculum for the training programme is set in the context of the World Energy Council and its
work teams, studies
and recommendations. Training programmes comprise 12 day courses over a period of three months and are designed for professionals, entrepreneurs, public officers, politicians, journalists, members of various NGOs and advanced undergraduate students who share an interest or work in energy-related areas.
All courses are led by renowned experts respected for their expertise in specialist areas. The programme's first phase has the support of the
Argentine Committee
of the World Energy Council, CACME, and will be run with the assistance of approximately twenty CACME instructors.
Since the launch in Argentina in 2014 of the first World Energy Academy programme designed to provide national level training programmes, many countries from across the world have expressed their support of the initiative. The aim of the Academy programme is to give the bigger 'helicopter' perspective on critical energy issues using World Energy Council reports as a key reference point for guiding discussions. The course aims to give young people in the energy sector the skills they need for operating in today's increasingly complex world, and is a useful point of reference for anyone in their professional energy career looking to update themselves on the critical factors shaping the energy industry today.
Comments
No comments have been posted