Innovation Forum: Hydrogen in Latin America & the Caribbean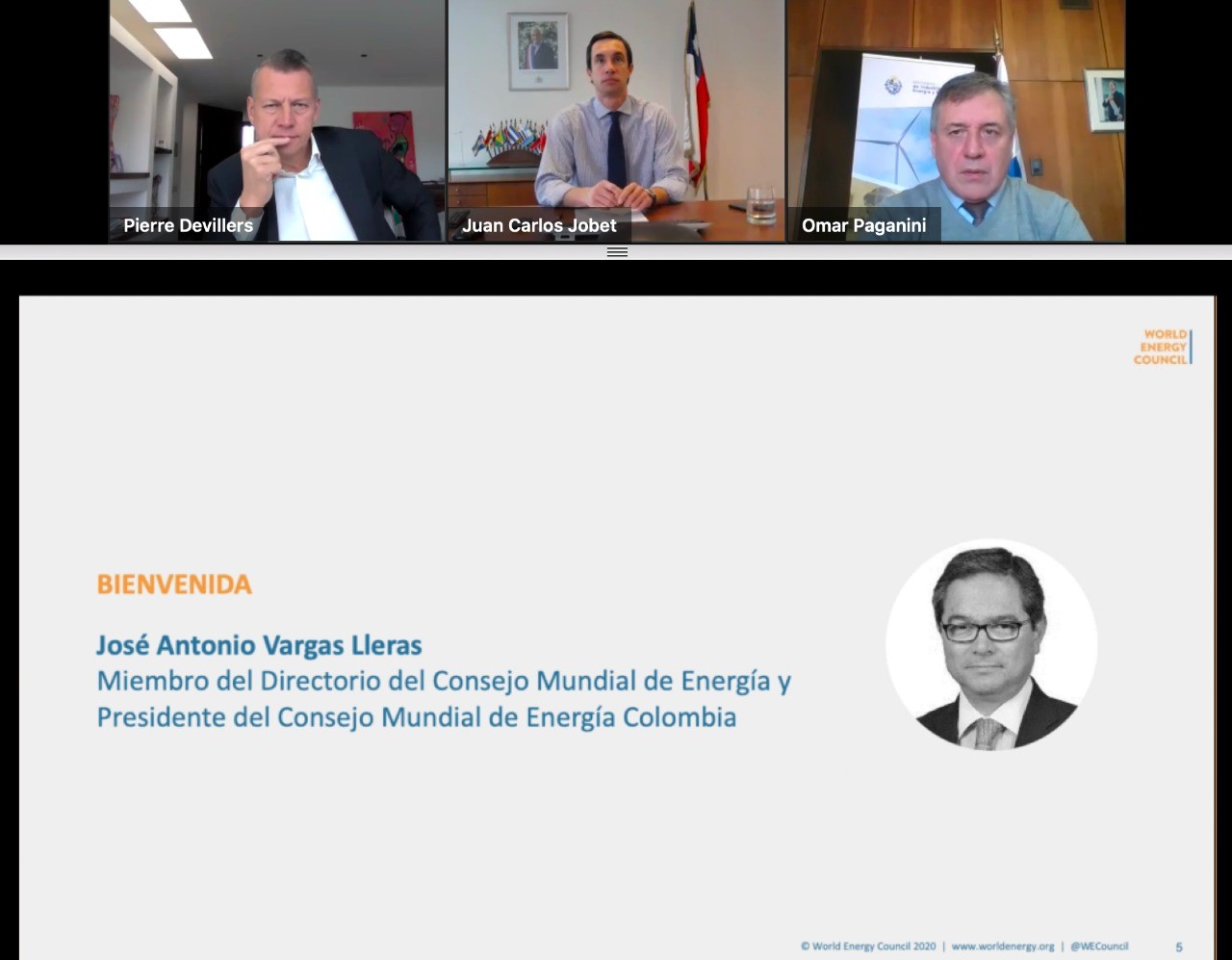 On 17 July 2020, the World Energy Council hosted the 'Innovation Forum: Hydrogen in Latin America & the Caribbean' for a select group of 50 attendees from 10 different countries of the region. This webinar provided a space for energy experts from various sectors to discuss the promising potential of utilizing hydrogen energy in the LAC region. The moderator, Pierre Devillers, former President of the World Energy Council Chile and current Chief Business Development and Commercial Officer of ENGIE Latin America, was joined by Juan Carlos Jobet, Chilean Minister of Energy, Omar Paganini, Uruguayan Minister of Industry, Energy and Mining, and José Antonio Vargas Lleras, Chair of the World Energy Council's Communications and Strategy Committee as well as Chairman of the Council's Colombian Member Committee.
José Antonio Vargas Lleras supplied a brief but animating welcome, directing attention towards the need to foster public consciousness of green hydrogen's potential to provide enormous benefits to the region. He spoke of the pressing need for governments to develop hydrogen strategies and communicate effectively with the private sector, academic institutions, technological institutes, and local communities to identify where to focus their efforts. Following this, Minister Juan Carlos Jobet conveyed an intriguing message about the progression of hydrogen in the region – he described the advantages of seeing its development not as a race in which countries must compete, but rather as a moment rife with potential for collaboration and for sharing knowledge. Chile sees hydrogen not only as a tool to reduce the country's own carbon footprint by 20-30%, but as an instrument with which to support emissions reduction in other countries. Chile plans to finish its hydrogen strategy before the end of 2020 and design it as a non-partisan initiative to allow for its long-term application, continued development, and export.
Minister Omar Paganini went on to complement the Chilean perspective with Uruguay's vision to achieve zero emissions by 2050. On a positive note, 98% of Uruguay's electricity generation in 2019 came from renewable energy sources, demonstrating significant advancement in decarbonization. However, the cost of producing and distributing green hydrogen has remained high, obstructing wide implementation of the associated technologies. For this reason, he highlighted the importance of cultivating alliances to improve hydrogen development, support export processes, and exchange knowledge. When participants were polled about their perceptions of areas of opportunity for hydrogen in the region, the majority (>70%) chose export opportunities and decarbonization of industrial and transport sectors as the most important.
During the guided discussion, participants emphasized the fact that every country's needs may be slightly different. Therefore, Lorena Espinosa of GIZ México accentuated how important it is for countries to learn from each other and prioritize cross-sector collaboration. Action points raised by Luis Arqueros of Pacific Hydro in Chile, Manuel Raul Pelaez-Samaniego of the University of Cuenca in Ecuador, and Guilherme De Mendonca of Siemens in Colombia that came out of the discussion included: (1) passing from the PowerPoint to the power plan: advancing on hydrogen strategies and collaborating effectively, (2) ensuring hydrogen becomes a central element of state agendas and not an instrument of politics, and (3) working to ensure the Latin American region can position itself as an attractive location for investments from other countries and demonstrate its immense potential to generate renewable energy, respectively. When participants were asked about the World Energy Council's role, they stressed the value of regional working groups, providing a platform for dialogue on LAC, and facilitation of interregional discussions.
The conclusions that may be drawn from the forum are threefold:
Countries in the region have arrived at a general consensus on the importance of hydrogen and are generating agendas of change to strengthen the energy sector, drive economic development, and help to address climate change.
Barriers to hydrogen's implementation persist, including the need for funding, regulatory challenges, generating stable demand, and driving down cost.
The region is prioritizing collaboration, export opportunities, and decarbonization in the journey to implement hydrogen technologies.