The Kenya National Committee aims to promote sustainable energy development in Kenya, as a part of the World Energy Council's energy vision. As a member of the World Energy Council network, the organisation is committed to representing the Kenyan perspective within national, regional and global energy debates. The committee includes a variety of members to ensure that the diverse energy interests of Kenya are appropriately represented. Members of the committee are invited to attend high-level events, participate in energy-focused study groups, contribute to technical research and be a part of the global energy dialogue.
Energy in Kenya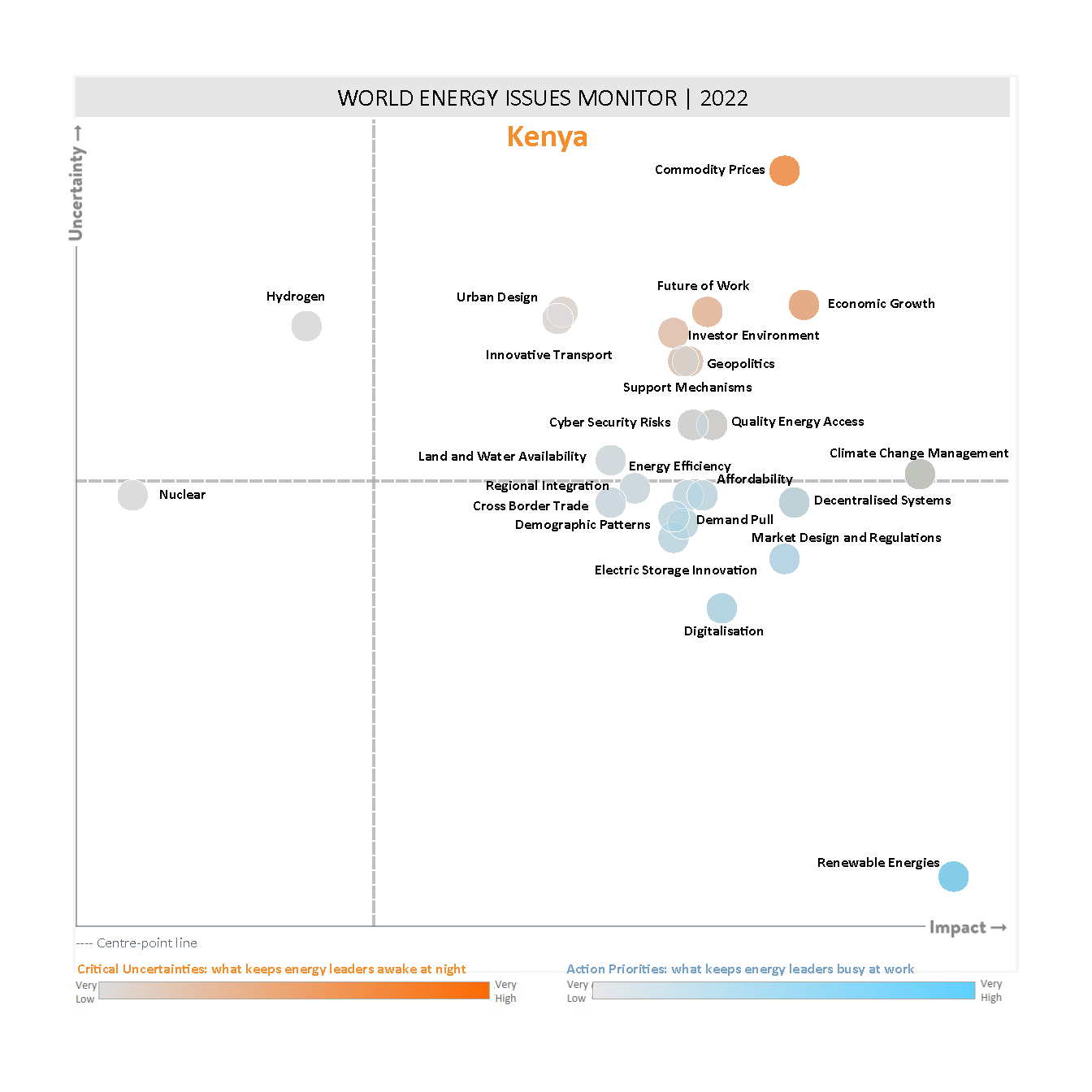 Energy is critical to the realisation of Kenya's Vision 2030 and Big4 Agenda, which seeks to transform the country into an industrialised middle-income country providing a high quality of life to its entire population. To achieve this, Kenya has made great improvement in expanding electricity access, and full electrification is expected to be achieved within the next two years. Driving this momentum is the Kenya National Electrification Strategy (KNES) roadmap for attaining 100% energy access by 2022; however, the achievement of this goal within the next two years remains a critical uncertainty for energy leaders.
Kenya pledged under the Paris Agreement, to take urgent action that would lead to reduction in the greenhouse gas emissions and aims to achieve a low-carbon, climate-resilient development pathway through implementation of several strategies. Among the proposed measures in its Nationally Determined Contribution (NDCs), is the production of energy from renewables and clean energy. Subsequently, there has been significant development of renewable energy projects, which account for the 72% of the country's renewable energy contribution to final energy consumption. A critical uncertainty however remains in the affordability of end-user tariffs, as demand for electricity has not increased in equal proportions with capacity, which may lead to end users paying for idle capacity in the system. Regional Integration has been pointed out as a critical uncertainty for energy leaders in Kenya. It is expected that the acceleration of regional power trading in the East African Power Pool will be critical to Kenya's future energy growth.
The Kenya National Electrification Strategy (KNES) is an integrated electrification plan; it is expected that universal coverage in Kenya will be achieved through centralised and decentralised solutions. The scaling up of decentralised system remains a key action priority for energy leaders in Kenya. Kenya signed the Energy Act in 2019, which is centred around the guiding principles of decentralisation, liberalisation, competitiveness. It also provides for open access for the transmission and distribution systems, creation of the net metering regulatory framework and creation of consolidated fund for rural electrification, among other progressive outputs. It is expected that all the regulations enabling full implementation of the act will be in completed in 2021.
The Kenya National Energy Efficiency & Conservation Strategy was launched in 2020. The strategy focuses on five thematic areas i.e. Households, Power & Utilities, Industry & Agriculture, Transport and Buildings and addresses the need to reduce the demand for fossil fuels and greenhouse gasses and enhance the potential of renewable energy sources to meet Kenya's energy needs. It is expected that energy efficiency will remain a critical issue that policymakers will prioritise in 2021.
The Covid-19 pandemic has affected many sectors of Kenya's economy and has disrupted global supply chains. There is a need for policymakers to craft solutions that strengthen the countries resilience and preparedness to address natural hazards, extreme weather conditions, demand side structural changes and acts of terrorism.
The new frontiers for energy leaders in Kenya in advancing the energy transition have been identified as the adoption of digitisation and disruptive technology, diversification and decarbonisation of energy systems, infrastructure integration and planning, customer-centricity, demand-side innovation and market design & governance. In achieving these goals, energy leaders are exploring the roll out of e-mobility, pay-as-you-go (PAYG), internet of things, smart grids, decentralised and captive power and blockchains.