The Namibian WEC Committee aims to provide electricity for its people, through optimum and unbiased ranking of energy resources in Namibia (including solar and nuclear resources), increasing generation capacity, and expansion of transmission and distribution networks. It faces the challenges of rising generating costs in Namibia and other countries, and aims to work with organisations such as the Southern African Power Pool (SAPP) and the African Forum for Utility Regulators (AFUR) to spread the World Energy Council's influence and knowledge and help to guide energy progress in Namibia and Southern Africa.
Miryam Thomas holds an MBA in Human Resources Management and Marketing Management from Bangalore University, India and a Bachelor of Arts Honours Degree in Business Enterprise. She also holds a Diploma in Business and Personnel Management from London Metroploitan University, UK as well as a National Diploma in Computer Studies from Lambeth College, UK. Currently Ms Thomas is the Chief Control Officer at the Directorate of Energy-Ministry of Mines and Energy, responsible for all administrative and financial matters for the Directorate. She has been the Secretary General for the Namibian Member Committee since the re-establishment of the committee in 2010. She is also Secretary for the Electricity Steering Committee at the Ministry, a body that deals with energy affairs in Namibia and is attended by CEO's and MD's. Since 2008, she has been a part-time lecturer in the department of Business and Management at the Polytechnic of Namibia. During her tenure as Secretary General, she has organized a series of successful national meetings in Namibia.
Energy in Namibia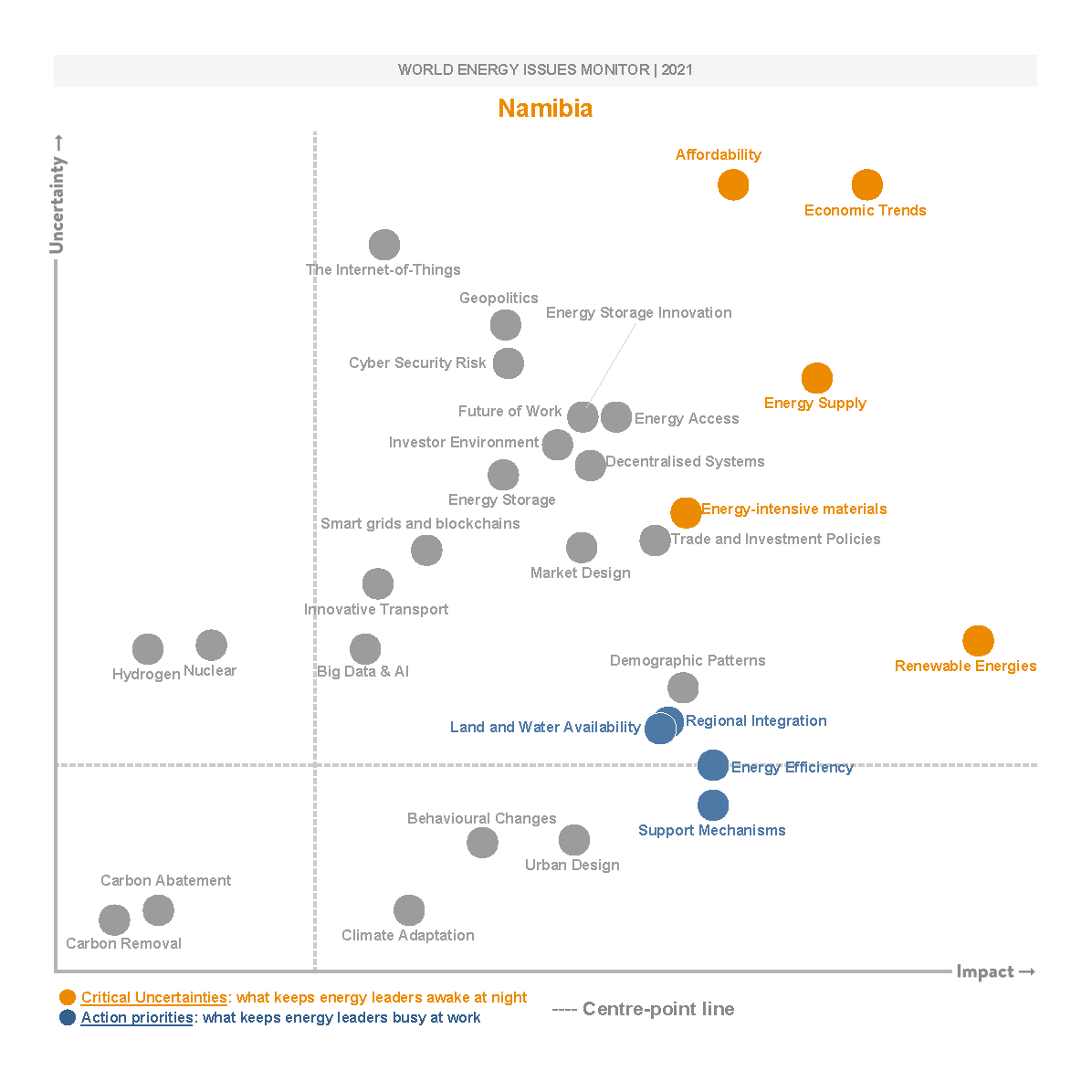 Namibia has endeavoured to make considerable strides towards achieving a reasonable level in the energy transition, in the face of harsh challenges. The country has just emerged from a severe drought, which negatively impacted hydropower generation potential in the north-western part of the country. Namibia continues to increase leverage on other renewable energy sources, such as solar and wind energy, to not only decentralise traditional power generation, but also to accelerate the shift towards decarbonisation and smarter energy transition.
Regional integration remains relevant which, together with the need for energy efficiency, has so far kept energy leaders busy at work. Renewable energy sources, especially solar and wind enjoy high priority in the country, as leaders see these two sources as the most viable option towards decarbonisation. As a semi-arid country, hydropower potential is very limited causing the country to be a net importer of energy from fossil sources. Energy affordability, mainly electricity, remains a concern for leaders. Oil prices are uncertain because of the country's dependency on imported fossil energy. The cost of electricity continues to soar and impacts heavily on low-income households. Market design has been influenced by the need to shift from the conventional grid model to smart and more energy efficient models for energy transition. This scenario creates a more flexible and conducive environment for investors in the country.
It is also worth noting that the current economic outlook of the country is not precise, due to less spending by the government, as a result of loss of revenue from the Southern Africa Custom Union (SACU). The weak economic outlook is further aggravated by Covid-19, which has severely affected most of the primary industries in the country, such as: construction, transport, tourism, manufacturing and fishing. The loss of jobs in these sectors of the country's economy eventually had a negative impact on consumer spending. (Africa Development Bank group and International Monetary Fund).
With the exception of extreme weather events, such as droughts and floods, Namibia has had little exposure to other natural hazards (earthquakes, tsunamis); hence the perception that preparedness for such events would be low, is justified. The country has equally been fortunate not to have been affected by terrorism to date.
Namibia has also not been affected by a pandemic in the past 30 years of independence so Covid-19 is its first experience of dealing with the health and economic fallout, which continues to have a significant impact. Cyber-attacks are also increasingly becoming a permanent topic of discussion, as technology advances.
Namibia, like many of its counterparts in the region, is making consistent efforts to reduce its 100% dependability on other nations and ensure that energy security and equity is achieved sustainably. Comparison of the 2019 Issues Monitor to the 2020 map reveals a considerable shift in the energy leaders' perspectives of the current critical energy issues in the country.