The Algeria National Committee aims to promote sustainable energy development in Algeria, as a part of the World Energy Council's energy vision. As a member of the World Energy Council network, the organisation is committed to representing the Algerian perspective within national, regional and global energy debates. The committee includes a variety of members to ensure that the diverse energy interests of Algeria are appropriately represented. Members of the committee are invited to attend high-level events, participate in energy-focused study groups, contribute to technical research and be a part of the global energy dialogue.
Energy in Algeria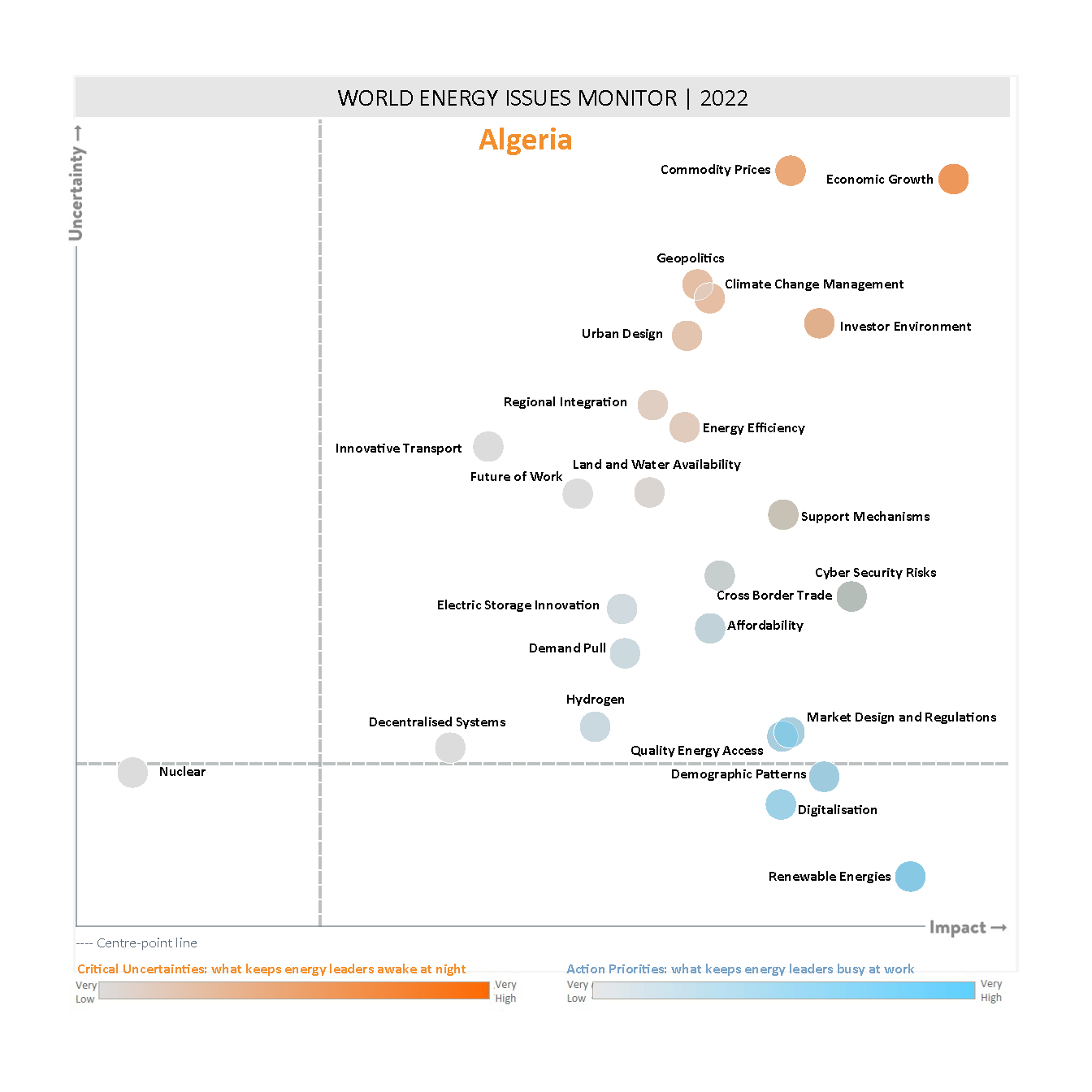 Algeria is the largest country in Africa, with 5,500 km of borders with Morocco, Western Sahara, Tunisia, Libya, Mali, Niger and Mauritania. The country occupies a strategic position in the Western Mediterranean.
The Algerian economy is based on the oil and gas sector, which accounts for more than 95% of export earnings and 60% of the state budget.
The Algerian government is committed to abandoning fossil fuels in favour of renewable energy sources in order to preserve declining fossil resources. This is also seen as the best long-term solution to achieve environmental goals. Nevertheless, Algeria has been slow to implement its renewable energy programme. This is a consequence of its heavy dependence on fossil fuels to sustain the economy, as well as on heavily subsidised energy products.
Algeria plans to popularise digitalisation and ensure its accessibility at all levels, through the digitisation and integration of new technologies by primarily digitising the control and decision support systems.
Reduced greenhouse gas emissions have strengthened the country's position in relation to its envisaged energy mix. It should also be noted that with its new fleet of six combined-cycle power plants (about 10 GW), the country will benefit from the high performance of this technology, which will contribute to reducing Algeria's greenhouse gas emissions.
Economic growth is a priority for Algeria as its population grows. The establishment of a climate of confidence between the various market players and better transparency in procedures will be essential to allow foreign investment to grow.
Algeria has proven experience in the planning of energy works (production, transport, distribution of electricity and transport and distribution of gas). The country intends to focus on a more attractive customer orientation, with better consideration of the expectations and needs of customers through innovations. Awareness-raising campaigns on the rationalisation of energy are continuously broadcast on the various media outlets in anticipation of the implementation of intelligent networks.
The country aims for diversification of production and the reinforcement of energy capacities on a national scale, coupled with the optimisation of existing electrical interconnections on a regional scale (with a view to setting up a Maghreb electricity market) as a first stage, with integration into the European electricity market to follow in a second stage. Algeria also intends to set up a strategy of training and skills development of new technologies and innovations. The implementation of energy efficiency actions to rationalise the use of energy constitutes an important step for Algeria and is already a priority for the public authorities.
Given the vastness of its territory, Algeria has one of the most attractive and important solar fields in the world and is planning the large-scale deployment of photovoltaics, in the medium term, for the production of electrical energy. The integration of cogeneration, biomass and geothermal energy is also planned. It should be noted that 23 photovoltaic plants of almost 400 MW have been in operation for several years. Algeria also has a highly qualified human capital and is continuing its training efforts in the various energy structures (universities, research centres, vocational training centres, etc.) with a view to constituting an attractive and buoyant market.