The Indonesia National Committee aims to promote sustainable energy development in Indonesia, as a part of the World Energy Council's energy vision. As a member of the World Energy Council network, the organisation is committed to representing the Indonesian perspective within national, regional and global energy debates. The committee includes a variety of members to ensure that the diverse energy interests of Indonesia are appropriately represented. Members of the committee are invited to attend high-level events, participate in energy-focused study groups, contribute to technical research and be a part of the global energy dialogue.
Hardiv is currently Chairman of the Indonesian National Committee-World Energy Council; Member of Scientific Board of the Agency of Research & Development Centre for Energy and Mineral Resources, Ministry of Energy and Mineral Resources of Indonesia; Member of Asia Pacific Energy Research Centre Advisory Board, Japan; Member of External Advisory Board of the Electrical and Systems Engineering Department, School of Engineering & Applied Science, Washington University, USA; Member of Studies Committee of World Energy Council; and Member of Indonesian Delegation for the COP, the CMP, and the Subsidiary Bodies of the UNFCCC. He was the Executive Director of the ASEAN Centre for Energy from 2011 to 2014, a Senior Advisor to the Indonesia State Electricity Corporation from 2003 to 2009, and Planning Director from 1998 to 1999 and from 2001 to 2003. Prior to these, he was the 1st General Manager of Transmissions and Java-Bali Control Centre. He received an Engineer degree in Electrical Power Engineering from the Bandung Institute of Technology, Indonesia; M.Sc degree in Electrical Engineering from Union College, USA; and D.Sc degree in System Science and Mathematics from School of Engineering and Applied Science, Washington University, USA. He participated in the Executive Program on Macroeconomic Policy and Management, John F. Kennedy School of Government, Harvard Institute for International Development, USA. He is a member of IEEE, SIAM and AMS. His main interests are Energy and Climate Change on Mitigation Actions for Sustainable Energy Development; Long-term Energy Planning; Power System Planning, Operation and Control; Power Project: Legal, Financing, Operational and Technical aspects in Commercial Engagements.
Energy in Indonesia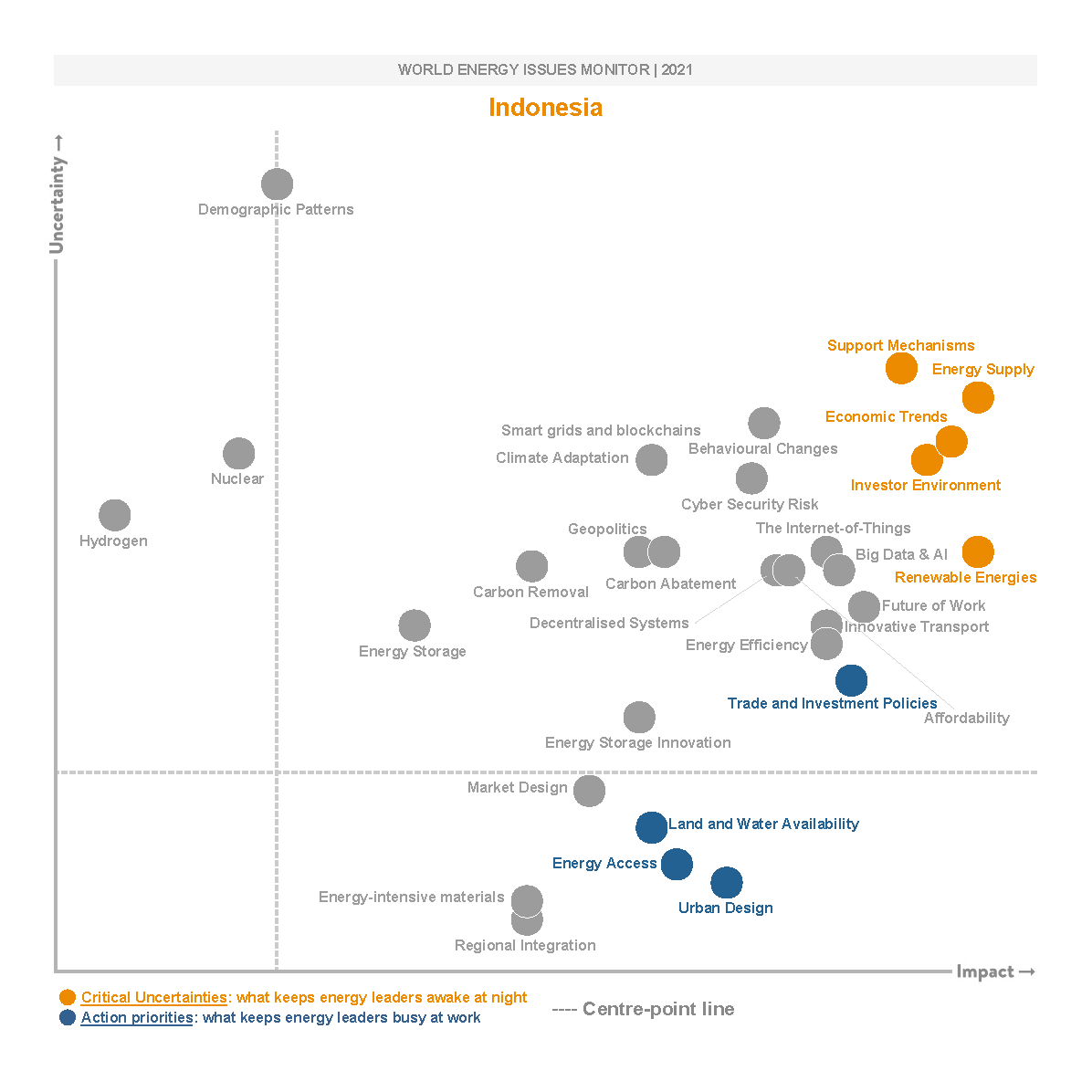 Economic recovery post pandemic Covid-19 is expected to increase energy demand, which has been significantly suppressed during 2020. However, energy supply, especially electricity, will no longer be considered an issue in Indonesia as many power projects were already committed to and are due to be commissioned this year and next. In early 2021, Indonesia, and the Java-Bali grid in particular, will be in an over supply situation due to lower energy demand caused by the pandemic. To reduce the impact of energy commodities price volatility, Indonesia has a plan to reduce the import of oil and refinery products. Indonesia is developing a new refinery through RDMP projects to fulfil future fuel demand. A fuel switching program is also in place (biofuel produced from domestic agricultural products, and DME produced from domestic coal, to replace 20% of LPG consumption).
Post pandemic national economic recovery is underway and will continue through 2021. The Indonesian Central Bank estimates that Indonesia's economic growth will reach 4.8-5.8% in 2021. This is supported by increased export performance and private and government consumption, as well as increased investments from capital expenditure and foreign capital inflows as a positive response to the implementation of the recently enacted Job Creation Law. It is expected that macroeconomic and financial system stability will be maintained, and inflation will be controlled within the 2021 target (3% ± 1). A very large portion of the state budget has been allocated for strategic policies to accelerate economic recovery and economic transformation, and will encourage national economic recovery both in consumption and investment. It is anticipated that the trend to use more renewable energy and implement energy efficiency will create new jobs that will support economic growth further.
Foreign direct investment (FDI) is expected to recover to pre-pandemic levels in 2022. To maintain the positive investment and business activity in the renewable energy sector, the government has been preparing a draft Presidential Regulation regarding Feed-in Tariffs (FIT) that will be issued soon. With this new regulation, there will be an improvement in the price of electricity sold by private RE generators to the state-owned electricity company. The use of EVs will also be promoted to reduce imported gasoline, but has limited options for substitution and there are plans to incentivise EVs and disincentive high-emission vehicles.
Indonesia's National Energy General Plan stipulates a share of renewable energy (RE) at least 23% in the primary energy mix by 2025, but for 2020, this is currently only 11.5%.
The use of domestic biodiesel will continue to be increased to reduce oil imports, through the mandatory 30% biodiesel (B30) program. This program has already achieved 8.46 million kilolitres, and saved around 2.66 billion USD. Meanwhile, to boost progress towards the RE mix target, a strategic program will be implemented, which continues the mandatory B30 program, develops co-firing biomass in coal-fired power plants owned by the state P#power company, develops RE capacity through vast solar farms, and converts fossil-based generation such as PLTD with RE generation in smaller grids.
Indonesia Investment Coordinating Board (BKPM) has proposed six main programs as instruments for achieving investment of 64.78 billion USD and to encourage economic growth (2020-2021). The programs are; (i) to execute stalled investments and large-scale investments; (ii) to compile a map of regional investment potential; (iii) to facilitate foreign investment relocation to Indonesia; (iv) to implement removal of bottlenecks and establish aftercare investment through mentoring investors; (v) to expand the positive list of investments; and (vi) to conduct deregulation and licensing integration.
The government continues to improve energy access to reach 270 million people. In Q1 2020, Indonesia had some 63.3 GW of power generation connected to PLN's Electricity Systems, 61,334 km of transmissions, 150,038 MVA substations, 1,006,265 km of distributions, and 527,544 MVA distribution substations. The electrification ratio has achieved 99.2% in 2020, and is targeted to reach 99.9% in 2021.There are also some development of city gas networks to supply households with reliable and clean energy. Since 2016, the Indonesian government has launched a one-price fuel policy program to ensure people in remote and rural areas have access to energy at the same price as citizens in larger cities.