26th World Energy Congress 2025
Please note that the request for bids stage for the 26th World Energy Congress is now closed. Bids are now available for Member Committee's consideration here.
World Energy Congress
The triennial World Energy Congress is the global flagship platform of the World Energy Council.
For almost a century, the World Energy Congress has provided a unique space for the global energy community to catalyse new cooperations and forge new pathways in the energy transition. The Congress reaches across the public, private and civic sectors to connect and inspire leaders and practitioners from the energy+ value chain.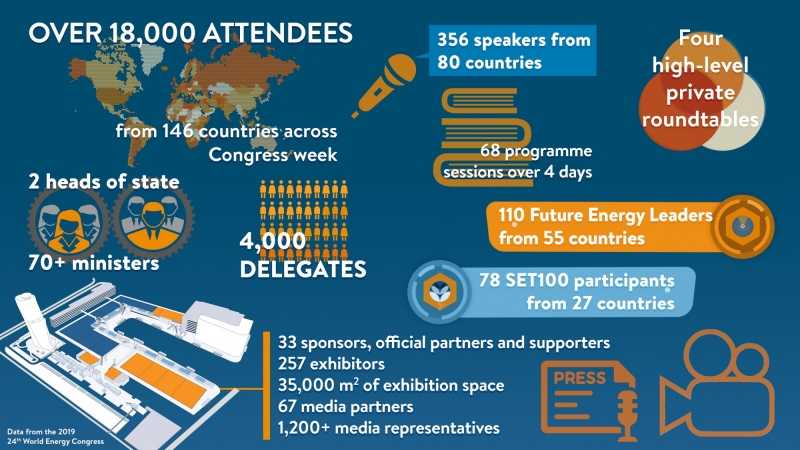 Bidding to host the 26th World Energy Congress
Following the success of the 24th World Energy Congress in Abu Dhabi in 2019 and the confirmation of St Petersburg as the host city for the 25th World Energy Congress in 2022, the Council opened its request for proposals (RFP) to host the 26th World Energy Congress in 2025 on 3 December 2019. The final bid documents were released on 3 April 2020 with a bid submission deadline of 31 July 2020.
The Council is now delighted to present the bids for hosting the 26th World Energy Council for Member Committee's consideration. We extend our thanks to each bidder and their teams for all their time, effort and commitment in submitting their bids. We also thank all parties that expressed an interest in bidding during the process.
Who can bid?
Member Committees and organisations representing cities and countries, including convention bureaus, were welcome to bid (subject to meeting certain requirements).
Timeline
Bid timeline as of 10 September 2020.
Action

Timeline

First stage

(proposal)

Call for proposals published

Week commencing 2 December 2019

Proposals due

28 February 2020 by 17.00 (London time)

Review and feedback on proposals

2-27 March 2020

Second and final stage

(final bid)

Final bid documentation published

Week commencing 30 March 2020

Bids to host the Congress due

31 July 2020 by 17.00 (London time)

Review of bids and site visits if applicable

3-28 August 2020

Publication of eligible bids

Week commencing 7 September 2020

Electronic voting opens, following presentations from all bidders at the Executive Assembly during World Energy Week 2020

7 October 2020 at 12.00 (London time)

Voting closes

6 November 2020 at 17.00 (London time)

Announcement of the winning bidder

16 November 2020
​​​​​​Request for bids pack
Eligible bids were those that responded to the questions in the bid request, whose responses met all essential criteria, and had all required documentation submitted within the required timeframe.
RFP - Request for Bids Document, including the following appendices:

Appendix I: Permitted and Prohibited Bidding Activities
Appendix II: Executive Assembly Requirements
Appendix III: Sample Budgets
Appendix IV: 2030 United Nations Sustainable Development Goals

Congress 2025 contract
Declaration to commit to agreement
About the Congress presentation
Bidders check-list
Next key dates
Electronic voting opens on 7 October 2020 at 12.00 London time and closes on 6 November 2020 at 17.00 London time
Enquiries
For any further information, please contact the Global Agenda team at [email protected]