The recipients of the 2014 SANEA/SANEDI Energy Awards were announced on 21 August at a ceremony hosted by Brian A. Statham, Chairman of the South African National Energy Association (SANEA), the World Energy Council's national member committee.

In his keynote address, Statham paid tribute to the many men and women who are striving on a daily basis to ensure that South Africa enjoys a stable and secure energy future. "SANEA's vision of 'Energy People Working Together' is alive as we come together to congratulate these winners."

The South African National Energy Development Institute (SANEDI) has again collaborated with SANEA in recognising South Africans and their achievements, specifically by promoting awards in the research and innovation sectors. The SANEDI/RECORD Renewable Energy Research Excellence (RERE) Awards 2014 were also presented at the event. (RECORD is the Renewable Energy Research Center of Research and Development.)

Upon presenting the awards, Mr Statham said: "If South Africa is to be recognised as a leading nation we have to go beyond the range of normal expectations. Through exceptional performance we can demonstrate what is possible; we can set the standard for a new reality that will deliver the social and economic development necessary for South Africans to enjoy a great future. We have to do this every day; at work and at play. Those who are being recognised tonight have embarked on this journey. They have set the benchmark for a new reality. They are an inspiration to us all. We acknowledge and salute their efforts in the belief that their achievements will inspire others".


The Award winners are: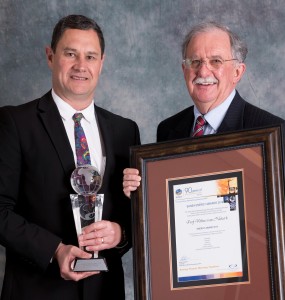 The SANEA Energy Award 2014 went to Professor JL Wikus van Niekerk of the Stellenbosch University for his contribution to renewable energy in South Africa, particularly in the field of solar energy.

Professor van Niekerk's vast work in the many positions he holds within the renewable energy sector gained him recognition from SANEA. Professor van Niekerk heads the Centre for Renewable and Sustainable Energy Studies (CRSES) at the University of Stellenbosch. The centre was established in collaboration with the South African Government, and boasts sustained income from the Department of Science and Technology, Sasol and Eskom. He is also a Board Member of the International Solar Energy Society (ISES), the South African Solar Thermal Electricity Association (SASTELA), and created the Southern African Solar Energy Conference (SASEC). He contributed to the success of the solar resource spinout GeoSun Africa whilst his collaborative research across multiple universities, has coordinated results which have lead to several Technology Innovation Agency Awards and multiple patents.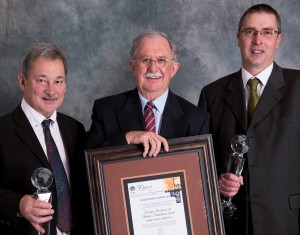 Two SANEA Energy Project Awards 2014 were awarded to Exxaro Resources and Tronox Namakwa Sands for their Cogeneration Project and Woolworths for their Good Business Programme that formalises the company's sustainability commitments. However the Hotel Verde was also highly commended in this category for its all-encompassing approach to operating a green hotel as well as Khanyisa Projects for the Illembe Rural Domestic Biogas Project.

Louis de Koker and Peter Haley accepted the award on behalf of Exxaro Resources and Tronox Namankwa Sands. Exxaro Resources and Tronox Namankwa Sands won the award for their construction of a cogeneration power plant which began in June 2012. The objective of this project was to minimise energy waste to improve energy efficiency. The carbon footprint of electricity from this cogeneration source is virtually zero and is one of the first co-generation projects to qualify under the Clean Development Mechanism project under the Kyoto protocol.

Les Hall represented Woolworths in receiving this award for its Good Business Journey (GBJ) Programme. The GBJ Programme was launched in April 2007 and is a comprehensive plan to make a difference in 6 key areas: Energy, Sustainable Farming, Water, Waste, Social Development, and Transformation. Woolworth's commitment is to reduce its relative electricity use and carbon footprint by 40% in 2015. Current progress for relative electricity consumption stands at 31% reduction. Other elements of the Good Business Journey include a focus on innovation, transport route optimisation, fridge temperature optimisation, and the incorporation of clean energy production from photo voltaic panels on rooftops.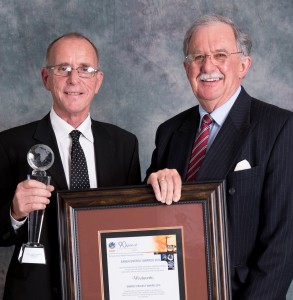 Samantha Annandale and Calvin Boia represented Hotel Verde in being highly commended as Africa's greenest hotel. Designed, built, and operated with sustainability and efficiency at its core, Hotel Verde received international exposure at the international trade show, Internorga in Hamburg for "demonstrating with great intuition, innovation, courage and passion how business practices and sustainable management can work together for optimal results", and won the international trendsetter company award.

Nick Alcock represented Khanyisa Projects which was also highly commended by SANEA. Khanyisa Projects were appointed as project developers for SANEDI's bio-gas project which has already rolled out 26 biogas digesters for the benefit of rural households. The provision of these bio-gas digesters helps thousands of homesteads in rural KwaZulu Natal meet their energy needs. The benefits include clean fuel which improves quality of life and provides bio fertilizer for crops. The project also creates access to safe and hygienic sanitation systems, while reducing the distances walked to collect firewood. Bio-gas building skills have been initiated within the targeted areas, to enable replication of the project.
The SANEA Energy Education Award 2014 was awarded to Dr Marco Lotz and Prof Alan Brent for their publication
,
"Carbon Footprinting Guide: A practical footprinting calculation guide focusing on measuring, monitoring, reporting and verification"
. This guide provides an understanding of carbon footprinting and GHG emissions as well as advice on reducing carbon emissions. The Guide is both educational and topical, particularly in light of the proposed carbon tax and a growing demand for sustainability reporting. The guide was published in February 2014 and is available for free download here:
http://www.nedbankgroup.co.za/pdfs/Carbon_Footprinting_Guide.pdf
Prof Alan Brent (left), Justine Bolton (center) & Brian Statham (right)


The SANEDI / RECORD RERE Young Researcher AWARD 2014 was presented to Karel Malan of the Stellenbosch University while Molelekoa James Mosesane of the Tshwane University of Technology was Highly Commended in this category.

Karel Malan was awarded for his development of South Africa's first heliostat control system which received a grant in 2013 to scale the system into a full size heliostat facility. The Sasol Helio40 system is now complete and provides part of an impressive facility for CSP research at Stellenbosch University. The TIA Helio100 project commenced in April 2014 and is funded by the Technology Innovation Agency. Karel is now part of a team of 10 people developing this exciting project which will establish a heliostat field demonstrator capable of driving a 100 kW turbine.

Molelekoa James Mosesane was highly commended for his work which documents the product Fuel Performance Catalyst (FPC) as a homogeneous catalyst in diesel engines. It also builds a business case for a specific company in South Africa and if implemented will reduce running costs through a proven reduction in fuel consumption. The paper has been accepted at the International Conference on Advanced Technology and Sciences to be held in Antalya, Turkey and will be presented later this year for it to be published in the journal Intelligent Systems and Applications in Engineering (IJISAE).

The SANEDI / RECORD RERE Commercial Application Award 2014 went to Ecovest for their ECOlite solar home lighting product. Christiaan Taljaard accepted this award on behalf of Ecovest for its work on the modular ECOlite which is a unique solar home lighting system that aims to replace the current use of paraffin, kerosene and candle lighting in low income areas of developing countries. This technology seeks to become the preferred lighting solution for 120 million off-grid homes with 600 million users across Africa. Other products in the Ecovest range include ECOstove, a biomass and biofuel cooking solution, as well as various lifestyle products in household services and entertainment.

Comments
No comments have been posted