On November 24, the World Energy Council launched its annual World Energy Trilemma report in Washington DC with the support of the US Energy Association.
The report finds that as global energy systems are being placed under increasing strain and as governments limit their spending under tough economic conditions, the ability to invest the US$48 trillion required over the next 20 years into energy could be put in jeopardy, threatening countries' ability to supply sustainable, reliable, and affordable energy for their people.
The findings were discussed in Washington DC in a panel discussion which included the Council's Chair
Marie-José Nadeau
;
Dean Oskvig
, WEC Vice Chair for North America and President and CEO of Black and Veatch Energy;
Jonathan Pershing
, the Principal Deputy Director for Energy Policy and Systems Analysis at the US Department of Energy where he guides the domestic policy agenda and leads on international climate policy for the Department;
Charles Feinstein
, Director of Energy and Extractives Global Practice at the World Bank; and
François Austin
, Global Head of Energy Practice from
project partner Oliver Wyman
.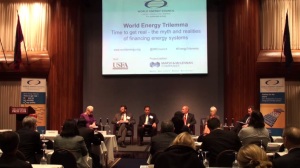 [Launch of the 2014 Trilemma report]

The panel was moderated by the World Energy Trilemma's Executive Chair Joan MacNaughton. She noted in her opening remarks: "
Investment in energy infrastructure is a prerequisite for countries being able to balance their energy trilemma. The lessons from our 2014 work will help all actors raise their game to drive such investment."

Summarising the recommendations of the Trilemma report, she said:
"Governments need to improve their policy frameworks. Financiers need to get more comfortable with investing in new technologies and in developing countries, where the need for new infrastructure is mostly concentrated. And the energy sector must generate a bigger pipeline of bankable projects and increase the speed of project development. The dialogue we have initiated among these three groups will contribute to delivering secure, sustainable and affordable energy for everyone."

The Council also published the findings of the annual Energy Trilemma Index as part of the 2014 Trilemma report. The Index measures the performance of country energy and climate policies in balancing the triple challenge of the energy trilemma.

This year's Energy Trilemma Index has placed four countries on negative watch (Japan, Germany, Italy, and the UK). Of the 129 countries in the ranking, only three have achieved an 'AAA' score on their trilemma performance, with one of those countries being the UK which is showing a downward trend in energy security.

Sandra Winkler, WEC Director of Policies and Member Services who led the coordination of the report, commented:
"With the introduction of the watch list we want to highlight and monitor countries where recent policy changes or unscheduled events not yet reflected in the data may lead to a change in Index performance in the near future. We place countries not only on negative watch, but also on positive watch as in the case of the UAE and Mexico."
Comments
No comments have been posted