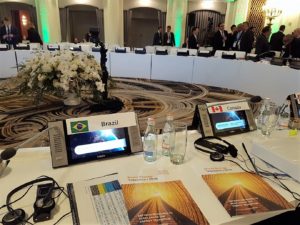 For the second year running the World Energy Council was invited to present the World Energy Trilemma report to the
Clean Energy Ministerial
(CEM7). The meeting, which was hosted by US Secretary of Energy,
Ernest Monitz,
welcomed energy ministers and other high-level delegates from 23 countries and the European Union to San Francisco.
During the closed ministerial sessions on 1 June, the 2016 World Energy Trilemma report was laid before ministers by Christoph Frei, the Council's Secretary General.
The Executive Chair of the Word Energy Trilemma study, Joan MacNaughton, presented the key findings to the main CEM7 public plenary on 2 June and at a side event organised by the 21st Century Power Partnership on 31 May.
The World Energy Council was well represented at this year's meeting with Christoph Frei and the Council being afforded Head of Delegation status. Barry Worthington, the Executive Director of our US member committee the
USEA,
also attended the events and our Regional Vice Chair for the Gulf region and Secretary of our UAE committee, were present in their capacities as representatives of the United Arab Emirates.
Joan MacNaughton addressed the C3E – Women in Energy meeting held at Stanford University on 31 May.
Stuart Neil, Senior Director for External Affairs, also presented the Council's findings on local content requirement from our forthcoming report on Non-Tariff Barriers by our Rules of Trade task force, to the 2nd Market Accessibility of Clean Energy Products workshop, hosted by the Korean government.
CEM7 also played host to the inaugural Mission Innovation Ministerial.
Mission Innovation
was announced at last year's COP21 meeting in Paris where Heads of Government announced a doubling of public investments in clean energy research and development investment over five years. At CEM7 the 21 Mission Innovation partners, including the European Union as a new member, released their respective baseline investment and doubling plans.
It was announced that there would be nearly $15 billion per year in baseline funding for global public investment in clean energy research and development, reaching just under a combined total of $30 billion per year by 2021. The announcement exceeded the original baseline funding estimate of $10 billion per year.
The Mission Innovation ministers also agreed to work with the World Energy Council in the lead up to the
World Energy Congress
where a special high level session will be organised.