Started by the
World Energy Council
in 1924, the
World Energy Congress
is the largest and most influential energy event covering all aspects of the energy agenda. The event is an unique opportunity for participants and media to better understand energy issues and solutions from a truly global perspective.

Members of the press can now officially register!
All sessions are open to journalists and registration is free to editorial representatives upon verification of official press credentials.
Read the full programme here!
Bear in mind that the official conference language is English.
Please feel free to invite news, business and trade media outlets to cover the ground breaking insights that will be shared and to produce hundreds of business stories.

A new round of Ministers and Heads of Delegation have now confirmed their attendance to the 24th Congress (click on each image to view full size):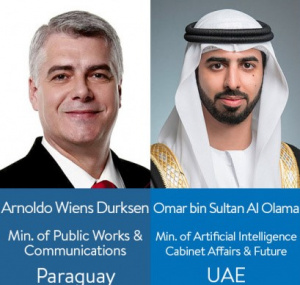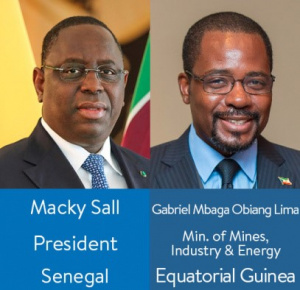 Left to right, top to bottom:
Hon. J.M. Gumbo:
Minister of Energy and Power Development, Zimbabwe
Tom K. Alweendo:
Minister of Mines and Energy, Namibia
Dr. Siri Jirapongphan:
Minister of Energy, Thailand
H.E. Joao Galamba:
Secretary of State for Energy, Government of Portugal
Prof. Abubakar Sani Sambo:
Special Advisor to the Nigerian President, Government of Nigeria
H.E. Arnoldo Wiens Durksen:
Minister of Public Works and Communications, Government of Paraguay
H.E. Omar bin Sultan Al Olama:
Minister of State for Artificial Intelligence, Ministry of Cabinet Affairs & Future, UAE
President Macky Sall:
President of Senegal
H.E. Gabriel Mbaga Obiang Lima:
Minister of Mines, Industry and Energy, Government of Equatorial Guinea
More confirmed speakers below:
Government speakers
H.E. Mustapha Guitouni, Minister of Energy, Government of Algeria

H.E. Bachir Ismael Ouedraogo, Minister of Energy, Government of Burkina Faso

H.E.Alexander Novak, Minister of Energy, Government of the Russian Federation; Member Committee Chair, World Energy Council

H.E. Khalid Al-Falih, Minister of Energy, Industry & Mineral Resources, Government of Saudi Arabia

H.E. Shaikh Mohammed bin Khalifa Al Khalifa, Minister of Oil, Government of Bahrain

H.E. Ibrahim Al-Muhanna, Advisor to the Minister of Energy, Industry & Mineral Resources, Government of Saudi Arabia; Vice Chair for the Gulf States/Middle East, World Energy Council

H.E. Suhail Mohamed Al Mazrouei, Minister of Energy, Government of the United Arab Emirates; Member Committee Chair, World Energy Council

H.E. Sultan Ahmed Al Jaber, Minister of State; Chief Executive Officer, Government of the United Arab Emirates; Abu Dhabi National Oil Company (ADNOC)

H.E. Matar Al Neyadi, Undersecretary of Energy, Government of the United Arab Emirates; Chair, Congress Organising Committee, World Energy Council
H.E. Fatima Alfoora Al Shamsi, Assistant Undersecretary for Electricity, Water and Future Energy; CEO, UAE Ministry of Energy and Industry; Organising Committee of the 2019 World Energy Congress

H.E. Abbas A. Al-Naqi, Secretary General, Organization of Arab Petroleum Exporting Countries (OAPEC)

Dan Brouillette, Deputy Secretary, United States Department of Energy
H.E. Abdul Hussain bin Ali Mirza, Minister of Electricity and Water, Government of Bahrain

H.E. Hala Adel Zawati, Minister of Energy & Mineral Resources, Government of Jordan

Abdulah Al-Akwa, Minister of Electricity & Energy, Government of Yemen

H.E. Joe Mizzi, Minister for Energy and Water Management, Government of Malta

IGO speakers
Fatih Birol, Executive Director, International Energy Agency (IEA)

Xiansheng Sun, Secretary General, International Energy Forum (IEF)

Yury Sentyurin, Secretary General, Gas Exporting Countries Forum

Mohammad Barkindo, Director General, Organization of the Petroleum Exporting Countries (OPEC)

Martin Frick, Senior Director, Policy and Programme Coordination, United Nations Framework Convention on Climate Change (UNFCCC)

Rachel Kyte, Chief Executive Officer, SE4All

Tareq Emtairah, Director, Department of Energy, UNIDO

Sergio Suchodolski, Director General on Partnership & Strategy, New Development Bank

Keiko Honda, Executive Vice President & Chief Executive Officer, Multilateral Investment Guarantee Agency
Riccardo Puliti, Senior Director, Energy & Extractives World Bank (WB)

Alfonso Blanco Bonilla, Executive Secretary (OLADE) Organización Latinoamericana de Energía (OLADE)

Nandita Parshad, Managing Director, Energy & Natural Resources European Bank for Reconstruction and Development (EBRD)

Luis Bertrán Rafecas, Secretary General, International Gas Union (IGU)

Richard G. Newell, President and Chief Executive Officer Resources for the Future (RFF)

Rhee Han Woo, Director, Korea Energy Agency

Ahmed Badr, Chief Executive Officer & Executive Director, Regional Center for Renewable Energy and Energy Efficiency (RCREEE)

Ms. Linda Wright, Chief Executive, New Zealand Hydrogen Association

Business
Muqsit Ashraf, Managing Director & Global Head of Energy, Accenture Strategy

Carmen Becerril, Chief International Officer, Acciona

Paddy Padmanathan, President & Chief Executive Officer, ACWA Power

Jason Drew, President & Chief Executive Officer, AgriProtein Technologies

Ian Gardner, Director, ARUP

Lorenzo Simonelli, President & Chief Executive Officer, Baker Hughes, a GE Company

Martin Brudermüller, Chief Executive Officer, BASF

Atul Sobti, Chairman and Managing Director, Bharat Heavy Electricals Limited (BHEL)

Steve Bolze, Senior Managing Director and Global Head of Infrastructure Operations and Asset Management, Blackstone

Claudia Cronenbold, President, Bolivian Chamber of Hydrocarbons and Energy (CBHE)

José Antonio Vargas Lleras, President, CODENSA; Chair, Communications & Strategy Committee, World Energy Council

Remi Eriksen, Group President & Chief Executive Officer, DNV GL

Johannes Teyssen, Chief Executive Officer, E.ON

Paul Ellis, Executive Chairman, Co-founder, Electron

Joanna Hubbard, Chief Operating Officer, Electron

Mohamed Al Hammadi , Chief Executive Officer, Emirates Nuclear Energy Corporation (ENEC)

Claudio Descalzi, Chief Executive Officer, ENI

Stefan Dohler, Chief Executive Officer, EWE AG

Wendy Green, Chief Executive Officer, Fusion Energy Holdings

René Bautz, Chief Executive Officer; Chairman Gaznat; Global Gas Centre

Russell Stokes, President & Chief Executive Officer, GE Power

Jérôme Pécresse, President & Chief Executive Officer, GE Renewable Energy

Eric Martel, Chief Executive Officer, Hydro-Quebec

Bernardo Vargas Gibsone, President, ISA

Scott Schnipper, Managing Director, JP Morgan

Mohammed Jameel al Ramahi, Chief Executive Officer, Masdar

Klaus Bonhoff, Managing Director (Chair), Nationale Organisation Wasserstoffund Brennstofzellentechnologie

Peter Coleman, Chief Executive Officer and Managing Director, Woodside

Lord Edmund John Phillip Browne, Executive Chairman, L1 Energy (UK) LLP

Wilson Ferreira Jr., Chief Executive Officer, Eletrobras

Richard Lancaster, Chief Executive Officer, CLP Power Hong Kong Ltd, Member Committee Chair, World Energy Council

Mohamed Arkab, Chief Executive Officer, Sonelgaz; Chair, World Energy Council

Dongwook Kim, Senior Vice President, Hyundai Motor Group

Nuno Silva, Strategic Projects Director, EFACEC Energy
Gurdeep Singh, Chairman and Managing Director, NTPC Ltd.

Francois Austin, Partner & Global Head, Energy, Oliver Wyman Group

David Martin, Co-Founder & Managing Director, Power Ledger

Norbert Schwieters, Global leader, Energy Utilities & Resources, PwC

Jeroen van Hoof, Global Leader, Power & Utilities, PwC

Alexey Likhachev, Director General, Rosatom

Rolf Martin Schmitz , Chief Executive Officer, RWE AG

Lisa Davis, Member of the Managing Board, Siemens AG

Charity Wanjiku, Co-Founder, Strauss Energy

Shigeru Muraki, Executive Advisor, Tokyo Gas Company Ltd.; Vice Chair for Asia Pacific/South Asia, World Energy Council

Luis Miguel Morelli, President, ANH

Lucia Bakulumpagi-Wamala, CEO & Founder, Bakulu Power

Mansoor Hamayun, Chief Executive Officer and Co-founder, Bboxx

Richard Poulden, Chairman, Black Swan PLC.

Hando Sutter, Chairman of the Management Board, Eesti Energia AS

Jean-Bernard Lévy, Chairman & Chief Executive Officer, Electricité de France (EDF)

Marianne Laigneau, Group Senior Executive Vice President, International Division, Electricité de France (EDF)

Jean-Pierre Clamadieu, Chairman, ENGIE

Isabelle Kocher, Chief Executive Officer, ENGIE

Alessandro Costa, Sustainability, Communication & Sustainability, Falck Renewables S.p.A.

Satoru Katsuno, Chairman / President, Federation of Electric Power Companies of Japan / Chubu Electric Power Company

Sampriti Bhattacharyya, Chief Executive Officer, Hydroswarm

Dany Qian, Vice President, JinkoSolar

John Hopkins, Chairman and Chief Executive Officer, NuScale Power

Josu Jon Imaz, Chief Executive Officer, Repsol

Neil Bruce, President & Chief Executive Officer, SNC-Lavalin

Guenter Butschek, CEO & Managing Director, Tata Motors Group

Keith Martin, Member of the Board of Management, Chief Commercial Officer, Uniper

Almassadam Satkaliyev, Managing Director, Sovereign Wealth Fund - Kazyna; World Energy Council

Kıvanç Zaimler, Energy Group President; Vice Chair Sabancı Holding / WEC Turkey

Veronica Garcia, Co-Founder & Chief Executive Officer, Bitlumens

Sara Vakhshouri, President, SVB Energy International

Patrick Pouyanné, CEO, Total

Mr. Kim Yin Wong, Group Chief Executive Officer, Singapore Power

Mr. Takayuki Ueda, President & Chief Executive Officer, INPEX

Civil Society & Key Experts
Frederic Kempe, Chief Executive Officer, Atlantic Council

Meagan Fallone, Chief Executive Officer, Barefoot College

Christian Zinglersen , Head of Secretariat , Clean Energy Ministerial

Amy Myers Jaffe, David M. Rubenstein Senior Fellow for Energy and the Environment; Director of the Program on Energy Security and Climate Change, Council On Foreign Relations (CFR)

Andreas Kuhlmann, Chief Executive, DENA

Ewald Hesse, Chief Executive Officer, Energy Web Foundation

Craig Bennett, Chief Executive Officer, Friends of the Earth

Sandra Ro, Chief Executive Officer, Global Blockchain Business Council

Liu Zhenya, Chairman, Global Energy Interconnection Development and Cooperation Organization (GEIDCO) & China Electricity Council

Xiansheng Sun, Secretary General, International Energy Forum

Tatiana Mitrova, Head of Energy Center , Skolkovo Business School

Yana Popkostova, Founder and Managing Director, European Centre for Energy and Geopolitical Analysis (ECEGA.EU)

Bernard Bigot, Director General, ITER

David Victor, Professor & Director of Laboratory on International Law & Regulation, University of California

Paul Kearns , Laboratory Director, Argonne Energy Labs

Steve Berberich, Chief Executive Officer, California ISO

Robert C. Armstrong, Director, MIT Energy Initiative

Andrew Steer, President & Chief Executive Officer, World Resources Institute

Kenji Yamaji, Director-General, Research Institute of Innovative Technology for the Earth
Adnan Shihab-Eldin, Director General, Kuwait Foundation of the Advancement of Science

Doug Arent, Executive Director, Joint Institute for Strategic Energy Analysis National Renewable Energy Laboratory (NREL)

Jules Kortenhorst, Chief Executive Officer, Rocky Mountain Institute

Sean Cleary, Chairman, Strategic Concepts

Agneta Rising, Director General, World Nuclear Association

Manuel Pulgar-Vidal, Global Leader for Climate & Energy, WWF International

Ana Trbovich, Co-Founder, Energy Web Foundation

Loïc Fauchon, President, World Water Council

Paul Smith Lomas, Chief Executive, Practical Action

Adam Sieminski, President, King Abdullah Petroleum Studies & Research Center (KAPSARC)

Astrid Alvarez, President, Grupo de Energia de Bogota (GEB)

Piyush Verma, Senior Energy Market Analyst, International Energy Research Center

Daniel Schmerler, Chairman, International Confederation of Energy Regulators

Jonathan Elkind, Fellow and Senior Adjunct Research Scholar Center on Global Energy Policy, SIPA, University of Columbia

Ella Minty, Co-Chair of Energy Leadership Platform, Chartered Institute of Public Relations

Younkyoo Kim, Director , The Center for Energy Governance and Security at Hanyang University; Division of International Studies

Leena Srivastava, Vice Chancellor, The Energy and Resources Institute (TERI)

World Energy Council Global Leadership
Klaus-Dieter Barbknecht, Chair, Finance Committee, World Energy Council

Oleg Budargin, Vice Chair, Responsibility for Regional Development, World Energy Council

José Da Costa Carvalho Neto, Chair of the Programme Committee, World Energy Council

Ged Davis, Executive Chair, World Energy Scenarios, World Energy Council

Jean-Marie Dauger, Co-Chair, World Energy Council

Christoph Frei, Secretary General & Chief Executive Officer, World Energy Council

Elham Ibrahim, Vice Chair for Africa, World Energy Council

Philippe Joubert, Senior Advisor, World Energy Council

Arthur Hanna, Senior Advisor to CEO, World Energy Council
Seetapathy Chander, Advisor, World Energy Council

Younghoon David Kim, Chairman & Chief Executive Officer, Daesung Group; Chair, World Energy Council

Leonhard Birnbaum, Member of the Board of Management, E.ON; Vice Chair, Studies Committee, World Energy Council

Robert Hanf, Executive Vice President, Stakeholder Relations & Regulatory Affairs, Emera Inc.; Vice Chair for North America, World Energy Council

Gina Domanig, Chief Executive Officer, Emerald Ventures; Co - Chair, Innovation & Issues Monitor, World Energy Council

Philip Lowe, Executive Chair, World Energy Trilemma, World Energy Council

Jeroen van der Veer, Executive Chair, Dynamic Resilience, World Energy Council
Comments
No comments have been posted