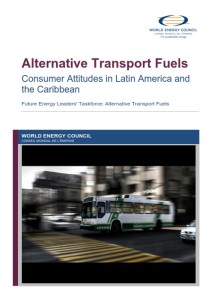 New report by World Energy Council's Future Energy Leaders shed light on consumer perspectives on demand-side energy solutions
22 October 2014, Cartagena, Colombia – Consumers in the Latin America and Caribbean (LAC) region are willing to pay more for alternative transport fuels with lower lifetime greenhouse gas emissions than conventional transport fuels. This is according to a report published today by the World Energy Council (WEC) at its annual Executive Assembly in Cartagena.

The report, "Alternative Transport Fuels: consumer attitudes in the Latin America and Caribbean region", is based on the responses of more than 700 consumers drawn from a wider global survey. It finds that a majority (73%) of LAC respondents are willing to pay more on a monthly basis for alternative transport fuels which could include biofuels, hydrogen, liquid petroleum gas (LPG), and compressed natural gas (CNG). Moreover, 69% of respondents do not think that the transition to alternative transport fuels is happening fast enough.

The report also finds that consumers in the region are more familiar with the impact of energy generation on water usage and food production than other parts of the world, with 63% of LAC respondents being familiar of the 'energy-water-food nexus' compared to a global average of 44%.

However, while consumers are generally aware of alternative transport fuels (81% of respondents), they lack the practical understanding needed to enable them to modify their behaviours and decisions, with 53% of respondents not knowing whether their personal vehicle can utilise such fuels.

José Antonio Vargas Lleras, President of Codensa and WEC Vice-Chair for the LAC region, comments: "Latin America and the Caribbean must address a number of energy challenges in order to fulfil its growth aspirations. The good news is that the region has vast resource potential, and innovation and new technologies such as electric vehicles will play an increasingly crucial role in the region. This report shows that people in the region have both the awareness and the will to make our energy future more sustainable."

The study has been conceptualised and conducted by a taskforce within the WEC's Future Energy Leaders (FEL), a global community of young energy professionals who regularly take part in WEC activities.

Nathan Bittle, Chair of the WEC's FEL Taskforce for Alternative Transport Fuels, who comes from New Zealand, says: "Demand-side solutions are increasingly recognised as fundamental to securing a sustainable energy future but there has been a lack of understanding of consumer perspectives. We want to positively shape our world's future based on principles of connectedness, sustainability, and inclusiveness, and we believe that even small contributions like our study can add up to meaningful change. We urge decision makers to consider the implications of our work and encourage further investigations into the drivers of consumer behaviour in the energy sector."

LAC members of the taskforce will be presenting the study at the Future Energy Leaders' Summit tomorrow and the Energy Trilemma Summit today as part of the WEC's Executive Assembly.

José Antonio Vargas Lleras comments: "Our young and aspiring energy professionals are dynamic, enthusiastic, and will be instrumental to driving our region's sustainable growth. I commend the WEC's community of Future Energy Leaders for taking the initiative to conduct this study, which will help inform policy and business decisions."

The report includes analysis of six countries from the region, including Argentina, Brazil, Colombia, Peru, Uruguay, and Trinidad and Tobago.

Analysis on Colombia finds that while public consciousness of alternative transport fuels is strong, information on their compatibility with private vehicles is weak. This is important as motor vehicles make up a significant portion – about three-quarters – of all transport in the country.

By contrast, in Brazil, the public is well aware of alternative transport fuels, their vehicle compatibility, while usage is strong with 59% of respondents using their fuel in their vehicles.

This study is part of a global survey of more than 2500 respondents, full results for which will be released in the next year.
Download publication files:
Comments
No comments have been posted