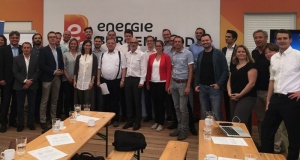 Mega trends, technology led innovation and regulatory conditions are changing the nature of mobility, bringing new opportunities as well as challenges. As the energy sector undergoes a period of rapid transition there has been a surge in the demand for increased car-sharing within Europe and beyond.

In this context the first Network Meeting of the second cycle of Austria's Young Energy Professionals Program (YEP), "Mobility in the context of the energy transition" was held on 10 July, Burgenland, Austria.

The aim of the meeting co-organised by the World Energy Council's German and Austrian member committees, hosted by Energie Burgenland, was to convene young energy professionals and more experienced experts from the Council's Austrian network, to share ideas and best practices.
Dr Ing Kobau, managing director of the Austrian member committee, kicked off the meeting by introducing the four lectures presented throughout the day: 'Framework conditions for the transport sector – challenges for the energy provider', by Mag. Michael Gerbavsits, Energie Burgenland; 'Climate action in the transport sector – global challenges in integrated energy,' led by Christoph Menzel, Head of the German Member committee of the Council; and 'Financing new technologies connected to mobility', by Prof. Dr Stephan Unger, St. Anselm College. Ulla Rasmussen, from Mobilität mit Zukunft, ended the lectures with a discussion on strategies for individual transport in Austria.

At the round table session which followed, there was an opportunity for participants to explore the topic of integrated energy focusing on power and gas, with Mr Michael Woltran, a high-level expert from OMV. They also discussed the keynote lectures presented by Ms Rasmussen, Mr Menzel and Mr Unger earlier and jointly proposed potential solutions.

To round off a successful day, the YEPs gave an overview of their group work. The topics presented were Storage & Networks, Buildings, Industrial Processes and concepts for #mission2030.

Afterwards, the attendees briefly toured a nearby wind turbine guided by a technical officer of Energie Burgenland. The core of the tour consisted of practical information about the structure, power and operation of the facility.
Comments
No comments have been posted