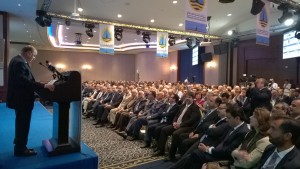 The
World Energy Council Beirut Energy Forum
in September saw a number of official launches including the 2nd National Energy Efficiency Action of Lebanon, the National Renewable Energy Action Plan for Lebanon and Energy Awareness Awards.
The theme of the Forum was 'The Rising of Sustainable Energy: A Solid Driver for Economy Growth' and took place over three days gathering together 800 professionals from Lebanon, the Arab World and the international community. It is labelled as one of the biggest events in the Middle East.
Between 2012 and 2014, Lebanon has witnessed more than 350 million USD in projects related to sustainable energy, making the energy sector a real dynamic driver of the national economy. With more than 6,000 jobs created in energy, the Beirut Energy Forum was a platform to discuss steps and measures to be taken in order to maintain this momentum and ensure that the necessary investment to reach the national target of 12% renewable energy by 2020 is achieved.
The Chair of the
World Energy Congress
Organising Committee, Hasan Murat Mercan, received a warm reception and great interest in next year's Congress in Istanbul.