Improving the integration of renewables and increasing energy efficiency measures in the energy system of Latin American and the Caribbean (LAC) were amongst the key messages that emerged out of the World Energy Council's 3rd Bi-Regional Forum for the Americas.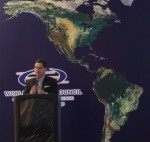 The event, which took place in Cancun, Mexico, from 6 to 7 December, gathered more than 80 WEC members for discussions focusing on issues of energy efficiency, energy conservation, alternative and renewable energy, transmission, and fossil fuels.
North America and the LAC regions' energy landscapes remain divergent, delegates heard. While the US has aimed to reach energy self-sufficiency due to increasing yields of shale gas and coal exports, the LAC region continues to grapple with the need to find efficient ways to meet energy demand for growth, addressing environmental implications, and developing alternative energy sources.
While in some countries of LAC (such as Argentina and Mexico), oil shale and gas exploration could become a more economic and hence viable option, in others (such as Brazil) investment in hydro will take on higher priority.
Delegates agreed that renewable energy could be one part of the solutions to the region's energy trilemma, but this would require renewables to be better integrated into the energy system. The region's energy markets would also need to be better integrated, and this requires greater infrastructure investment.
Both regions are concerned about energy efficiency and carbon emissions. Especially in LAC, access to cheap and affordable energy remains critical to achieve social equity. Carbon emissions remain one of the biggest uncertainties, and delegates noted that more government intervention and incentives might be needed to reduce emissions. Most discussion participants agreed that no single energy technology will dominate the future; rather, the region's energy output will come from a mix of technologies.
Pierre Gadonneix, WEC Chairman, gave a welcome speech and Christoph Frei, WEC Secretary General, gave a preview of the findings of the World Energy Issues Monitor for the America region. Dan Rieser, the WEC's recently appointed Deputy Director of Scenarios (see story overleaf), updated delegates on the latest on the scenarios work.
The Bi-regional Forum was organised by the
WEC's Mexican member committee
with strong support from Gloria Piña, the WEC's Regional Manager for the LAC region.