The Global Energy Challenge: Balancing the World Energy Trilemma
This blog was originally posted on LinkedIn by Chair of the World Energy Council Dr Michael Howard.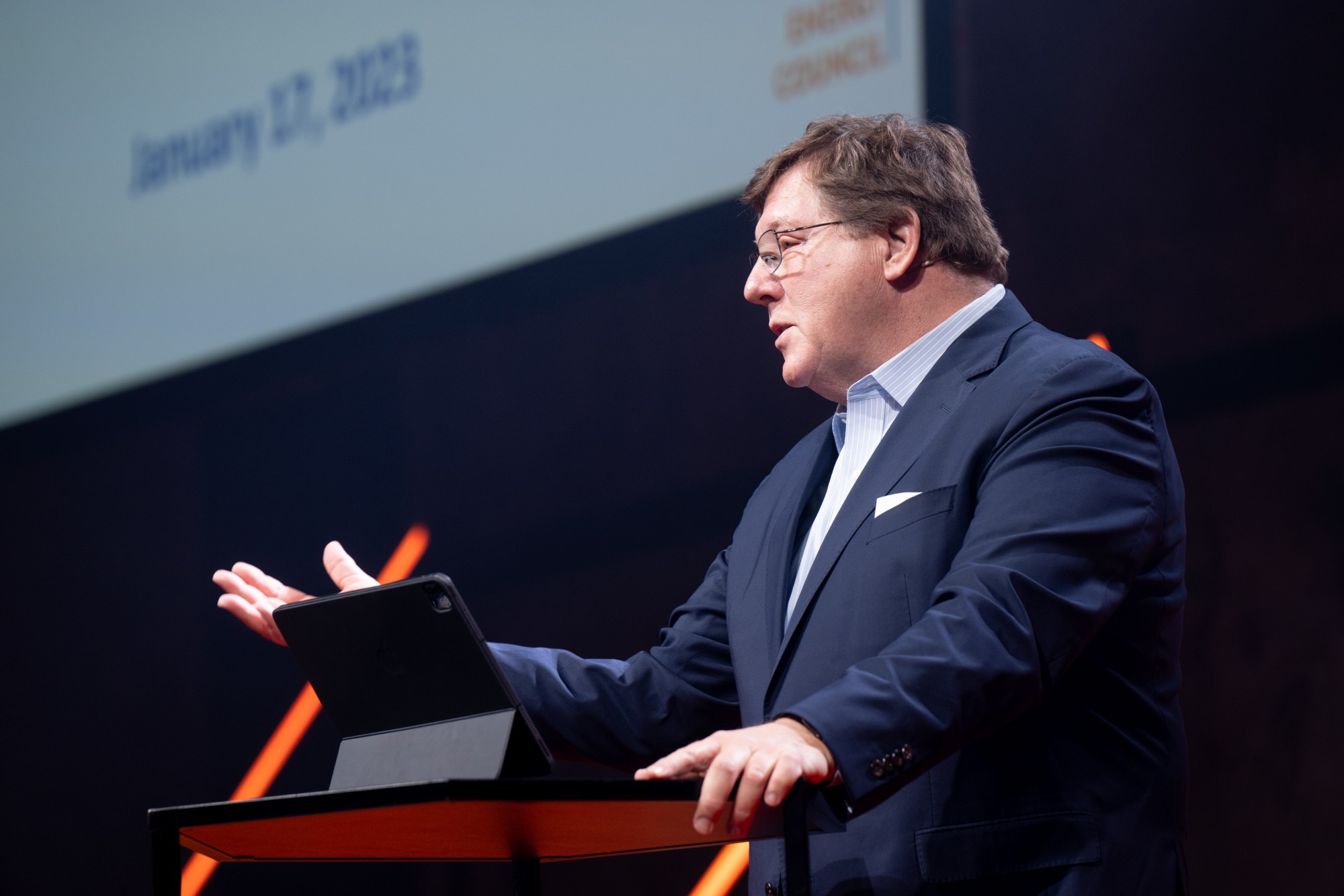 Picture: Dr. Michael Howard's speech at The Annual Conference of the World Energy Council Estonia
"Losing your way on a journey is unfortunate. But, losing your reason for the journey is a fate more cruel".
I was honoured to participate in the annual event of the Estonia World Energy Council Member Committee last month.
As well as highlighting Estonia's journey in driving the energy transition at the heart of Europe, the event provided a valuable opportunity to share my vision for humanising energy for everyone across the globe and to hear from experts and pioneers in the sector.
Our member committees are vital and serve as the conduit between our organization and local communities. Future generations are trusting us to set the world on a more sustainable course, and it is only through open dialogue and accountability that we can achieve this.
As part of my role, one of my key priorities is to balance the dimensions of the World Energy Trilemma framework. The World Energy Council's worldwide community conceived the Trilemma concept some twenty or more years ago. Today, the World Energy Trilemma framework remains a global benchmark for tracking, implementing and accelerating energy transitions.
The World Energy Trilemma framework aims to balance energy security, access to affordable and reliable energy, and reduce environmental impact. Balancing and managing the Trilemma will not be easy and demands urgent action in several areas.
Society and individuals need:
A heightened emphasis on financial investment with a long-term commitment. It's imperative that we level the playing field across all regions. This is not confined to economic trade-offs between larger economies and developing countries. It involves social engagement, acceptance, and adoption of discussions we hold at national and local community levels.

A stronger focus on community engagement and the deployment of practical solutions to promote the benefits of sustainable energy for billions of better lives and a healthy planet. As a worldwide energy community, we can convene countries, companies, cities, and vulnerable communities to identify 'how to' translate new visions into action.

A heightened importance on leadership with innovative policy, legislation, and regulation that is more adaptable to a clean energy future. This includes promoting a globally inclusive, systemic, and progressive energy leadership agenda that is independent, impartial, and neutral.

Finally, we make many individual energy choices towards a greener decarbonized energy system daily. Our energy industry is too reliant on technological drivers – it's imperative that we re-frame the conversation around energy and put people at the heart of the discussion. Our Humanising Energy vision champions a more active and inclusive people-centric energy agenda.
Following the inspirational stories and case studies we discussed in Talinn, I feel empowered and optimistic about our energy future. We have an opportunity to reset the debate and drive the energy transition from the bottom up. This can only be done with the dedication and on-the-ground expertise of the entire World Energy Council community.
So what is my vision for the World Energy Council?
It's simply to ensure a secure, just and sustainable energy future through a more humanizing energy transition. We also owe that not only to future generations, but to all the members of the World Energy Council who have come before us during these last 100 years.
How are we going to do this?
Through Impactful Leadership. The 26th World Energy Congress, in 14 months in Rotterdam, will demonstrate our collective impact focused on "Redesigning Energy for People and Planet."
There is no time to wait. We must step up and act. We must work together as a community with empathy and a sense of urgency. We must demonstrate a spirit of cooperation and impactful results.
For almost 100 years, the World Energy Council has been engaging energy leaders worldwide to meet whole energy system challenges. I am always excited to meet prospective Council partners to discuss how we can work together.
And so, I'm calling on you right now to help make a difference. As the noted author, futurist, and attendee of the first World Energy Congress, H. G. Wells, said, "Losing your way on a journey is unfortunate. But, losing your reason for the journey is a fate more cruel."
---
About Mike Howard
Dr. Mike Howard was appointed World Energy Council Chair in October 2022 by the World Energy Council community.
Dr. Howard has over 40 years of results-driven, multi-faceted leadership experience in organizations ranging from entrepreneurial start-ups to large public companies, with increasing responsibilities in operations, finance, sales and marketing, product development, and strategic planning. Dr. Howard is CEO Emeritus at the Electric Power Research Institute (EPRI), where he served as CEO and President from 2010-2020.