What might we learn in the Year of the Rabbit to advance inclusive and sustainable energy developments?
This blog was originally posted on LinkedIn by Secretary General and CEO of World Energy Council Dr Angela Wilkinson.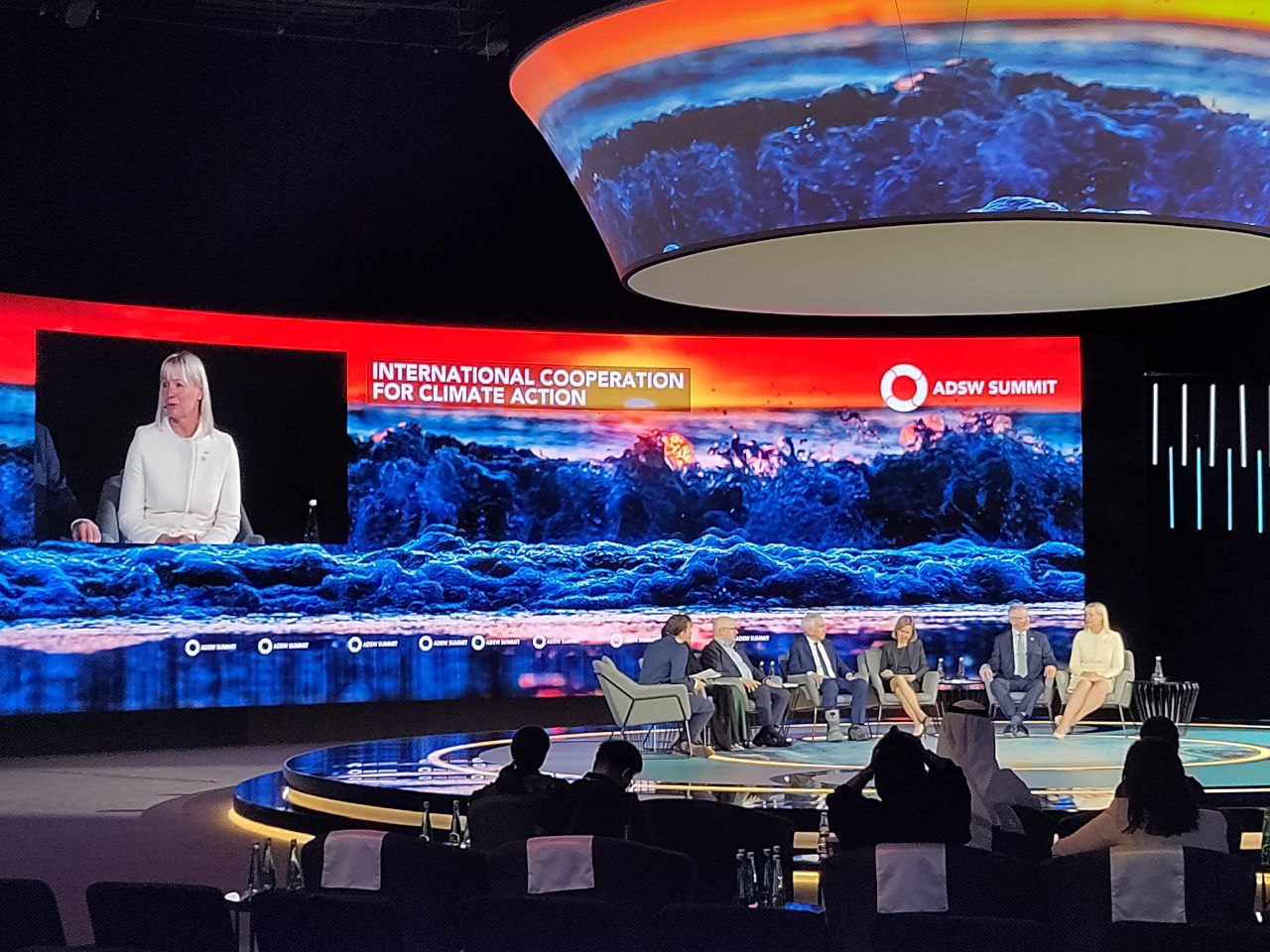 Picture: Dr Angela Wilkinson at the Abu Dhabi Sustainability Week Summit panel session on 'International Cooperation for Climate Action'.
As we enter the Year of the Rabbit, the urgent need to 'stop rabbiting on' and 'hop to it' is only going to increase. Achieving a great leap forward in action on energy-climate-security challenges involves big (fundamental) changes. Yet success depends on hundreds and thousands of smaller steps.
And like the wisest of rabbits, we must quickly make sense of the winds of change and keep recharging our batteries as we adapt to circumstances beyond our control. Co-creation of our destiny is key.
Our World Energy Council focus remains on facilitating transformational breakthroughs in securing more energy for sustainable development and averting a planetary crisis. The energy space is going to get much messier – and we must learn to get better at moving forward clean and just energy developments at pace and scale.
From a static stocktaking COP to a swift solutions Co-Op
Last week I attended Abu Dhabi Sustainability Week (ADSW). H.E. Dr Sultan Al Jaber's presidency of COP28 was announced, triggering a flurry of responses which, yet again, indicate that the risk of extreme polarisation in climate-energy leadership has not faded:
Purist perspectives – 'conflict of interests,' calls for resignations, reflecting 'zero fossil' fuels and rejecting 'net zero' and 'net negative' plans; as opposed to
A pragmatic stance – the need for 'all levers,' opportunities to scale renewables with other clean energy solutions, demand for clean and just/inclusive implementation.
Based on my years of experience in leading the OECD's strategic foresight activities, the UAE is one of a handful of governments worldwide that has invested serious efforts in mainstreaming strategic foresight and futures design practices in national policy. The World Energy Council is committed to working closely with visionary leaders, such as HE Dr Sultan, and helping pull together an inclusive and impactful climate-energy convening at COP28.
From my participation in high-level discussions at ADSW, I noted with excitement:
There is no need to wait. The global stock-take will reveal the world is well off track from achieving Paris Agreement commitments by 2030. And preventing planetary crisis involves so much more.
All levers must be used to maximise clean energy benefits whilst minimising greenhouse emissions. Opportunities include: target energy-related methane emissions and direct attention to more global and ultra-local public-private partnerships, so that diverse communities at all levels of society can engage in and benefit from the future making process.
The bigger role of finance should not be neglected in progressing the opportunity of financial innovation. Redirecting investment flows to support a broad landscape of technological innovation (CCS, green hydrogen, storage) is urgent. It's also important to ensure financial innovation really enables inclusive and sustainable energy developments.
Wider bridges must be built to overcome Global North versus Global South divides. It is urgent to progress a new deal on loss and damage AND important to use more energy to create real opportunities for billions of better lives.
Candid cooperation in a fragmenting world
The positive, 'can do' spirit of ADSW contrasts with the dismal outlook of global economic recession, prospects of new trade wars and further increases in global environmental risk.
We have grown weary with the calls for cooperation from mountain top summits – instead, we are busy doing it! Our diverse members in over 100 countries are planting new seeds in fertile valleys where communities live and work to grow a more shared, sustainable, and resilient energy future.
There is no 'one-size-fits-all' solution, big lever, nor silver-green technology bullet.
A promising but messy pattern of inter-, intra-, and sub-regional cooperations is emerging. For example, at the annual meeting of the World Energy Council in Estonia last week, the cooperative leadership dialogue focused on the 'how to' and 'who with' of effective regional cooperation across the Baltics and between Baltic-Nordic energy-climate interest.
Other new regional cooperations to look out for include ME-SEA (Middle East-Southeast Asia) and LA-NWE (Latin America-Northwest Europe).
"AND AND AND" design principles and new metrics
Progressive energy-climate solutions reflect an increasing variety of 'AND-AND' narratives, e.g., 'clean and just,' 'sustainable and resilient,' 'circular and regenerative,' 'inclusive and integrated.' All involve systemic leadership, which bridges supply-centric and demand-centric interest, and new leading practices in 'whole systems' management.
How can we hope to cooperate effectively if everyone uses the same or different words to mean different or the same things? Forging shared vocabulary is an essential step. Developing new metrics is also essential, as we manage what we can measure.
Tapping into the skills of our future energy leadership
The new shape of things to come is already embodied in the next generation of energy leaders. When the World Energy Council started its Future Energy Leaders programme over 40 years ago, we hoped it would mature into the world's oldest and most vibrant Future Energy Leader (FEL) community on the planet.
Today, new "big mover" competitions in Clean Energies, Digital and Climate management have resulted in a global competition for youth and talent.
Our investments in next gen World Energy people are paying off. Our diverse Future Energy Leaders community represents the full spectrum of energy-climate innovation ecosystem interests, and our future energy systems across the world are being imagined, designed and constructed right now, today, by our young leaders.
Our World Energy Council National Future Energy Leader programmes are now in 20+ countries and growing fast. These young people will become the Energy Transition and Climate Resilience Executives and Ministers who create the foundations of a safe operating space for humanity.
Co-creating our destiny in the Year of the Rabbit
Let's try to make our own luck and co-create our destiny as we enter the Year of the Rabbit. We can draw upon the virtues of the rabbit as we redesign energy for people and planet.
And as we plan to celebrate 100 years of impact in 2024, the World Energy Council community is more committed than ever to enabling diverse regions and communities to lead with and learn from each other.
Our worldwide energy community offers a 'secret sauce' for moving faster, more fairly and further forward to a shared and sustainable future of resilient and regenerative energy abundance.
With a truly unique combination of visionary leaders, community cooperations and impact partnerships, we can and will make significant progress this year.