The World Energy Council has recently published its annual
World Energy Issues Monitor
, which identifies stress points affecting the global energy transition. Dena, the German Energy Agency, took the opportunity to talk with the Council's
Secretary General
,
Christoph Frei
, about the topics that are most important to us regarding the transformation of the energy system.
What are the key findings of this years' World Energy Issues Monitor?
One of the most important issues in the global energy transition that drives energy leaders is innovation. As the understanding of renewable energies has improved on a global scale, it has become a key action priority. Its impacts have greatly increased and it has become more of an uncertainty. With growing prosumer markets and the digitalisation of energy, it is key to the global energy future as it helps to find solutions to problems. Also, digitalisation plays an important role in this as it is needed to make energy systems more flexible and adaptable to changes in technology. Due to the uncertainty of innovation we added new issues to the Monitor Survey, for example the Internet of Things and Blockchain.

Regarding Europe, renewables have become the main action priority due to the increasing understanding of renewable energies and its potential to reduce the need for importing fossil fuels. As many see energy efficiency and renewables as a better solution, nuclear energy has seen a decline in importance. Electric storage has decreased in uncertainty recently but its impact has increased due to its potential to improve renewable energies. It has also become important in electrifying transport and heating.

When it comes to the energy transition, electrification is on everyone's lips. How far, do you think, can electrification get us?
It is absolutely clear that electricity is the new oil. This energy source is going only one way, whereas others like coal or gas are peaking, declining or stagnating. Electrification is firing demand, which will double by 2060. The question is: Can it even be faster? The acceleration that we have seen in many countries on the transport side over the past years, is dramatic. But when it comes to industrial heat, I haven't seen this kind of acceleration. Therefore, we would need more innovative solutions in this field. However, it is a totally different thing to electrify heat supply. If you electrify transport, you add 5 to 10 percent to the electricity demand. If you electrify heat supply, you add another electricity system to your demand.

What about the demand that is not covered by electrification? Could synthetic fuels, based on renewable energies, help us here?
This is not a clear case. Any smart energy transition will want to use as much of the existing infrastructure as possible. Power-to-X is interesting for everyone who has these assets, including oil and gas companies, because they can earn money with it. So there are drivers for it. If we build up a massive renewable park, the question is how do we deal with intermittence? A lot of people think: Let's just use the highly fluctuating parts of renewable energy to run the PtX infrastructure. This means the PtX infrastructure would be used at a very low rate, which is not a good business case. There are still some questions unsolved: How big would the benefit be? Is there really such a big amount of renewable energy, which can be used for PtX? And will the infrastructure owners really see a business case behind it? Power-to-X is not going to come for free.
What chances do you see for an effective carbon pricing solution?
The biggest poison for someone who invests in long term assets is uncertainty. This is the reason why the majority of the energy leaders we surveyed for our latest
World Energy Issues Monitor
, want to have clarity – a clear international signal. If the energy leaders could decide by themselves, we would have a CO2 price today. We would actually have a clear transition pathway to a CO2 price that goes up to a level that is credible, strong, and that gives them some time, five years maybe. Once you have clarity on that, you can plan, change and shift technology. If you don't, you don't know what to do. Paris was a good signal, but the situation we have today is still patchwork.
Energy transition, as a term, is now widely used. But, around the globe there are different approaches to it. What does that mean for investors?
When it comes to energy transition or environmental sustainability, there are three fundamental drivers: energy security, energy equity and environmental sustainability. These three goals constitute a 'trilemma' and we need, at all times, a balance between them. This is important because energy is a political issue. In every political or technical context, you also have three fundamental decisions makers: industry, households and environmental NGOs. If you neglect one of them permanently, you will end up with a new government. This is called political risk.
If you think about long term investors, they will not invest in countries with political risks. We have seen many countries who neglected these dimensions, and they had to work very hard to turn the ship around. In Africa and South America for example, it was all about equity. They wanted to be the cheapest in electricity. So cheap that the companies could no longer afford to pay for stable grids, so they had many blackouts and in the end a huge government crisis. And if it gets to security above all, it's going to be so expensive, that one can't afford it. When we advise companies we always say be aware of those three drivers.
How do other countries see the German energy transition?
The first thing countries say about Germany is "we could not afford what Germany did". They also question if the energy transition has really changed the German system. No, it hasn't, but we are not at the end of the game. Let's be a bit patient. Transition takes time. The biggest failure which is seen from outside is the absence of a CO2 price. But it's also clear that Germany can't implement it just by itself. Now Germany has to develop and implement a regulatory framework. People are very interested to see how Germany will do that. Because Germany as one of just a few countries is seen as the open sky laboratory for regulatory and technology innovation.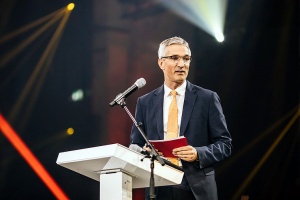 The World Energy Council is partner of our Start Up Energy Transition Initiative which aims to build up a network of young companies fighting against climate change. How was your experience with the initiative and what could be a next step?
The
SET initiative
has galvanised people. Innovation is at the heart of any transition, so, people want to know about it. The young entrepreneurs are excited to share their stories and everyone is excited to learn from the outcome. But not every country has easy access to those stories and not all of the innovators have easy access to those networks. A next step could therefore be: Get the best stories out of every country and make them available help the innovators as well to get access to those countries. We should systematise the stories then and become a bit like the travel agents for those innovators.
This interview was first published on the Dena website