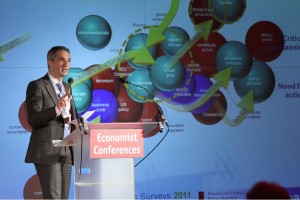 During May 2012, Christoph Frei presented the key findings from the WEC's flagship studies at conferences in UK, Jordan and Canada.

On 3 May he spoke at the UK Energy Summit, held by The Economist in London. Dr Frei called for greater emphasis on effective policymaking to encourage long-term energy investment, and reminded the audience of energy businesses and financiers of the huge opportunities for funding energy infrastructure through institutional investors.

On 7 May Frei and Dr Hisham Khatib, WEC Honorary Vice Chairman, gave opening speeches at the Jordan International Oil Shale Symposium in Amman. Frei spoke to an audience of policymakers, energy companies, financiers, and scientists about the potential for oil shale to improve energy independence for Jordan, which has four times more shale oil resource than conventional oil. Jordan suffers frequent disruptions to its natural gas supplies and spends 20% of its GDP on energy.

At the Jordan event Dr Frei added that impetus towards energy independence requires clear policy support. Furthermore the WEC policy assessment provides a solid benchmark for policy outcomes. Jordan currently ranks 82 out of 92 countries survey in terms of supply–demand balance on the WEC 2011 Energy Sustainability Index. This reflects the high cost of imported energy and the heavy subsidies needed to keep energy affordable. "Our policy assessment provides strong indication that poor energy security is now costing Jordan dearly," Frei said after the event. "It can provide countries with the benchmark for comparison with other countries, which they need to balance the energy trilemma."

On 14 May he addressed the World Forum on Energy Regulation in Québec, Canada. At the event 600 representatives from 75 countries discussed regulatory challenges and priorities. Dr Fei highlighted the importance of balancing the energy policy trilemma in order to attract investors. He also pointed out that in order to maintain investor interest and confidence, there needs to be regulatory consistency in the face of political change and transition, regulatory empowerment which does not yield to conflicts of interest, and regulatory commitment to policy implementation.