World Energy Council's Energy Trilemma Index to be revealed next month

22 October 2014, Cartagena, Colombia – Colombia will advance 8 places among 129 countries in an upcoming global ranking measuring the performance of countries in energy sustainability, according to the World Energy Council.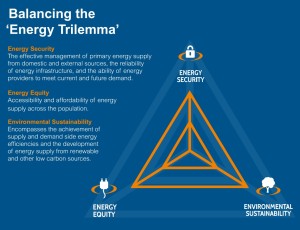 The World Energy Council's Energy Trilemma Index measures the performance of countries' energy and climate policies in balancing the triple challenge of the energy trilemma.
The Index is the world's most comprehensive annual ranking of countries on the sustainability of their energy and climate policies based on the three pillars of the 'energy trilemma': energy security, energy equity (affordability/accessibility), and environmental sustainability.
In the 2014 ranking, Colombia will move up 8 places relative to other countries, moving to 16th place globally in terms of the sustainability of its energy system. Last year Colombia ranked 24th and received a score of AAC, with the country performing particularly well in energy security (5th place) and environmental sustainability (4th place). The 2014 ranking will find that Colombia's new position has been largely due to an improved relative performance in energy equity, from 85th to 63rd place, with the country maintaining its position in energy security and environmental sustainability.
Announcing Colombia's position at the Energy Trilemma Summit, Joan MacNaughton, Executive Chair of the World Energy Council's World Energy Trilemma study, said:
"I congratulate Colombia in its continuing progress in addressing the trilemma challenges and in moving up to rank 16. They show what can be achieved by well conceived and executed policy approaches, and I am delighted that countries like Colombia are finding the trilemma a useful tool to help deliver sustainable energy policies."

Ms MacNaughton made the remarks at the opening of the Energy Trilemma Summit, an event organised by COCME, the WEC Colombian member committee, and taking place today in Cartagena as part of the World Energy Council's 2014 Executive Assembly.

Tomás González Estrada, Minister of Mines and Energy of Colombia, commented:
"Going up eight places in the global ranking is the result of Colombia's continual effort to achieve an energy system that is cleaner and more secure, and above all, one that reaches more people. We want to continue to widen coverage so that all families in the country will have access to electrical energy, thus improving their quality of life and increasing their development opportunities.
"
The Minister will be holding closed-door talks with more than 20 other ministers and more than 100 international business leaders in the presence of President Santos of Colombia at the World Energy Leaders' Summit tomorrow (23 October).
The World Energy Council's announcement comes ahead of the formal launch of the Energy Trilemma Index on 24 November in Washington DC, USA. The full profile on Colombia and the ranking of other countries will be available at the global launch.
Colombia's profile from the 2013 ranking can be viewed on:
http://www.worldenergy.org/data/sustainability-index/
Comments
No comments have been posted