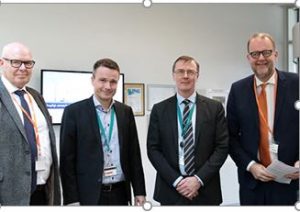 With the government setting ambitious goals for Denmark, the country was ranked as the world's number 1 in energy sustainability in the
2016 World Energy Trilemma Index.
For that reason, the Danish National member committee of the World Energy Council organised a national presentation and discussion of the Council's recent Trilemma Index launched at the
23rd World Energy Congress
in Istanbul in October. The index rates 125 countries on their ability to provide the country with a secure and environmental sustainable energy supply at an affordable price.
Speaking at the event, on 8 December,
Lars Chr. Lilleholt
, Danish minister for energy, utilities and climate commented on Denmark's leading position: "Denmark should have the most integrated, market-based and flexible energy system in Europe. The government has set ambitious goals for Denmark with the country aiming to have at least 50 per cent of its energy needs covered by renewable sources by 2030.
"We also aim at being the first country in the world that can erect wind turbines at sea without financial support. Goals like these will keep Denmark in the absolute world elite when it comes to green transition".
The report and its results for Denmark were presented by Philip Lowe, incoming Chair for the Trilemma study group.

Anders Stouge, Deputy CEO, Danish Energy Association, who also attended the event noted that Denmark has succeeded on several other important issues high on the energy agenda.

In spite of large investments, Denmark has the best quality of electricity supply in Europe and stable tariffs. The CO2 emissions from Danish electricity supply have fallen significantly and a large share of electricity production is now connected at the distribution level.

Troels Ranis, Director, Danish Energy Industries Federation commented that the Danish export of green energy technology has increased over recent years.

According to recent export figures for energy technology, released by the Danish Ministry of Energy, Utilities and Climate, the Danish Energy Industries Federation and the Danish Energy Association, Danish companies producing energy technology exported DKK 71.4 billion in 2015.

That is a 4% decline compared to the previous year, but the share of energy technology exports still constituted a large part of the overall Danish export with 11%, which is the highest among countries in the EU.
"I am pleased that Denmark, despite a small decline in exports, maintains its clear position as the number one country in the EU regarding export of energy technology. The export figures remind us that we must not rest on our laurels, which is why I will initiate a dialogue with the industry and energy sector on how we can strengthen export opportunities together, benefiting the climate, growth and Danish jobs", said Mr Lilleholt.