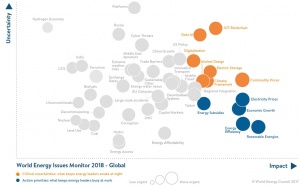 There has been excitement from Nigerian energy leaders in exploring the World Energy Issues Monitor as an interactive tool. The Issues Monitor provides insights and helps identify potential issues that require the attention of the Nigerian government in reviewing policies that have high impact on the Nigerian energy agenda and enables a more sustainable sector.

Current users of the Issues Monitor within Nigeria include: government (policymakers); regulators; private organisations; investors and academia.
Professor Abubakar Sambo, Chair of the Council's Nigeria member committee commented: "The World Energy Issues Monitor is considered a significant tool for energy planning in Nigeria, as it provides unique insight in how to address the nation's inadequacies in electricity and transport fuels. It is an essential tool for understanding the complex and uncertain environments in which energy leaders must operate. The World Energy Issues Monitor provides the means with which one can challenge one's assumptions on the key drivers within the energy space."

Two desk officers from the Executive Committee of the Nigerian Member Committee and the Energy Commission of Nigeria were appointed to ensure authentic and reliable outcomes of the Issues Monitor survey.

In addition, a working group comprising relevant stakeholders within the energy sector from both the public and private sectors listed below, was formulated:
Nigerian National Petroleum Corporation and its parastatals (Oil & Gas)

Utility Companies (Electricity Generation, Transmission and Distribution)

National Bureau of Statistics – Economy wide data

Energy Commission of Nigeria – All energy sector data

National Planning Commission – Economy wide data

Central Bank of Nigeria – Economy wide data Department of Petroleum Resources (for information on Regulation of the Nigerian petroleum industry for general matters other than prices)

Nigerian Electricity Regulatory Commission for (for information on Regulation of the Nigerian electricity industry)

Nigeria Atomic Energy Commission – Nuclear data

Rural Electrification Agency – Rural electrification data

Petroleum Products Pricing Regulatory Agency(PPPRA)- (for information on the prices of petroleum products

Private oil and services companies - All energy sector data

Non-Governmental Organisations (NGOs) and community based organisations (CBOs)- for providing data independent of government and private companies Responsibilities: Serving as focal points and facilitators for data collection
A National Issues Monitor Committee on distributing and collecting the survey questionnaires and collating and analysing key insights, were also formed.