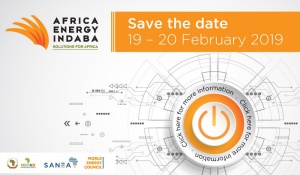 [Missing Picture]
Only three months to go before the 11th annual Africa Energy Indaba (AEI) takes place at the Sandton Convention Center, Johannesburg, South Africa.

The Africa Energy Indaba Conference & Exhibition (19 - 20 February 2018), under the theme 'Africa's Energy Future', will discuss, debate and seek solutions to enable adequate energy generation across the African continent.

The annual "Africa Energy Indaba Week, The Council's regional event for Africa, provides thought provoking content, a gathering of energy leaders, experts and the opportunity to meet African utilities, product and service providers and project owners to do energy deals!

Africa's power and energy sector is a critical driver of growth and development across the continent. With vast natural energy resources ranging from coal, oil, gas, hydro, solar, wind and geothermal, there is ample choice for the discerning energy investor. Lack of access to electricity means that there is an opportunity for regional governments, energy businesses, organisations and financiers to unlock electricity access to millions of people who do not have power.

The Africa Energy Indaba is the continent's premier energy conference and exhibition: bringing together leading African and global energy players to unlock energy and business opportunities across the African continent. The event is the World Energy Council regional event for Africa and has strategic partnerships with the South African National Energy Association (SANEA) and the NEPAD Planning & Coordinating Agency (NPCA.

The 2-day energy conference is complimented by an exhibition as well as a number of exciting side events, including the Africa Gas Forum, Indaba Energy Leaders Dialogue, CEO Round-tables, IPP & PPA Conference and Women in Energy Conference.

Read more about the event here.