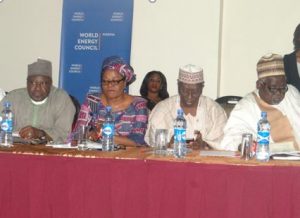 The vast expansion in energy services dominated by fossil fuel-based technologies, which has underpinned rapid industrial development, sustained world economic growth and vast improvement in human well-being in the last century, has come at a high environmental cost to Nigeria.

In a one-day National Workshop on 'Enhanced Energy Access for Sustainable Development of the Built and Natural Environment in Nigeria' organised by the Nigerian National Committee of the World Energy Council (NNC-WEC), it was recommended that Nigeria expand its existing two sources of electricity supply of gas and large hydro to seven to include: solar energy, wind energy, biomass/biofuels, coal and nuclear. This will greatly expand the electricity supply regime for Nigeria and lead to enhanced security of supply.

The workshop was held in collaboration with the Energy Commission of Nigeria (ECN) and Nigerian Building and Road Research Institute (NBRRI) on 26 January in Abjua. The objective was to address the challenge posed by low level access to modern energy services and large scale dependence on traditional biomass due to weak energy infrastructure to economic growth, sustainable development and human survival in Africa.

In his keynote address, 'Eradication of Energy Poverty in Africa: The Role of Tools and Studies of the World Energy Council', Dr. Latsoucabe Fall, Regional Manager for Africa at the Council, highlighted priorities to follow such as stepping up grid and off-grid supply and decentralised energy; undertaking appropriate reforms and restructuring the energy sector in order to mobilise adequate financing; and promoting energy markets design.

In their goodwill messages, Hon. Mustapha Baba Shehuri, Minister of State for Power, Works and Housing, reiterated the need to harmonise various existing energy policies to drive sustainable implementation of strategic energy government plans.

The Deputy President of the Nigerian Society of Engineers (NSE), stated at the meeting the failure of past industrial policies to generate self-sustaining growth; increased emphasis on self-reliant approach to development; and the discovery that dynamic and growing Energy sector can contribute substantially to a wide range of developmental objectives.

The President of the Council for the Regulation of Engineering in Nigeria (COREN), Engr. Kashim Ali, in his goodwill message, reiterated that COREN is promoting current efforts in strengthening the growth performance of the Nigerian Economy and diversifying its productive base.

The Permanent Secretary of the Federal Ministry of Science and Technology, Mrs Belema Wakama, stated that the Federal Government is transforming the energy sector from fossil fuel to more sustainable modern clean energies. The Federal Government has approved Nigeria's membership of International Energy Charter with ECN as the focal point.

The National Research Innovation Council (NRIC) has been put in place to bridge and reduce the gap in research and development.

The opening ceremony was chaired by Professor Abubakar Sani Sambo, Chairman of the Nigerian World Energy Council member committee. The meeting gathered more than 70 participants drawn from within and outside Nigeria. Among participants were: Engr. Mustapha Bello, Former Minister of Commerce, Engr, Kunle Mokuolu, Prof. A.A. Zuru Vice Chancellor of UDUS, and Directors from ECN and Energy research centres.

Three technical papers as listed below were presented and discussed extensively:
"Achieving Sustainable for All in Nigeria: What does it take?", by Prof. Eli Jidere Bala, Director General/CEO Energy Commission of Nigeria (ECN);

"Optimal Energy Needs for the Built and Natural Environment", by Prof. Danladi Matawal, Director General/CEO NBRRI;

"Sustainable Power Supply in Nigeria; The Need to Expand the Energy Mix", by Prof. Abubakar Sani Sambo, Chairman NNC-World Energy Council
From the presentations some of the key following observations and recommendations were made:
The need to incorporate more renewable energy technologies to the current Nigerian energy mix

Exploit natural energy sources so that the ability of the environment and future generations to meet their own energy needs will not be compromised

Expand the existing two sources of electricity supply of gas and large hydro to seven: gas, hydro, solar energy, wind energy, biomass/biofuels, coal and nuclear. This will greatly expand the electricity supply regime for Nigeria and lead to enhanced security of supply

Implement the Sustainable Development Goals (SDGs) which will provide additional impetus for expanding the energy mix. Goal 7 of the SDGs calls for provision of energy access, substantial increase in renewable energy and doubling the rate of energy efficiency all by 2030

Strongly impress on the Federal Executive Council to ratify the resolutions of COP 21 after which a Steering Committee should be set-up to recommend the pathways for the implementation of the SDGs

Adopt Public-Private-Partnership in RE development in Nigeria

Promote renewable energy development in Nigeria to ensure effective synergy among Government agencies and stakeholders

Ensure that the National Assembly provides the legislative framework to accelerate the sustainable energy development in the country by passing the National Energy Policy and the Renewable Energy Master Plan into law

Ensure that renewable energy courses and programmes are introduced in the curriculum of secondary and tertiary institutions to promote the widespread dissemination of renewable energy activities in the country

Adopt energy efficiency measures and energy conservation policies as well as related public awareness programmes

To allocate adequate provision of funds for research and development in future budgetary provision.

Panel Discussion Leaders included: Engr. Mustafa Bello, Former Minister of Commerce; Mr. A. Koumoin, Energy and Mines, ECOWAS; Prof. M. S. Haruna, EVC/CEO, NASENI; Prof. L. Ezemonye, University of Benin; and Dr. A. A. Esan, Energy Harnessing, Limited, Abuja.