The World Energy Council convened its 2012 Executive Assembly in Monaco earlier this month. The event was attended by leading figures of the energy and international development arena.

At the Plenary on 8 November HSH Prince Albert II of Monaco gave the opening address, and Dr Kandeh Yumkella, UNIDO Director General, and Aldo Flores-Quiroga, Secretary General of the International Energy Forum, gave special addresses. In his speech Dr Yumkella recognised the WEC community's leading role in galvanising energy efficiency improvements.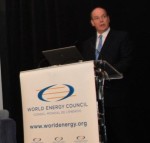 HSH Prince Albert II of Monaco addresses WEC members with Officers Council at Executive Assembly.
The Executive Assembly was held alongside the WEC's first ever Energy Trilemma Summit.
Building on feedback from member committees, the Summit provides a regular platform for members to discuss energy issues in addition to addressing the important governance issues of the WEC.
The two-day forum, which took place over 6–7 November, hosted roundtable discussions where member committee chairs, secretaries and other invited experts debated the global energy agenda framed around the WEC's studies on energy issues, scenarios, and resources, plus global and regional priorities.
The Summit also hosted a meeting of UN's Sustainable Energy for All (SE4ALL) Steering Group on Global Tracking. At the meeting the group consulted with the WEC community on how to track the progress on the three goals of SE4ALL: universal energy access, and doubling renewables and rather of energy efficiency increase.
The Summit talks included Fatih Birol, the IEA's Chief Economist, experts from the World Bank, the World Health Organization, plus others.
The World Bank's S. Vijay Iyer, who chaired the SE4ALL meeting, said hosting the SE4ALL talks within the WEC event was valuable as the WEC has brought together relevant experts, influential players, and industrial leaders. He told WEC Inside:
"It's a great platform for convening ideas [and] convening action and commitments."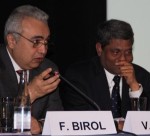 IEA's Fatih Birol and World Bank's Vijay Iyer at SE4ALL talks. Joan MacNaughton, WEC Executive Chair of the World Energy Trilemma report, chaired the discussion

The Energy Trilemma Summit also hosted a Plenary on Global and Regional Priorities with participation of Hela Cheikhrouhou, Director for Energy, Environmnent and Climate Change at the African Development Bank.

The Secretaries Strategy Day and meetings of the Standing Committees also took place during the week.

The WEC's week-long meetings in Monaco were held with the support of the WEC's Monaco member committee under the leadership of Bernard Fautrier, President of the Monaco Member Committee.